Growth marketing is all about helping businesses achieve rapid growth in their key metrics. It's incredibly important, especially for startups and small businesses, because it helps you reach your goals quickly, saving you both time and money. Tactics range from simple to complex and often focus on promoting and measuring growth throughout the funnel. Focusing heavily on experimentation, you can determine what strategies work and don't work for your business and audience. Of course, if you want to see the most success from your growth marketing efforts, you'll need to apply a variety of tactics that appeal to your different customer personas and where they are in the buyer's journey.
What is the buyer's journey?
The buyer's journey can be summarized as the active process someone goes through leading up to a purchase. There are many variations of the buyer's journey, each with slightly different steps and stages. However, they all focus on the path an individual takes when forming a relationship with a company. We'll be focusing on a six-step buyer's journey:
Trigger - a user does not know they have a problem, and therefore is not actively looking for a solution. A user in this stage likely knows very little about your company and specific products.

Awareness - a user in this stage is aware that they have an opportunity or a problem. They begin high-level research on how to take advantage of their opportunity or solve their problem. They may come across a piece of your content or your social media channels.

Consideration - the user has now gained a significant amount of information about their problem or opportunity and potential solutions. They compare alternative solutions, and will evaluate your company against competitors. Users will look at your product's features and benefits, check to see if you're an industry expert, read testimonials or reviews, and dive deeper into your website, social channels, and published content.

Conversion - the user makes their final decision and chooses your company as their solution. They complete the desired conversion, which may be filling out a form to access a resource, registering for an event, or purchasing a product.

Delight - after a user has become a customer, your job isn't over. You now need to delight them and make them feel special so they become a repeat user. This is incredibly important, because it costs 5x more to acquire a new customer than it does to maintain a current customer.

Advocate - delighted customers are likely to become advocates for your product, service, or brand. Advocates are essentially free marketing, as they positively promote your product for you. Plus, individuals are much more likely to trust the opinion and experiences of a friend or family member than your sales person. Advocates share with friends, leave good reviews, make repeat purchases, generate referral traffic, and word of mouth.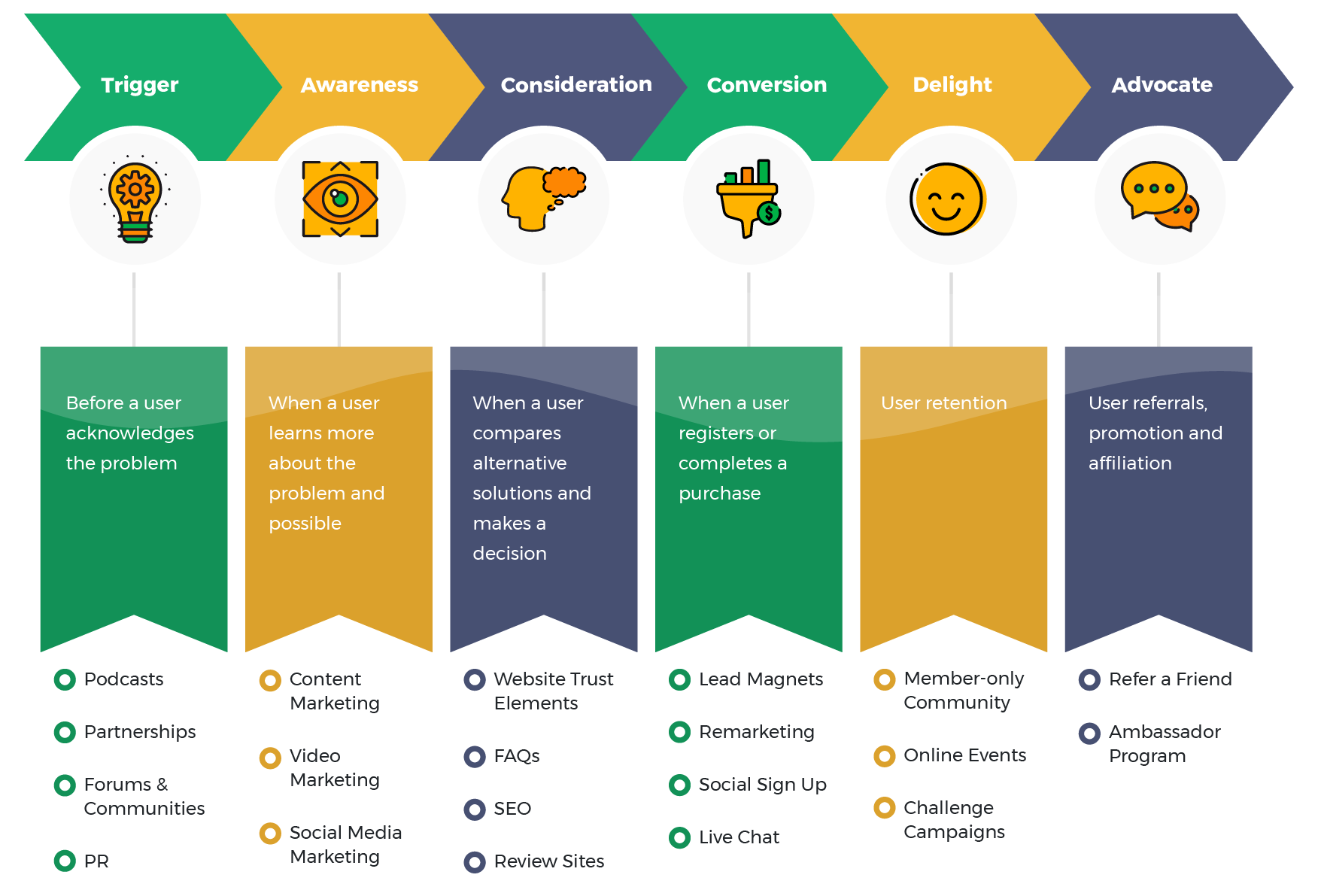 Not sure what your buyer's journey looks like? Growth Channel's free customer journey template helps you identify how buyers move through the funnel!
Everyone's buyer journey experience looks different. For example, someone may stumble upon your website and quickly decide to buy your product or sign up for your service. Another individual however may see one of your Tweets, visit your website, read a blog post related to your industry or product, and then decide to convert. Typically, someone needs to interact with your brand multiple times before making a purchase. For each of the stages in the buyer's journey, you'll need to create or culminate different types of content to persuade an individual to take the desired action. Growth marketing tactics are a great way to attract new leads and guide users through the entire buyer's journey.
As promised, let's explore 3 growth marketing tactics for each stage of the buyer's journey.
---
Trigger and Awareness
Find email partners - Nowadays we often stumble upon many newsletters from industry leaders and follow blogs that promote trends and best practices . Reach out to the newsletters you're subscribed to and offer to promote their product, service, or event in your own newsletter in exchange for a feature or promotion in theirs. This process has two major benefits: you become visible to a new, relevant audience and delight your subscribers by providing them with additional valuable content. This mutual exchange of sponsorship is a free and low effort way to increase your reach.
Steal backlinks of competitors that no longer exist - A backlink is a hyperlink on another person's website that directly links back to a page on your website. Backlinks are important for many reasons: they build brand awareness, expand your reach, drive organic traffic to your site, and help boost your SEO. It's important to pay attention to what sites are linking to your competitors. Keep an eye out for your competitors' backlinks that are lost or no longer exist. Reach out to publishers and offer your own fresh content to replace your competitor's lost or broken link. You can track backlinks with tools like semrush , ahrefs , or even Growth Channel .
Tag content contributors on social media - Whenever you mention another company, event, partner, or individual in your social media posts, make sure to tag or mention them. This alerts them that they've been featured in your post, and they'll be more likely to reply or share your content with their audience.
For example, we wrote a post featuring quotes from e-commerce experts and tagged all the contributors in our Twitter promo. A third of the contributors then retweeted our original Tweet with their audiences. Others shared on LinkedIn and Facebook. Here's an example of how you can create content and encourage others to share it:
Curate a "best of" list on a specific topic relevant to your readers, i.e. a list of your favorite bloggers, best apps for your workflow, or a compilation of upcoming events .

Write a brief description for each and why your audience will like them.
Share the content on social media and tag each of the authors or businesses individually.
Watch as many of those you featured retweet, favorite, share, or send a thanks, helping you reach their audience.
Don't forget to retweet, comment, or engage with any post your company is mentioned in.
Consideration
Focus on question-based keywords - As competition for high volume keywords rises and Google gets better at interpreting search intent, you may want to consider having content around question-based keywords . Try creating content for question-based keywords that are relevant to your audience and have high search volume with low competition or keyword difficulty (KD) scores. Ranking for these types of keywords helps deliver your content to the most relevant audience. For example, if a user searched "smoothies," they could have multiple intentions. Maybe they're looking for smoothie recipes, aesthetic images of smoothie bowls, places to buy smoothies, or the best blender to make delicious smoothies. However, if a user searches "what is the best way to make a smoothie?" or "how can I make a good smoothie?" you have a much better idea about their intent and can provide the type of content they'll find most valuable. Targeting complex keyword questions that can't easily be answered by Wikipedia or Google is also a good strategy to increase your chances of getting a featured snippet, a search engine result that shows up above the top ranking site.
Discover & rank on your competitors' keywords - It's important to pay attention to what keywords your competitors are ranking highly for. Researching your competitors' keywords can help improve your own keyword strategy. You can easily find new keywords to add to your list, and you can try to outrank your competitors on their keywords, meaning your website will show up above theirs on a search engine results page. Also, customers in the consideration phase often compare solutions, and you want your content and website pages to show up right alongside your competitors for relevant search queries.
Source - semrush
Focus on benefits instead of features - Benefits sell better than features. Convince potential customers why your product, service, or opportunity will give them the greatest amount of value by highlighting all of its benefits. A benefit solves a higher order need and will convince a user to pay more or buy from you instead of a competitor. Not sure how to promote benefits instead of features? Check out this chart comparing the features and benefits of Growth Channel's AI-generated marketing plans: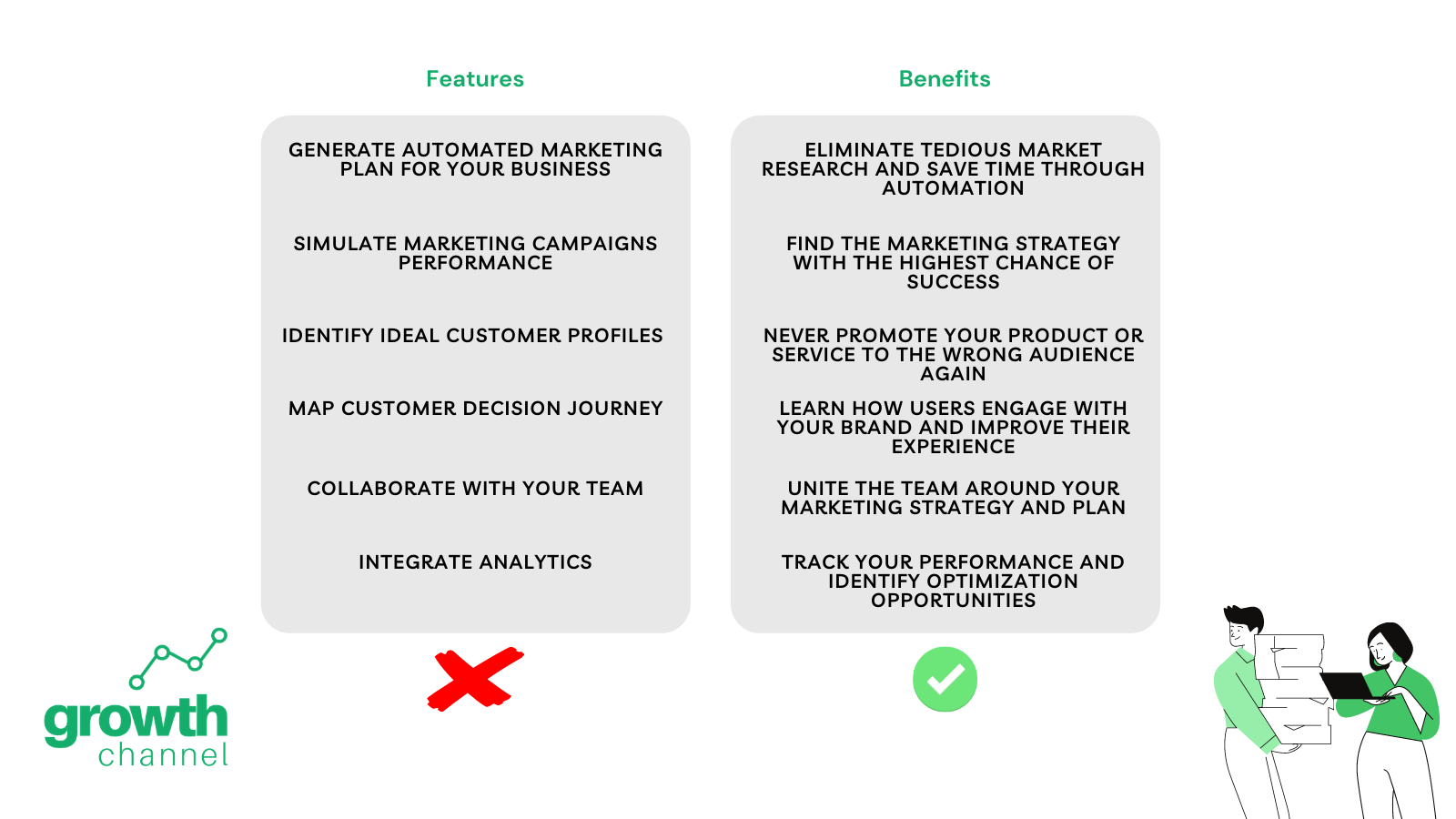 Conversion
Have an exit intent popup on your website - Exit intent popups show up only when a user is about to leave your website or close the browser tab. They're great for increasing conversions and decreasing bounce rate. Your popup could include a specific resource, event reminder, promo code, or any other offer that encourages users to keep interacting with your site. You can also program your popup to only display for users who've spent a certain amount of time on your site, visited a specific page, or clicked on a specific resource.
Consider sales abandon offers - When a would-be customer goes to quit the checkout process, hit them with a pop-up offering a discount code or a coupon. At this stage, it's clear your lead is seriously considering converting or making a purchase. You definitely don't want an individual who's so close to a conversion to fall out of your funnel. Sometimes, an additional 10% discount is enough to turn a lead into a customer.
Place your main CTA above the fold - If there's not already a CTA above the fold, you're likely not optimizing for most of your visitors, as many never make it below the fold. Within the first 10-20 seconds of landing on your web page , users typically decide whether they want to stay or leave. In other words, you have to make a great first impression, and you have to make it fast. Pages with a strong value proposition and clear call to action are much more likely to attract the user's attention for longer. By placing a CTA above the fold, all users who visit your page will understand the action you want them to take. However, you may also want to place a CTA towards the bottom of your landing page for uncertain visitors who need a more in-depth explanation of your offer before they're willing to convert.
Delight
Add a resources page to your website - Many sites include a list of resources for users to gain more information about their product or a relevant topic. Your resources page can include tutorials, news, case studies, how-to blog posts, and any other type of content that provides value to your customers. Your resources page may include links to your own and external content.
Resources pages of other companies are also a great opportunity to get backlinks. If you find a resources page that is relevant to your industry or product, reach out to the site publisher and see if they'll add a link to your content. This type of outreach works especially well if you find sites with outdated or broken links that need to be replaced.
Give beta access to your power users - Reward your loyal customers by letting them be the first to test new features. Giving loyal customers exclusive privileges increases emotional investment in your product and helps build long-lasting relationships. To find beta users, reach out to your most engaged and most supportive customers through email invitations and targeted in-app messaging. Giving beta access to users is a win-win situation: your customers feel special because they get exclusive access to new features, and you get people to test your updates and share valuable feedback for free.
Send a tutorial email - Many people who purchase or sign up to use your product may not be fully aware of all the value it can provide. When someone doesn't understand how to use your product, or isn't aware of all your product's benefits, they're much more likely to become a lapsed user. Tutorial emails are a great way to introduce yourself and help new customers get acquainted with your product. Tutorials can take many forms, including how-to guides, blog posts, and videos. Of course, your product probably has many awesome and complex features, so make sure to focus on the most relevant and important tutorials in your email. You don't want to overwhelm or confuse customers by sending them too much content. More detailed or advanced tutorials should instead be easily accessible on your website.
Advocate
Run an affiliate program - An affiliate program lets you offer commissions on referred sales. The most common type of affiliate program is when a business would pay commissions to an affiliate site, like a blog, to send them traffic. The affiliate site posts images or links that redirect users to the merchant's website. Affiliates often receive payment every time they send users to the merchant's site or every time a user clicks on a link to the merchant's site and performs a desired action, like making a purchase. However, there are many different ways to run affiliate programs. For example, affiliates who join our Friends of Growth Channel referral program receive a 20% commission every time they refer a friend to Growth Channel.
Offer rewards for inviting friends - Incentives and tiered rewards programs are a great way to turn your customers into advocates. For example, you could offer a discount code to customers who share an offer with 5 friends and a free gift for those who share with 20. You should have a custom tracking link ready so you know who's sharing and generating referral traffic. Make it super easy for customers by including buttons on social media, newsletters, in blog posts, and in the product itself (if it's digital) that allow users to directly share their link with their friends.
Morning Brew, a media company known for their witty and engaging newsletters, has mastered the referral program. They give readers a series of increasingly better rewards depending on the number of referrals they've generated. Readers can access a personalized Morning Brew rewards landing page to easily share their link via email or social media, keep track of their referrals, and see what rewards they're working towards. In every email (sent daily or weekly, depending on the subscription), Morning Brew includes a "click to share" button and a unique referral link readers can copy to send directly to friends. They also constantly remind subscribers of the rewards they can receive when they hit certain milestones. Morning Brew also runs special events to promote their referral program, like entering readers into raffles for bigger ticket items every time they share their link or sending them exclusive swag if they can gain a certain number of referrals in a set time period.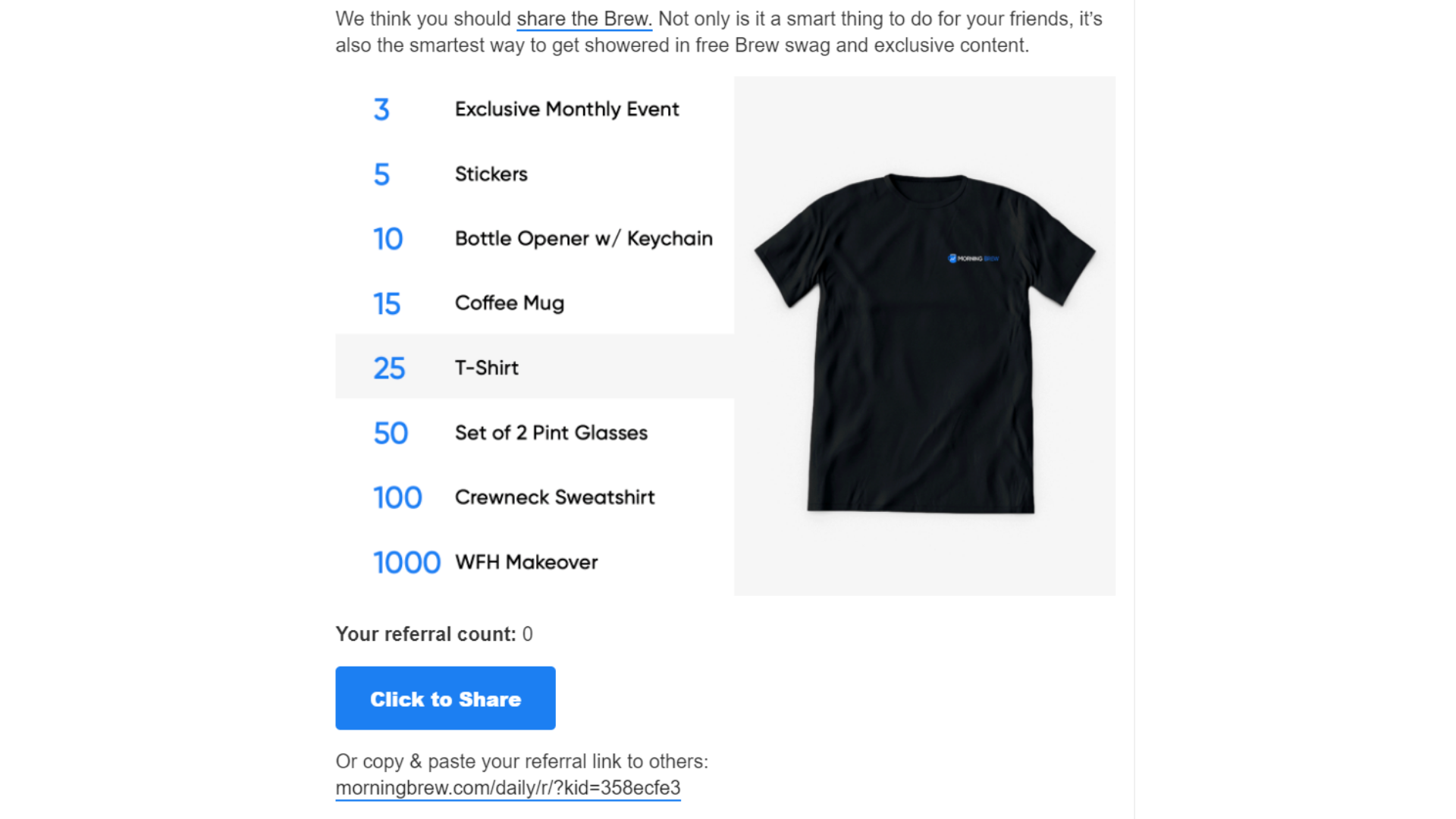 Focus on employee advocacy - If you want happy customers, then you need to make sure your employees are happy as well. When a company has an internal culture of respect and support, those values often extend to external interactions with partners, leads, and customers, creating a better experience for everyone involved in the process. Satisfied employees are also much more likely to recommend their employer's products and services to their friends and family, increasing your brand exposure. You can also turn your employees into brand advocates by making it easy for them to share your marketing content.
---
These tactics are a great way to get started with your growth marketing efforts. However, since the buyer's journey is ever-evolving, it's important to track and measure the outcomes of these tactics so you can see what's working and what isn't. You don't want to spend time and resources on a strategy that isn't helping you achieve your goals, but you also don't want to neglect trends and proven strategies that have a high potential for success. As you begin to implement growth marketing, remember that it's all about experimentation . Make a change, measure the results, improve as needed, and repeat. With some creativity, patience, and perseverance, growth marketing will have you achieving your business goals in no time at all! 
If you enjoyed these strategies, make sure to check out our full list of 230+ growth marketing tactics before your next campaign, which can easily be sorted by buyer's journey stage, marketing objective, industry, and more!
Which tactic are you trying first? Let us know on Twitter @Gr0wthChannel!