I recently published a blog post with 5 steps to get your business started on Clubhouse, and now I'm here to share 7 strategies to successfully market your business on the app! After setting up your account and exploring the app, you'll need to create a Clubhouse marketing strategy. In this post, I'll be exploring best practices to grow your business on Clubhouse and take advantage of everything the app has to offer. If you haven't read my original post yet, make sure to check it out before continuing with this post. I go into more detail about how to use Clubhouse and optimize your business' account.
Should you be marketing on Clubhouse?
Because Clubhouse is still a fairly new and exclusive platform with many features under development, it is difficult to predict how the app will function in years to come. Clubhouse's popularity also sky-rocketed during the pandemic, and as restrictions are lifted, it's unknown if users will continue to spend their time on the app. However, Clubhouse's possibilities should not be overlooked.
Here are a few thoughts from the community:


Although Clubhouse doesn't work like traditional social media sites, it offers great opportunities to strengthen brand awareness, develop your business as an industry expert, engage with customers, and create valuable content. Clubhouse is also a great way to reach new audiences, host private or public events, and collaborate with other industry experts. If you've already established that Clubhouse is a good platform for your business, then yes, you should be using Clubhouse as part of your marketing strategy.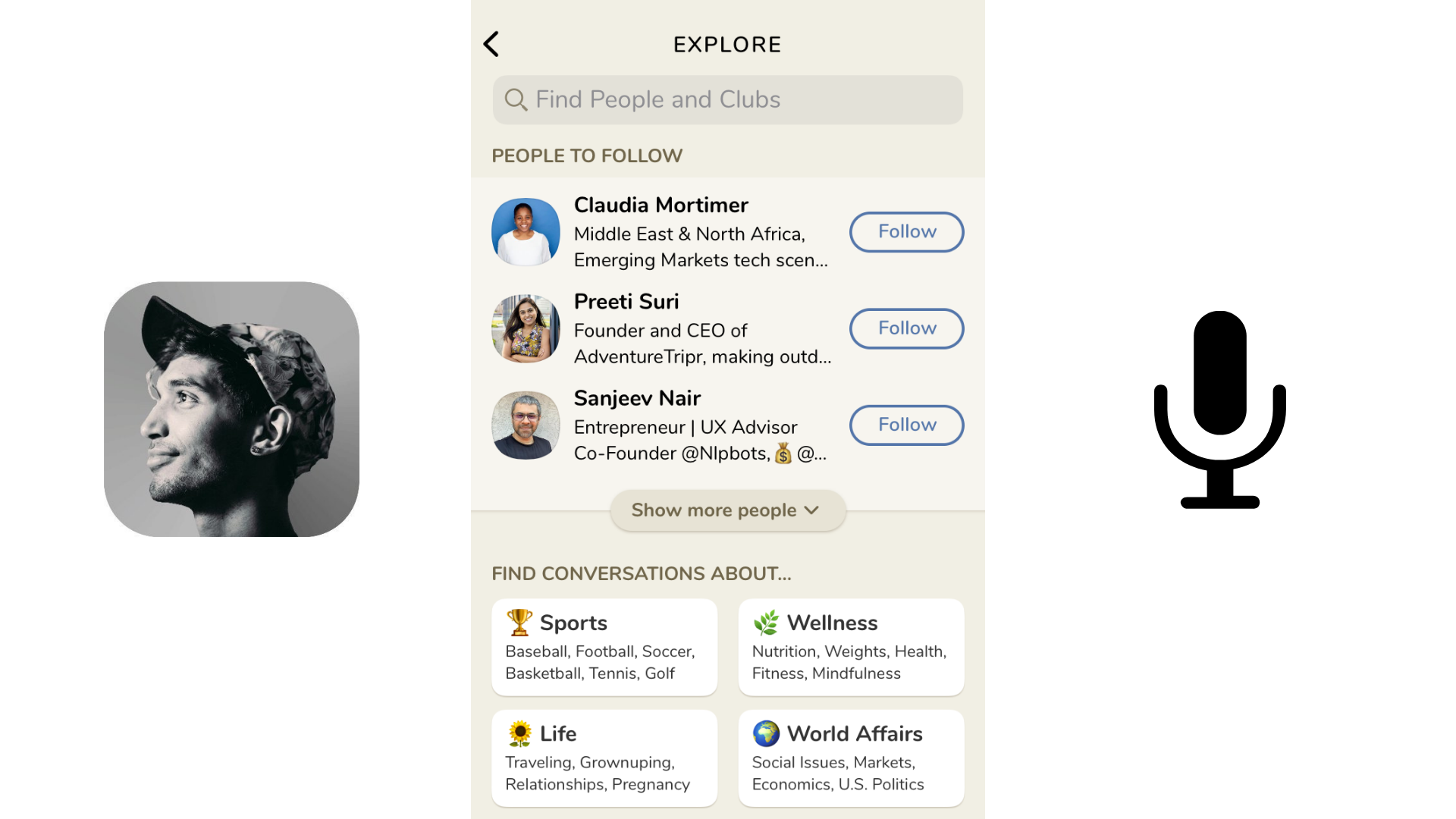 With audio-only capabilities, building and engaging with an audience on Clubhouse requires forethought and strategy. However, with a little bit of planning and some creativity, you can find ways to leverage Clubhouse for your business. Here are 7 best practices to successfully market your business on Clubhouse:
Create a consistent schedule for your Clubhouse content
Schedule rooms ahead of time so they show up on the community calendar
Moderate conversations to keep them from spiraling
Run a giveaway
Collaborate with others
Remind listeners to invite their friends into the room
Identify leads and use other social channels to follow up
Let's dive right into these tactics!
---
1. Create a consistent schedule for your Clubhouse content
Before you start marketing on Clubhouse, you'll want to create a detailed plan. How many rooms a week will you or your club host? Who will be moderating these rooms? What will be the focus or topic of the rooms?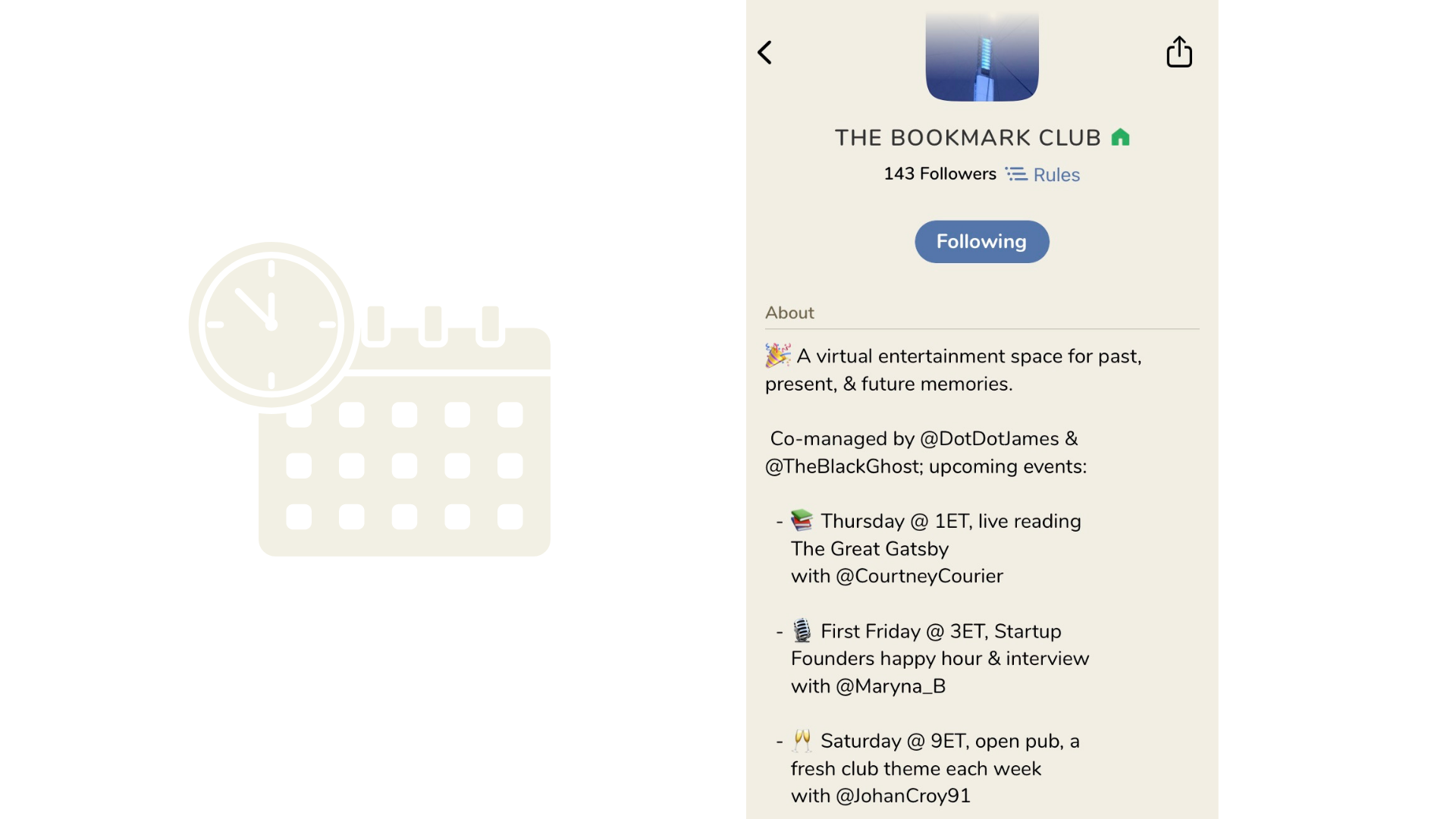 As you start exploring Clubhouse, you'll find that many clubs place their weekly schedules in their bios, giving everyone a glimpse into the value and insights they offer the community. Check out the example above from The Bookmark Club. Making and sticking to a consistent schedule has two benefits: it keeps your Clubhouse marketing strategy organized and also makes it easier for your followers to engage with you. For example, you may decide to host a panel discussion every Monday at 10am and you may share a part of your professional journey every Wednesday at 3pm. A schedule like this helps you determine how much time and effort you'll need to put into Clubhouse every week. Your followers will also enjoy the predictability. They'll know when to expect your rooms to go live and they'll have a good idea about the content that's going to be discussed.
Of course, you don't have to stick to your schedule all the time. Just make sure to communicate in advance so your followers can stay up to date with your events.
2. Schedule your rooms ahead of time so they show up on the community calendar
Instead of clicking the green "Start a room" button in the Clubhouse hallway, schedule your rooms ahead of time. Scheduling has many advantages: it notifies your followers, gives you a shareable link, allows you to add an event description, and publishes the event for other users to see. To schedule an event, follow these steps:
1. Tap the calendar icon in the top left of the main screen


2. On the calendar page, click the calendar icon with the + on it in the top left corner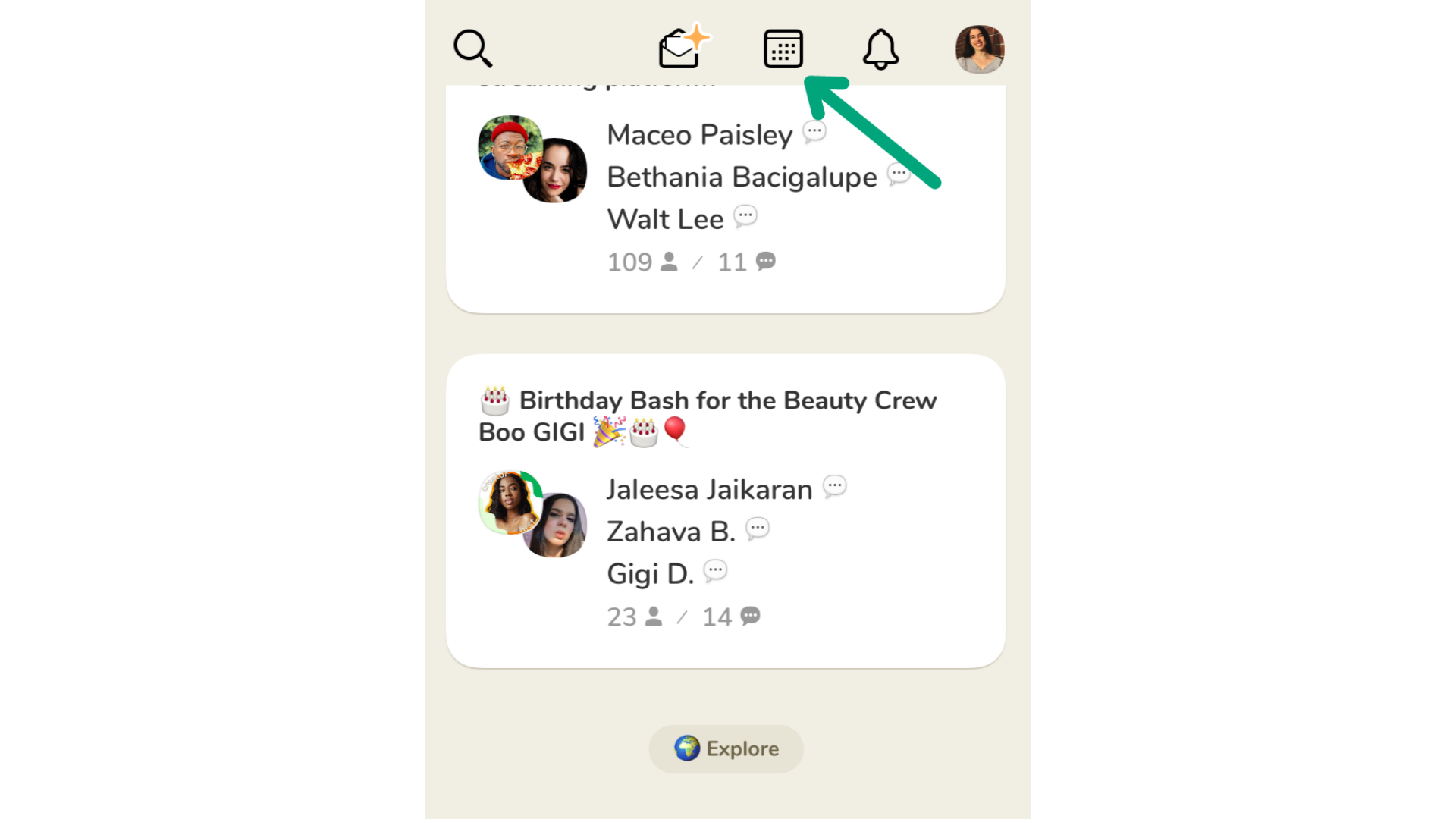 3. On the New Event screen, name your event, add a co-host (who can cancel, edit, and remove people from the event), select the date and time, assign your club to the event, and write a short description


4. Tap "Publish"



5. You can now share the event, tweet it, and copy the link




6. To edit or delete your event, navigate back to the calendar tab




7. Tap "Upcoming for You" and select "My Events"




8. You can now see all your scheduled events and make any changes to them




9. When you're ready to open the room, click the green "Start a room" button and your scheduled event will show up



3. Moderate the conversations to keep them from spiraling
If you want followers to keep coming back to your club's events, you need to create a welcoming environment and prevent the group from getting too unfocused.
If there will be multiple moderators, or if someone else will be moderating the room on your behalf, you want to make sure everyone knows how to control the room. For example, how often should you reset the room (update new listeners about the topic, conversation, and room rules)? How will you deal with someone who is hogging the stage? How can you refocus or revive the conversation? What will you do if a listener says something inappropriate? Clubhouse users tend to be very considerate and polite, but you still want to be prepared for anything.
For ideas on how to be a successful host, attend other rooms and see how the moderators are leading and controlling the conversation. You'll find that some rooms are more audience and discussion focused, while others are more moderator driven, like a webinar or podcast. Some moderators will bring multiple speakers up to the stage at once, while others will bring up a limited number to better control the conversation. Check out The Bookmark Club, Silicon Valley Startups, Marketing Club, or Social Media For Businesses Club for inspiration. The more you interact on Clubhouse, the more you'll learn what moderator style you like best.
4. Run a giveaway
Do a product giveaway for a random listener in your room at the end of a club event. Marketers use giveaways all the time to build buzz around a brand and encourage word of mouth. Plus, free giveaways and prizes show that your business cares about its customers. Promote your club's giveaway in the event title and description. Because users can come and go from Clubhouse rooms at their own discretion, announce the winner immediately after you decide who it will be. You can even invite the winner to the stage to accept their prize and say a few words.
There are multiple ways you can run a giveaway on Clubhouse. One of the easiest ways is to create a form where attendees can submit their contact information. Place the link in the event description and remind listeners of your campaign during the event. Just make sure the URL for your giveaway is short and easy to remember. At the end of the event, you can randomly select a winner from the list and award them the prize, as long as they are still present in the room. This is also a great method to collect contact information and generate new leads. Gleam, Rafflecopter, and ShortStack all offer a free plan to help you run a social giveaway campaign.
5. Collaborate with others
Clubhouse is all about collaboration and community. Expanding your network is a great way to gain more followers, expand your club's reach, and find new partners to help create valuable content for your audience. A quick scroll through the Clubhouse hallway shows that most rooms include multiple moderators, working together to share knowledge and lead an interactive conversation. For example, every second Friday of the month, Growth Channel is partnering with Jingle to interview an early stage startup founder about their journey, obstacles, and success strategies on GoGoStartups club on Clubhouse.
You can contribute to events hosted by other clubs, which is a great way to interact with a new audience.

By inviting other professionals or industry experts to host a room with you, you can capitalize on the following they've already built and increase the value of the content delivered to your own followers.
Collaboration also has personal benefits, as you'll be able to learn from those you partner with.
6. Remind listeners to invite their friends into the room
If you want to grow the number of users in a room, don't be afraid to ask your audience for help. Remind listeners that they can ping their friends into the room. Pinging is basically like sending an invite, and it notifies users that someone wants them to join a specific room. If you're providing valuable content, your audience should be more than willing to invite their friends into the conversation.
7. Identify leads and use other social channels to follow up
Clubhouse currently doesn't have a direct message or chat feature. But don't fear, there are still ways to capture leads and message your audience and followers! Users can connect their Clubhouse bios to their Twitter and Instagram accounts, and both of these social platforms offer private messaging. Here's three ways you can use this to your advantage:
Nurture a lead: if a Clubhouse user is highly engaged in your room and they seem like they may be a good fit for your product, write down their Instagram handle and follow up with them after the event through a direct message. Explain your product or service in more detail and why they might find it useful. You can also offer them a special discount code or gift.
Ask people to reach out to you: Include your Instagram handle and tell your audience members to DM you with a certain keyword (like Clubhouse or the name of your club) in your bio and during your events. You can then use a tool like MobileMonkey's Instagram beta to autoreply to every DM that includes the keyword, easily sending all your leads into your marketing funnel.
Build brand awareness: if your rooms typically have a small number of attendees, have someone keep track of all the users who ask to speak or who stay for the whole event. Afterwards, follow up with these individuals through Twitter or Instagram and thank them for coming to your event. You can also provide them with another relevant piece of content or a small thank you gift, like a coupon code.
Find collaborators: if you hear someone speak in another room and you want to collaborate with them, check their bio and reach out via Instagram or Twitter. Remember to be personable and specific. Introduce yourself, reference the Clubhouse discussion you both attended and how you found their insights valuable, and suggest a few ways you could partner up to create high-quality content in the future.
---
In conclusion...

Clubhouse offers many new and unique ways to produce valuable content and engage with your audience. You don't need any fancy cameras or lighting, witty taglines, or advanced video editing software to succeed on Clubhouse. All you need is your voice and creativity. By taking the time to learn how Clubhouse works now, you'll be able to optimize new features quicker and gain a competitive advantage. Leverage the loyal community that already exists on the app, and explore different ways to build your own following. Use Clubhouse to nurture long-term relationships with customers and prospects by engaging directly with your audience. But most importantly, have fun and be genuine!
If you found this post interesting, check out my first article, "Introduction to Clubhouse for Businesses: 5 Steps to Get Started" for more helpful tips and strategies!
How is your business using Clubhouse? Let me know on Twitter @Gr0wthChannel. And
don't forget to join our Growth Channel Talk club!