What factors do you pay attention to while evaluating demand-side platforms (DSPs) for your programmatic advertising needs? Targeting capabilities? Bid optimization? Frequency capping? Custom audience segmentation? Cross-device identification? Surely, all play an essential role. How about third-party data integrations?
DSP platforms with more vital integrations allow for greater flexibility and reach in programmatic advertising. More integrations give advertisers access to a broader range of inventory and audiences. Plus, more integrations can provide access to more advanced features and data, allowing for more targeted and effective advertising campaigns. But what DSP integrations should you pay attention to while evaluating DSP platforms? In this article, I'll cover the top 16 DSP integrations and ad exchanges.
---
What are DSPs and ad exchanges?
A demand-side platform, commonly referred to as a DSP, is an advertising technology platform that enables advertisers and ad agencies to efficiently purchase advertising inventory on a per-impression basis from a variety of publishers through the use of supply-side platforms and ad exchanges.
Ad exchanges are another key component within the programmatic advertising ecosystem, utilizing real-time bidding (RTB) technology to facilitate the buying and selling of ad space. The significance of ad exchanges lies in their ability to provide advertisers with the convenience of purchasing ads across multiple sites simultaneously, rather than having to negotiate directly with individual publishers.
Top ad exchanges
Native advertising
Outbrain- a content discovery network and native advertising platform that helps promote content to targeted audiences across the web. It helps publishers generate revenue through sponsored content and native advertising. Outbrain utilizes powerful algorithms to analyze user behavior and create tailored content recommendations for readers across an extensive network of websites.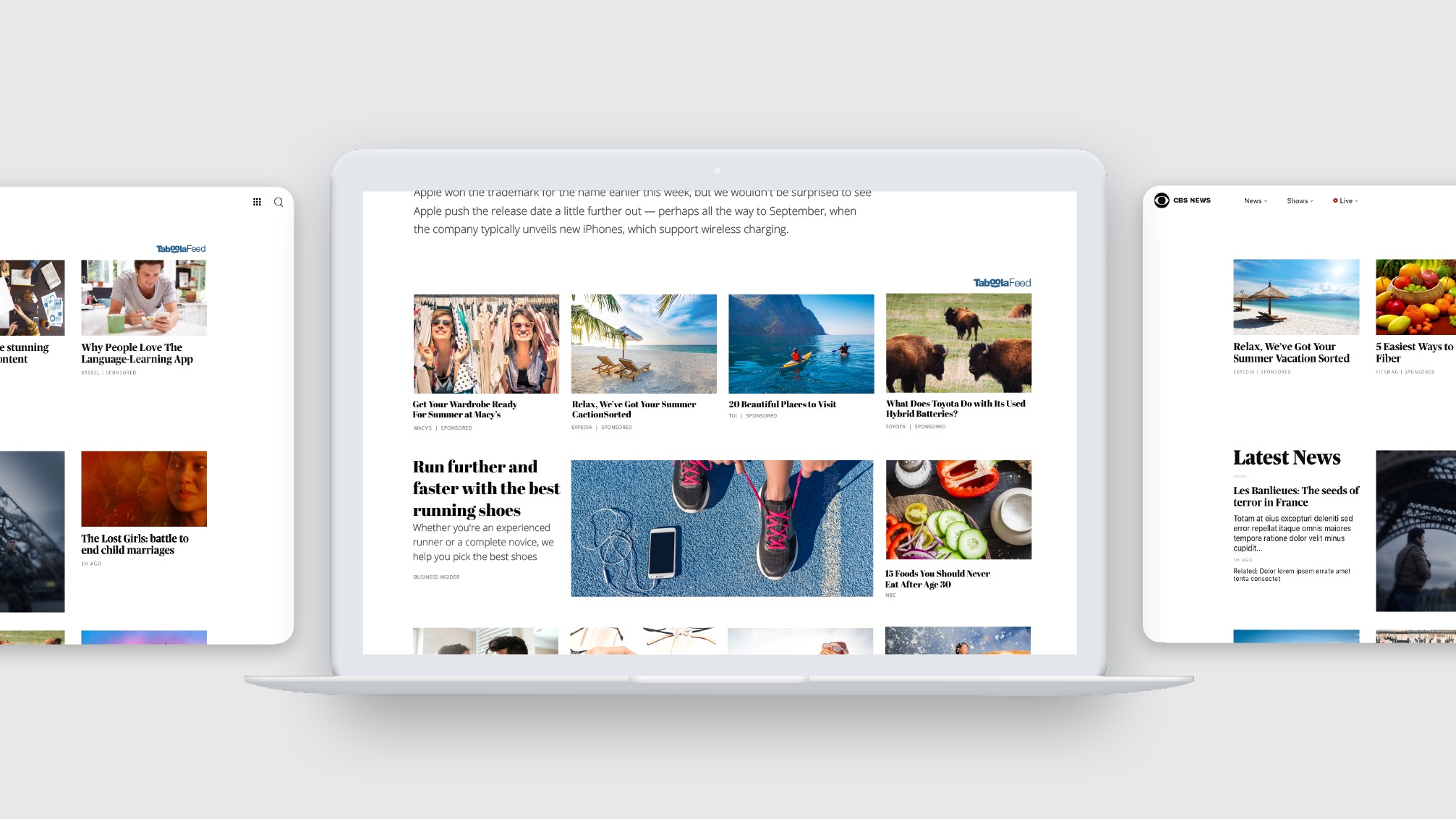 Taboola native advertising and content discovery platform that links advertisers and publishers. With massive scale, unique content consumption data and world-class AI technology, Taboola helps thousands of advertisers reach their audiences with compelling native ads in a brand-safe environment. Plus, Taboola is powered by Deep Learning technology to leverage its data and suggest the most appropriate content to the right individual at the most opportune time.

Audio advertising
Pandora advertising works by leveraging the data collected from its users to serve targeted ads to listeners. This data is collected from user profiles, music preferences, and listening activities. The data is used to match the user with appropriate ads that are tailored to their interests. Pandora then uses algorithms to optimize the delivery of ads to users and ensure that the ads are relevant to them.
Spotify : Spotify advertising works by targeting ads to users based on their listening activity, demographic data, and other user-specific data. Spotify uses an algorithm to match ads to users based on these criteria and then presents the ads via video and audio ad formats. The ads are dynamically served to users as they are listening to music, so the ads are relevant and tailored to the user.
Connected TV advertising
Hulu premium streaming service in the US that offers a variety of options for advertisers, including targeting specific demographics, creating custom content, and using data to measure the effectiveness of ad campaigns.
Disney's advertising platform is a comprehensive and innovative solution for businesses looking to reach a wide and diverse audience. With access to the vast network of Disney-owned media properties, including popular television networks, movie studios, and theme parks, advertisers can target consumers through a variety of channels and touch points.
Digital OOH advertising
Place Exchange - a supply-side platform that unifies execution, reporting, and attribution for OOH with other programmatic channels. It enables media buyers to access high-quality inventory from a network of premium publishers and provides media sellers with a streamlined platform to manage and monetize their inventory. The platform is designed to facilitate efficient, transparent and cost-effective transactions for buyers and sellers, and is powered by advanced algorithms that optimize ad placements and maximize performance based on each buyer's desired goals.

Zoom Media - a digital ad platform that enables brands, agencies, and publishers to buy, sell, and manage digital advertising across all devices.
Video advertising
SpotX is a global video ad exchange that provides technology and services for advertisers, publishers, and media companies to buy, sell, and manage their video advertising inventory. It offers a range of solutions, including programmatic buying and selling, real-time bidding, and ad server integration, as well as tools for audience targeting.
Mobile advertising
InMobi - a global mobile advertising and discovery platform that enables brands, developers, and publishers to engage with consumers on mobile devices. It provides a wide range of ad formats and targeting options, including native ads, video ads, interstitial ads, and in-app ads. A special focus is on in-game advertising.

Cross-channel
Xandr, formerly AppNexus, is a data-enabled technology platform that advances how advertisers buy and engage with audiences in Connected TV, digital video, display, native, audio, and digital out-of-home environments.
Verizon Media Exchange is assisting advertisers in overcoming marketing obstacles and achieving success through its data-driven strategy, premium inventory access, and advanced machine-learning optimization technology, allowing advertisers to target specific audiences on all formats and devices.
MediaMath - an intelligent ad tech platform that offers unrivaled advertising performance across all media channels. Their platform, called TerminalOne, allows marketers to plan, buy, and optimize digital advertising across multiple channels and devices using data-driven insights.
Google AdX (ad exchange) is a platform that allows advertisers to bid on and purchase ad inventory from various websites and apps in a programmatic, real-time auction. AdX is integrated with Google's DoubleClick ad platform and allows advertisers to target specific audiences, track their ad performance, and optimize their campaigns.
PMPs
OpenX - a digital and mobile advertising platform that helps digital media companies to unleash their full economic potential. OpenX uses a real-time bidding system that allows advertisers to bid for impressions on the publisher's website. It also provides analytics and reporting tools to help advertisers track the performance of their campaigns.
PubMatic - a platform for programmatic advertising on the sell-side that maximizes your digital advertising revenue with a programmatic platform built for today's omnichannel ecosystem. The platform uses real-time bidding technology to match ads with relevant content, allowing publishers to optimize their revenue and advertisers to reach their target audience.
Ready to optimize your advertising campaigns?
Integrating with multiple ad exchanges allows the DSP to access a greater variety of inventory, increasing the chances of finding the right audience at the right time. Overall, a DSP solution with more integrations is generally considered more powerful to advertisers.
Growth Channel DSP empowers advertisers to easily launch, manage, and optimize omnichannel campaigns across 150+ ad exchanges, all from one centralized platform. To accomplish that, Growth Channel team built a vast network of premium publishers spanning various verticals. With high-performing campaigns in a unified dashboard, Growth Channel makes it easy to create and optimize all your display, native, in-app, TV, audio, and OOH advertising campaigns across every major global media.
Book a demo now, and see how the solution helps you maximize revenue at every stage of the customer journey with data-driven marketing intelligence.