The digital landscape is constantly changing and so are people's preferences for how they consume media. From streaming your favorite series on Netflix to listening to a new Spotify album on your Xbox, people are gradually moving away from traditional TV entertainment. With this trend come new ways of advertising as users are engaging with a variety of cross-platform content through multiple channels. This interconnectivity presents a gold mine for advertisers as new mediums like Connected TV are raising the bar for digital advertising. So what exactly is this new trend and how can you use it to grow your business? Let's find out!
---
What is Connected TV?
For many years linear TV has been the main consumption of entertainment. Users would subscribe to a cable or satellite provider that broadcasted content on a set schedule. Viewers would then have to tune in at a certain time to watch the program and saw commercials during the breaks. Seems pretty tedious, right? That's because it is! Nowadays, we can stream any media we want, when we want, with over-the-top (OTT) and Connected TV (CTV).
While it's easy to get both terms confused with each other, OTT, or over-the-top, refers to the delivery of content over the internet to your TV system. This could be media delivered through streaming services or an on-demand format that does not require subscriptions to cable or satellite providers. Some of the most notable OTT services include Disney+, Netflix, HBO MAX, Prime Video, and Hulu. On the other hand, Connected TV refers to any TV that has access to the internet and can load and stream digital content. This can be achieved through a smart TV or a traditional TV with an internet-connected device like an Xbox, Playstation, Apple TV, Roku, Fire Stick, or Chromecast. Connected TV allows users to stream music, watch movies, play games, browse the internet, and control your smart home all from your TV or a remote server. A large benefit of this technology is the accessibility of content at any time, anywhere, with little to no restrictions. As a result, more and more people are consuming media over the internet.
Source: MarketingCharts
Connected TV and OTT have been growing for several years now. In the US it's estimated that over 82% of US TV households will own at least one connected TV (source). That comes out to 40% of US adults being CTV customers with a reach of approximately 100 million adults. So not only are more people using CTV but the length at which people are accessing digital media services is increasing as well. Out of all CTV viewers, 63% watch daily, and the vast majority (94%) watch at least weekly. Additionally, US adults will spend on average 2 hours and 29 minutes per day viewing digital video in 2021, according to eMarketer. This growth in viewership presents a huge opportunity for businesses to implement connected TV into their digital media strategy. This year CTV ad spend has nearly doubled to $11.36 billion, with a projection of hitting $18.29 billion by 2024.
One reason for this media investment trend is the fact that CTV offers the highest video ad completion rate at 95%. While this is mainly due to unskippable video ads, there are many benefits to the large-screen, interactive experience of CTV. High ad viewability and immersive content are just a few examples. You can watch major movies from the leisure of your couch with premium subscriptions to streaming services. A trend that has only increased since the pandemic. Another benefit is viewers are watching on-demand, meaning they are more engaged with programs and the advertising that comes with it. This creates a more positive response when viewing ads and potentially better conversions for your campaigns.

How does Connected TV Advertising Work?
The process for advertising on Connected TV is not as tricky as you might think. It's a whole lot easier and cost-effective compared to traditional Linear TV advertising. Before CTV, buying ads was a lengthy process in which buyers at agencies had to spend countless hours negotiating deals with media. This involved multiple business meetings, contracts, and the possibility that you would be outbought by a competitor. Programmatic advertising solves this problem by allowing people to buy and sell ad spaces through an automated web service platform. To better understand this type of advertising it's important to know what an ad exchange, DSP, and SSP are. Similar to a stock exchange, an ad exchange is an online marketplace that connects buyers and sellers of digital advertising spots. There are both Open Market (OMP) and Private Marketplace (PMP) options. These platforms allow buyers (brands and ad agencies) to view and bid on ad spaces in real-time, increasing transparency and lowering the hassle of negotiation. It also allows smaller buyers to bid on ad spaces that would have been unattainable to them in a traditional setting. In theory, an efficient ad exchange allows sellers (publishers) to earn the most amount of money when selling an ad, due to competition from buyers. This maximizes the revenue for selling ad space and acquiring one.
So then what are a DSP and SSP? A DSP, known as a demand-side platform, is another term for a service that allows brands and agencies to view and purchase ads across multiple exchanges. There are several benefits to demand-side platforms like the ability to launch, track, and optimize campaigns from a single platform.
Looking for omni-channel reach with access to premium inventory and no minimum commitment? Check Growth Channel Activate DSP >>

An SSP, also known as a supply-side platform is the exact opposite of a DSP. These are services that allow publishers to supply their ad spots to exchanges to attract buyers. By offering their ads across several exchanges, a publisher has a better chance at finding the highest bidder and maximize their revenue. This whole process of programmatic advertising reduces the headache of traditional advertising while also allowing a more dynamic playing field for advertisers to share in media costs.
With connected TV advertisements, you essentially take advantage of all the distinct services offered by OTT devices to generate high-quality personalized ads. It may look like running ads on normal TV, but there are distinct differences in the way the content is delivered, its impact on the masses, and benefits to you as an advertiser. Let's take a look at some of them - read on!
---
Benefits of Connected TV Ads
1. Precise Audience Targeting
Connected TV allows advertisers to reach the right audience at the right time with the precision of digital advertising. The key to audience segmentation is that it allows advertisers to target viewers with relevant messages that bring awareness to their brand. For example, advertising a new video game to someone who plays on an Xbox, or recommending a new pair of hiking boots to someone who watches outdoors videos on YouTube. It's important to target audiences who you know would be compelled to click your ad. Some of these unique identifiers come from the connected Google or Amazon account associated with your device and provide information about IP, geolocation, device type, online behavior, interests, and social accounts.



2. Cost-Effective TV Advertising
While Connected TV is generally regarded as one of the most expensive video advertising tactics with an average of $35+ CPM. The CPCV, cost-per-completed-view, and impression rate are generally better than any other video ad placement. That's because more people are watching TV together with friends or family members, whether it's the NBA finals, Super Bowl, or the newest Marvel movie. This allows for greater reach compared to other internet-connected devices which may only have one viewer (i.e on a mobile phone or a tablet).
3. Real-Time Metrics
A big benefit of Connected TV is the ability to track and optimize your ad campaigns in real-time. This can be done through metrics like clicks, direct responses, conversions, and cost-per-completed-view. Metrics allow advertisers to gain new insights into their audiences and continuously change the quality, frequency, and targeting of their ads to make compelling content and maximize investment.
4. Premium and Responsive Audiences
An estimated 22% of daily ad requests on CTV take place at primetime between 8 pm and 11 pm. These viewers are consuming premium content like news, sports, live events, popular series, and movies. Targeting these viewers during peak advertising time allows advertisers to reach their audiences on premium channels. In addition, CTV users have a high degree of freedom when it comes to choosing their content. This level of control results in high user satisfaction and more response rates when viewing your ad, as shown by the case study below.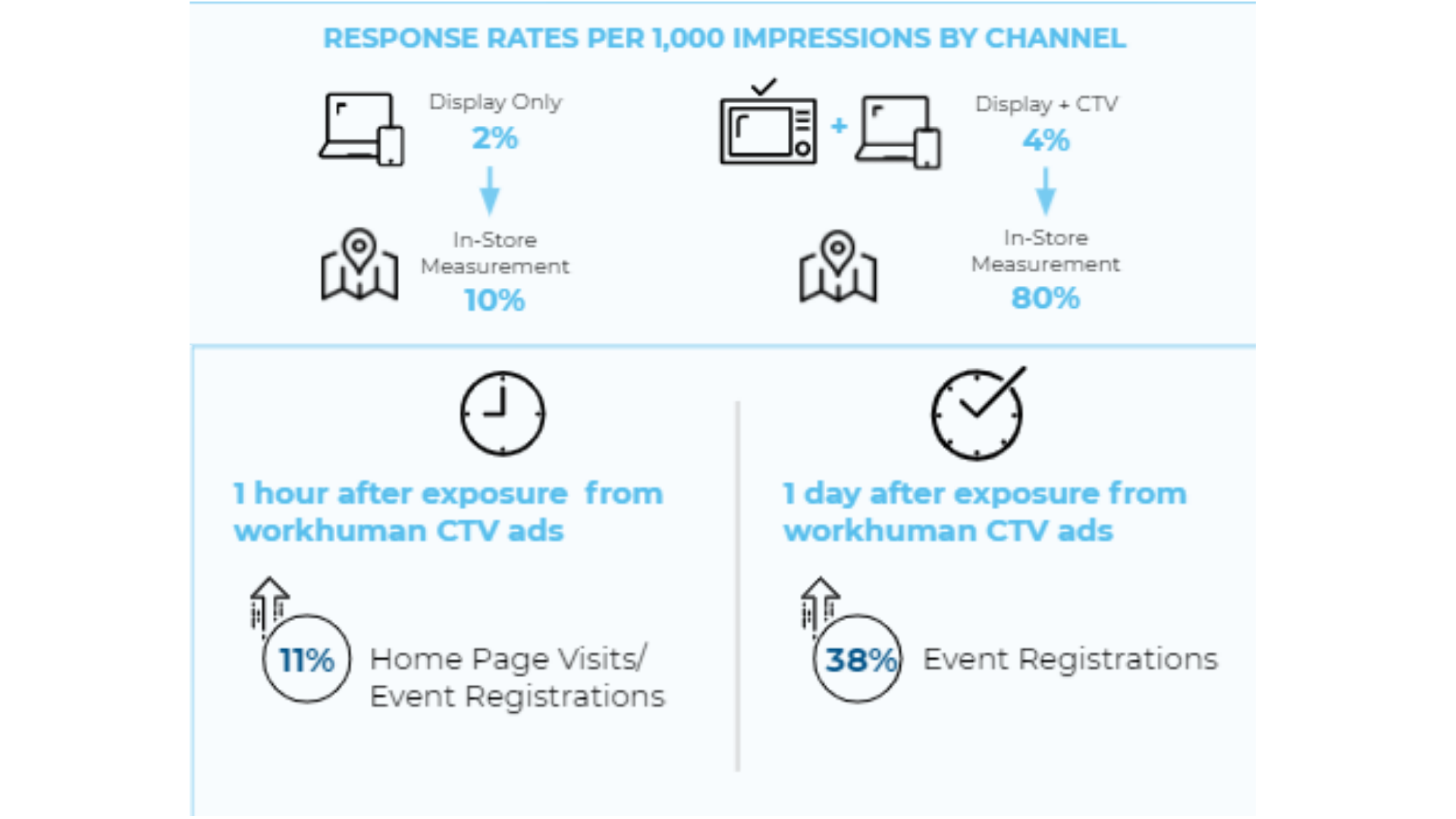 Source: MediaMath Leveraging CTV for Performance Case Study
5. Variety of Ad Formats
Connected TV advertising is highly versatile. Marketers can experiment with static, animated, and interactive video ads to determine what drives consumer engagement and conversion. Whether you have a static ad on a home page, an interactive pre-roll, or an unskippable in-stream video ad, CTV allows you to optimize for any platform. You can then perfect ads through A/B testing to determine which ad format and call-to-action drives the most response and adjust to increase performance.
Successful Connected TV Campaigns
1. Beauty company Coty leverages CTV for the holidays
To compete with the growing switch from TV to streaming platforms, beauty company Coty leveraged YouTube CTV ads for their 2020 holiday campaign. To do this, they repurposed old video content into new ad formats to showcase their up-and-coming fragrance, Gucci Guilty Pour Home. This campaign was massively successful with CTV resulting in 63% of its total campaign reach with considerable lifts in purchase consideration and video view-through rate.
2. Subway's "Eat Fresh Refresh" campaign with big-name celebrities
In anticipation of their brand's menu, app, and store overhaul, Subway hired big-name celebrities like Stephen Curry, Megan Rapinoe, Tom Brady, and Charles Barkley to act as spokespersons. These stars introduced several new menu items including bread, seasoning, and ingredients, as well as announcing a 50 sub giveaway at every participating Subway. The campaign generated a 33% increase in sales for the top quartile restaurants and the highest unit volume per week in over eight years. It was touted as one of the largest media investments in Subway history.
3. Volvo drives incredible sales lift with interactive CTV ads
In showcasing their new S90 model, Volvo designed interactive CTV ads for Roku and Samsung streaming devices. Viewers were given a chance to explore the new interior and exterior features of the vehicle, while also receiving personalized messages directing them to their nearest Volvo dealership. The campaign drove 526,000 unique engagements across 95,500 households and saw a 35% sales lift. The interactive features also proved effective in driving buyers across the full purchase journey. This was shown by 1,200 requests for more information on SMS.
4. Adidas uses Connected TV to launch a campaign in a matter of days
Adidas wanted to share the impact of sports on people's lives and bring diverse people together. Their "Ready for Change" campaign, which promoted justice and equality, used Google's Display and Video 360's connected TV solutions to get their message out in a matter of days. With so many athletes and sports fans turning to on-demand content, Adidas capitalized by securing premium channels and reaching over 24 million viewers on Hulu, ESPN, and Roku. As a result, they successfully increased reach while staying within budget by cherry-picking the 37.5% most relevant impressions. They also saved time from the automated workflow of programmatic technology.
5. David's Bridal leverages CTV to combat the pandemic
2020 was a very trying year for both brides and bridal companies. To adapt to the growing concerns of consumers, David's Bridal knew they had to adjust their marketing strategy. They leveraged the audience-first approach of CTV to drive in-store and virtual appointments. The highly personalized ads reached the right consumer at the right time, providing the most viable path to conversion. In just one month of CTV support, they reached thousands of unique households, scheduled hundreds of appointments, and drove a considerable increase in eCommerce sales. They praise CTV for its ability to quickly pivot campaigns and leverage real-time learning for optimization.
6. Auto repair company Meineke reaches premium audiences
Auto repair company Meineke was struggling to understand the reach of its digital media strategy. To gain new understanding and traction, they developed a Connected TV campaign that targeted premium audiences from NHL and NFL games. As a result, they found a 63% higher conversion rate with live sports ads set to a third of the frequency of linear TV. This produced 48,000 in-store visits over two months. Their ads were also on-target for the campaign by more than 180% compared to linear TV in the 18-34 age bracket.
7. RV manufacturer Jayco brings fun back to travel
Jayco's "Sounds like fun" video campaign showcased happy memories associated with family activities on camping trips. To optimize this campaign, they ran a 2-month test pilot during peak RV camping season intending to increase overall brand awareness. Their CTV campaign generated 582,000 ad impressions with 342,000 completed views.
---
To wrap things up, Connected TV advertising offers incredible opportunities for maximizing your digital strategy through engaging and interactive content. Think of CTV as a canvas and the marketer as an artist. The marketer has the power to create an immersive and compelling story that will reach the lives of thousands of people through TV screens. How would you tell that story? Let us know your ideas on Twitter @Gr0wthChannel.
If you're interested in running Connected TV ads for your business on premium channels without spending a fortune, check out Growth Channel Activate DSP. We can help you launch, track, and optimize your ads across 150 different exchanges and the world's most popular websites and platforms. To learn more about our DSP click here, or sign up now to join our private beta.