All marketers know the importance of a detailed, comprehensive marketing plan. But creating a marketing plan can be time consuming and overwhelming. From project management and competitor analysis, to promotion and data analytics, executing a marketing vision requires expertise and a diverse skillset. It often takes many individuals to successfully execute a marketing plan, and this extra level of collaboration and communication can create additional obstacles.
Luckily, there are a lot of online tools available to help you conduct market research, collect and analyze data, automate tasks, and optimize your campaigns. In this blog, we're sharing 18 of our favorite tools to help you create and execute a great marketing plan. You may already be using some of the items on this list, which is great! However, we also included some lesser-known, more niche resources, so you can find new opportunities you may not have considered before.
---
Why do you need to have a marketing plan in the first place?
A marketing plan is a roadmap that outlines your business' marketing strategy, including your goals, target market, tactics, budgeting, roadmap, and key metrics. It also includes the exact steps you need to take, and when you need to take them, to properly execute on your marketing strategy. You should create a long term marketing plan for your overall business, but you can also build plans for smaller campaigns, like new product launches, events, and major announcements.
Want to build your own marketing plan? Growth Channel has a free marketing template resource that walks you through every step of the process!
---
Marketing and project management tools

Manage your projects with Trello
Source: Trello
Trello is a project management platform that breaks down complex tasks into boards, lists, and cards. With Trello, every single part of your task can be managed, tracked, and shared with teammates. Use cards to organize assignments in a visual manner. Inside a card, you can select labels to designate the stage of the project, assign team members to tasks, leave comments, collaborate with your team, and upload documents and files. You can also move cards to different lists as your project progresses. You can also quickly switch your board into a timeline, table, or a calendar.
$0/user/mo - $17.50/user/mo
Keep your team's work on track with Asana
Source: Asana
"Here at ABC Fitness Solutions we use Asana daily. It is one of the most intuitive project management tools and it was easy to deploy for our rapidly growing team. One of my favorite features of Asana is the robust templates and views that are designed for marketing – for example, the board view for social management and the timeline for large complex campaigns or product launches. As a CMO, I very much appreciate the ease of tagging and reporting." - Cristine Kao, Chief Marketing Officer at ABC Fitness Solutions.
Asana is a project management tool that helps teams get organized and increase their efficiency. Projects are viewable as lists, timelines, and boards, so teammates understand the big picture but also know exactly what they need to complete and when their work is due. With real-time charts and other visual highlights, you can keep an eye on your team's progress. You can also create custom workflows to automate common tasks and reduce errors. Asana makes it easy to set up forms for work requests and submissions. Plus, with over 50+ customizable project templates and 100+ integrations, you have all the tools you need to successfully launch and manage any project.
$0/user/month - $24.99/user/month
CoSchedule is the content management software designed specifically for marketers
Source: CoSchedule
"After managing far too many Google Sheets for far too long, we switched to CoSchedule for our project management software. It's really efficient for task and project management, for both internal and freelance projects. The calendar view is the foundation of our weekly campaign meetings. Plus, we were able to move our social planning and scheduling for more of a one-stop shop." - Christine Lee, Managing Director at Interfolio.
CoSchedule's Marketing Calendar and Marketing Suite help marketers get organized. The Marketing Calendar allows you to schedule assignments, track progress, see everything your marketing team is working on, get instant clarity into all your projects, and confirm you're working on the right priorities. Simple drag and drop technology makes it easy to add, update, and reschedule projects. CoSchedule's Marketing Suite is a family of agile marketing products. See every project on a unified calendar of record with Calendar Organizer, optimize your editorial process to save time and deliver more with Content Organizer, implement consistent, defined workflows to speed up production with Work Organizer, and customize taxonomies to quickly find, update, and share files with Asset Organizer.
Marketing Calendar: $39/user/mo
Align your marketing team with Jira
Source: Jira
"Our marketing operations and creative teams use JIRA to track projects, allocate resources and keep folks updated on project status." - Jane Nevins, Sr. Product Marketing Manager at Udacity.
Jira's interactive timeline makes it easy to create project roadmaps, track progress, and keep everyone on top of important milestones. The calendar helps team members stay up to date on important deadlines, and with Jira's drag and drop form builder, you can easily collect work requests for projects. Plus, Jira's custom and pre-built automated workflows help you accomplish more in less time. With 20+ customizable project templates, you can get a new project up and running almost instantly. Jira offers a flexible pricing strategy, ensuring you only pay for the exact number of users on your team.
$0/user/month - $5/user/month
MailCharts helps you run seamless email marketing campaigns
Source: MailCharts
MailCharts has been collecting emails from brands for almost a decade, making it a great database for email marketers. MailCharts helps you plan upcoming campaigns, identify industry trends, and improve your strategy with in-depth competitive data. Find inspiration with MailCharts' curated email examples from ecommerce brands, browse emails from over 80+ industry groups, and access hundreds of examples of email automation sequences. You can also easily save your favorite emails and share them with your team.
$0/mo - $149/mo+
Track KPIs, create comprehensive budgets, and analyze ROI reports with Plannuh
Source: Plannuh
Plannuh is the first AI-driven marketing budget software. Plannuh helps you build comprehensive marketing budget plans including goals, campaigns, and activities. You can also track your achievements against numeric goals and spending for a true impact on your ROI. Easily import your budget into Plannuh and share it with your team. Manage your marketing expenses down to the penny, quickly modify plans and reallocate your budget based on changing market conditions, and access accurate CPO and ROI insights. Plus, you can even automate budget import, invoice entry, and expense reconciliation with Plannuh.
$500/mo+
Automate the entire marketing planning process with Growth Channel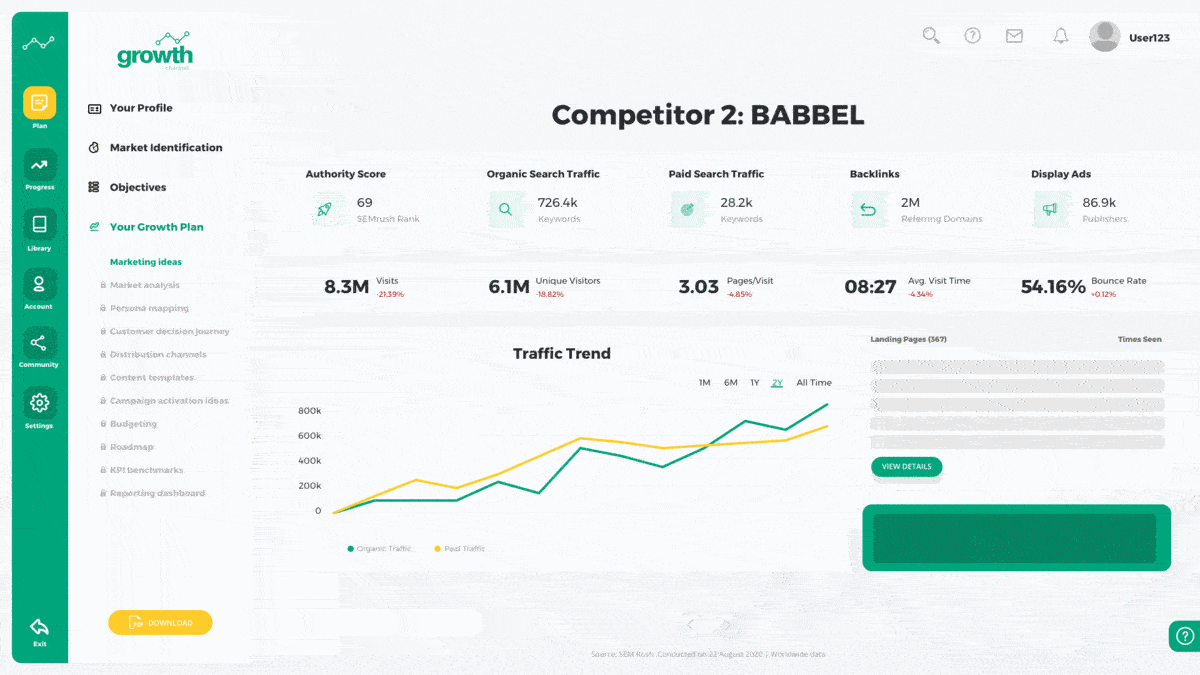 Source: Growth Channel
If you feel like you don't want to do all the market research yourself, there are automation tools that can help! Growth Channel automates the entire market research process, saving you weeks of research and thousands of dollars. Growth Channel AI will identify your micro-segment within minutes, simulate thousands of different campaigns and present the strategy with the highest chance of success for your specific business. Plans include buyer personas, customer journey maps, competitor analysis, personalized campaign suggestions, budget allocation, and more. Learn more on our website.
$0 - $999 
Branding and design tools
Design marketing collateral with Canva
Source: Canva
With Canva, you have all the tools you need to design like a professional. You can use Canva's customizable presentation templates to organize, create, export, and share your creatives. Canva offers hundreds of templates, fonts, graphics, images, videos, animations, and more to choose from. Plus, you can upload your personal brand kit and collaborate with your team. Canva makes it easy to create professional, branded designs. Besides creating your marketing plan, you can also create a variety of digital and physical promotional assets like videos, social posts, flyers, brochures, infographics, and business cards.
$0/mo - $327.99/mo+
1Brand helps you keep your branding consistent and strong
Source: 1Brand
As you begin to execute your marketing plan, it's very important to maintain clear, recognizable branding. 1Brand creates a custom brand guidelines website for your business, making it easy to manage your brand assets and keep your marketing messages consistent and strong. 1Brand automatically creates your brand guidelines from your website. Simply enter your business' website address and 1Brand will collect the colors, fonts, and logos used on your website to pre-populate your brand guidelines within minutes. Once your website is created, you can easily update and customize your guidelines. 1Brand's brand guideline websites are perfect for sharing with your partners, vendors, and team, so all your campaigns and promotional materials remain consistent.
$0 - $99/yr+
Competitor analysis tools
Monitor your competitors' keyword and SEO strategies with SEMrush
Source: SEMrush
SEMrush is a great all-in-one SEO and keyword research tool. You can use it to track your own progress and monitor your competitors' strategies. You can generate many detailed reports and use a variety of filters to find exactly what you're looking for. Here's a small sample of what you can do with SEMrush:
Check your current keyword rankings and track new, lost, and improved keywords
Analyze and audit your backlinks
Find new keywords, including their volume, difficulty, SERP features, and more
Discover your competitors' new and lost backlinks
Find keywords you and your competitors share
Track your visibility in paid search against your main competitors
Explore ads that feature a certain keyword
Perform topic research and find new content ideas, and many more.

$119.95/mo - $449.95/mo (limited free version available)
Track competitors' marketing moves with Competitors App
Source: Competitors App
Competitors App monitors your competitors and alerts you of any major updates or changes to their marketing strategy. Competitors App also automatically detects new competitors and informs you through email. Get every email and newsletter your competitor sends, track their keywords and rankings, get notifications when they make big website changes, and receive their social media posts on your timeline. All competitor updates can be sent directly to a chosen Slack channel, so you'll never miss a beat. Competitors App even monitors more than 60 reviews sites and alerts you every time a competitor receives a new review, so you can monitor their online reputation and learn more about their products and services.
$9.90/competitor/month - $14.90/competitor/month
Consumer research tools
Conduct online focus groups and surveys with iResearch
Source: iResearch
With iResearch, getting into the mind of your customers or employees is no longer out of reach. iResearch allows you to easily and affordably conduct online focus groups in any language. Respondents, clients, and moderators can participate from anywhere in the world, so you can screen participants on the most important criteria rather than by geography. iResearch achieves an additional level of depth and richness, since all respondents can respond simultaneously, without interruption. Plus, it helps reduce visual biases.
Pricing available on request
Track customer behaviors and launch targeted campaigns with Apteo
Source: Apteo
With Apteo, you can segment customers, monitor lifetime values, identify cross-sell opportunities, and track product journeys. Apteo uses AI to learn about your customers, helping you target them with the products they're most likely to buy. Apteo will automatically segment your customers based on their behavior and keep your segments in sync with your email marketing tools. Apteo will identify which customers and customer segments are most likely to buy which products, find products that are frequently bought together, and recommend new cross-selling opportunities based on previous purchase behavior. For subscription based businesses, Apteo will even identify which customers are likely to make a repeat purchase so you can incentivize them to sign up for a subscription.
Apteo also uses neural networks and deep learning to accurately forecast customer lifetime value, helping you see which of your customers are likely to be your best customers. Apteo tracks retention across your store and all your segments so you can make sure you're making the most of your existing customers.
$57/mo - $257/mo
Monitor e-commerce trends with Jungle Scout
Source: Jungle Scout
If your business sells on Amazon, then Jungle Scout may be the perfect tool for you. Jungle Scout helps you uncover high-demand, low-competition keywords to find products with maximum profit potential on Amazon. You can also track a product or group of products to evaluate sales over time and spot trends, unexpected spikes, and seasonality. Discover what Amazon customers are searching for with Keyword Scout and find daily sales, inventory data, and revenue for any Amazon product with Product Tracker. You can also monitor your competition, see what products they're selling, and determine what keywords they're targeting. Jungle Scout will even track your sales, revenue, expenses, performance over time, and other key metrics.
$49/mo - $129/mo
Analyze and predict consumer behavior with Olvin
Source: Olvin
Olvin's Almanac platform has analyzed ten million real-world locations and processes one billion events everyday to help you analyze past data and accurately predict future consumer behavior. By creating a comprehensive view of upcoming consumer trends in an area, industry, or brand, Almanac helps you react quicker and make the right decisions ahead of time. Almanac also offers granular customer segmentation insights and forecasts. You can also compare your performance to competitors and see how you stack up against industry benchmarks. With Almanac, you can even analyze and review data from over 2,000 retail chains.
$249/mo+
Social media management tools
Manage your social media campaigns with SocialBu
Source: SocialBu
SocialBu is the ultimate social media management and automation platform, letting you run all your social media accounts in one location. You can draft posts and automatically publish them, respond to comments, messages, and replies, analyze your performance, and automate a variety of tasks, all within the SocialBu platform. You won't need to switch between various social networks to keep up with all your accounts and followers anymore. With a built in calendar, you can easily plan and schedule weeks of content, letting SocialBu take care of the actual posting for you. Keyword and hashtag monitoring alerts you of places where your brand can join the conversation. SocialBu's granular automations ensure you're always giving the right response to followers in a timely manner. You can execute complex automations when a specific event occurs, and you can even specify multiple conditions that need to be satisfied before your automations run.
$8/mo - $199/mo
Improve your influencer marketing campaigns with Influencity
Source: Influencity
With over 700 million influencers and thousands of ways to combine filters, you can find the best influencer for your campaign and target audience. Easily analyze influencers' stats, rankings, niches, and demographics. Plus, manage all your influencer relationships, share your influencer lists with teammates, keep track of your budgets,and organize multiple campaigns, all within Influencity's dashboard. You can even access campaign results within seconds of executing. Influencity also lets you personalize your workflow and automate your campaign process so you can save time and money.
$48/mo - $698/mo
SmarterQueue lets you manage all your social media profiles and tasks in one place
Source: SmarterQueue
SmarterQueue takes the headache out of content scheduling and eliminates manual posting on social media. Build up a Queue of content with their flexible, drag-and-drop weekly schedule, and sort your posts into color-coded Categories, each with a specific Queue and automated Posting Plan. Set rules for content recycling once, and your evergreen content will automatically be re-added to your Queue and published as many times as you want. SmarterQueue also makes it easy to discover high-quality curated content and add it directly to your Queue. You can manage multiple profiles at once and respond to your social media messages from one inbox. SmarterQueue will even help you analyze your competitors' social media profiles and uncover their strategies. With detailed reports and analytics, you'll be able to see what types of content drive the best results for your business.
$19.99/mo - $79.99/mo
---
Does your business use any of these marketing planning tools? Are there any we missed? Let us know on Twitter @Gr0wthChannel. If you're looking for more marketing tools and resources, check out the Tools section of our Growth Library. Here, you can filter between 200+ marketing tools based on buyer's journey stage, marketing objective, industry, and more.