Tired of online events yet? We hope not! The COVID-19 pandemic brought the events industry online, and as a result, it's easier than ever before to connect with like-minded individuals, learn new skills, engage with industry experts, and hear amazing presentations. To help you grow your network and explore new opportunities, we've compiled a list of marketing and startup events for the second half of 2021. But if online events aren't your style, don't fear! Many conferences on this list are planning to return in-person later this year.
---
The largest conference for women in tech will bring women, minorities, and allies from all over the world together through an interactive platform featuring live ceremonies, keynotes, engaging panels, breakout rooms, country & chapter leader sessions, technical workshops, and networking with face-to-face sessions. Grow your skills, build a stronger network with women in tech communities worldwide, and find new opportunities to make an impact in your community. Don't forget to sign up for our live session, Startup Growth Marketing in 2021 .
Online | June 7-11
Customer Journeys? Voice of the Customer? CS Metrics? This event has it all. With over 25 Customer Success experts breaking down topics from 5 key areas, you'll leave with inspiration, motivation, and more importantly, proven tactics to take back to your business to drive innovation within customer success, helping grow your business.
Online | June 9-10
Pitch For Progress is a global startup pitch competition that aims to highlight and empower entrepreneurs making progress on the UN Sustainable Development Goals. In this free and open competition, entrepreneurs or teams building a For Progress Company can apply to Pitch for Progress Demo Day (July 14), an online event broadcast to thousands of global attendees and judged by top venture capitalists, by submitting a 4-minute pitch video. The winner of the Demo Day will get access to a lucrative prize pool from top global organizations.
Online | Submissions due on June 11, Compete on July 14
Join Epsilon for a free, public virtual event created by marketers, for marketers. PERSONALIVE is designed to empower and inspire marketers with thought leadership, best practices, and interactive discussions. Hear industry experts from Forrester, Marriott International, General Motors, Publicis Groupe, and more talk about next-gen personalization and identity throughout the customer experience.
Online | June 14-16
Product Marketing Festival features a global gathering of product marketing leaders. With 70+ experts covering all the essential elements of product marketing, interactive small group workshops, and exclusive previews of PMA's Masters Certification courses, you're guaranteed to walk away with tons of new ideas, tactics and proven strategies to take your product to the next level.
Online | June 14-18
ELEVATE is a free virtual accelerator designed to help early-stage startups learn the principles of inbound marketing, sales, and service while creating a growth playbook tailored to the needs of their customers. Featuring speakers from Maze, Superscript, Passbase, HubSpot, and more, ELEVATE will teach high-potential startups how to accelerate their growth through two days of masterclasses and AMAs.
Online | June 22-23
AgencySummit is a free conference that will provide you with all the tools necessary to grow your marketing agency through live workshops, Q&A sessions, and interactive breakout room discussions. Unlike traditional webinars, Agency Summit will feel like the in-person events we all miss. From being able to talk face to face with speakers after their presentation, to meeting and chatting with other attendees, there will be plenty of opportunities for "magical moments." Also, stop by our booth to connect, chat about growth marketing, and learn more about Growth Channel.
Online | June 23
PR Day is the largest single-day event for public relations communicators, including 20+ expert speakers and compelling discussions that cater to communicators at every stage of their career. This year it will be held virtually, followed by an in-person networking happy hour in Houston. Topics include: diversity, branding, social media tactics, influencer markets, leadership techniques, campaign building, and much more! 
Online | June 24
Interested in growing your brand, increasing your sales and making 2021 your most profitable year yet? The entire ecommerce world is coming together online to share exclusive knowledge, tactics and actionable strategies on how to build, operate, and scale profitable ecommerce businesses in 2021. Ecom World is gathering the world's most innovative founders, brightest minds and trailblazing DTC brands for two days of masterclasses and networking - all from the comfort of your home. Join e-commerce masters and 15,000+ attendees for 10+ tracks of in-depth speeches, panels, workshops & live Q&A sessions on 28-29th June.
Online | June 28-29
The SaaSGrowth experience is back for its 4th year, this time with an entirely virtual conference! SaaSGrowth has established itself as the number one thought-leadership event in Europe. Connect remotely with the best homegrown and international sales thought leaders, develop your skills, expand your networks, and reimagine the sales experiences you're making with a global community without any barriers.
Online | July 7
You'll learn from some of the top DevMarketing companies out there (think Gong, Magic, RingCentral, Wix, Square...). With 20+ experts covering all the essential elements of developer marketing, you're guaranteed to walk away with tons of new ideas, tactics, and proven strategies to take your product to the next level. Topics include: driving product adoption and brand awareness, creating compelling positioning and messaging for a technical audience, establishing key personas and understanding your demographic, building community, growing trust, and developing customer advocates.
Online | July 14
By popular demand, MozCon once again is coming to a computer screen near you! As the world changes, SEO doesn't stop — searchers keep on searching, and marketers need to stay sharp to meet their needs. Gain new insights and attend tactical presentations from industry leaders in SEO, search marketing, mobile, conversion optimization, local search, and more.
Online | July 12-14
Digital Summit brings together top marketing talent and innovative brands to produce conferences and digital content experiences for Fortune 1000 companies and other leading organizations of all sizes. Over the years, Digital Summit has become the go-to resource for those seeking to further their knowledge and skill set in the ever-evolving digital ecosystem. Digital Summit produces over 1,200+ sessions, workshops, and seminars annually covering digital marketing best practices and tactics.
In-person summits held in various U.S. states | Aug-Oct
Have you ever wanted an easier way to create personas? Could your client onboarding use a refresh? Have you heard about Account Based Selling but aren't really sure how it applies to your agency? These are just some of the topics Agorapulse's Lunch & Learn webinar series will be covering. Every webinar is 100% free with no up-sell, packed with tactical advice to help your agency. Plus, if you attend a live session, you'll get the opportunity to ask questions to the amazing presenters.
Online | Thursdays in Aug. & Sept.

Join 5,000+ SEO consultants and content experts for 40+ talks from the industry's best and brightest, all to help you produce content that ranks. Outranking Summit is a free online event where the top SEO and content leaders driving innovation share their playbooks on producing content that generates business outcomes. This two day event is uniquely structured to provide high-impact and measurable value. Each session will also have a live Q&A, so you can get your questions answered directly by the amazing presenters.
Online | Sept. 1-2
Growth Marketing Summit is Europe's biggest conference for digital growth and optimization, uniting like-minded optimizers from around the world. Share topics that move the digital world, hear world-class talks, and learn how a data-driven, customer-oriented, and agile approach can help you scale sustainably.
Frankfurt am Main, Germany | Sept. 2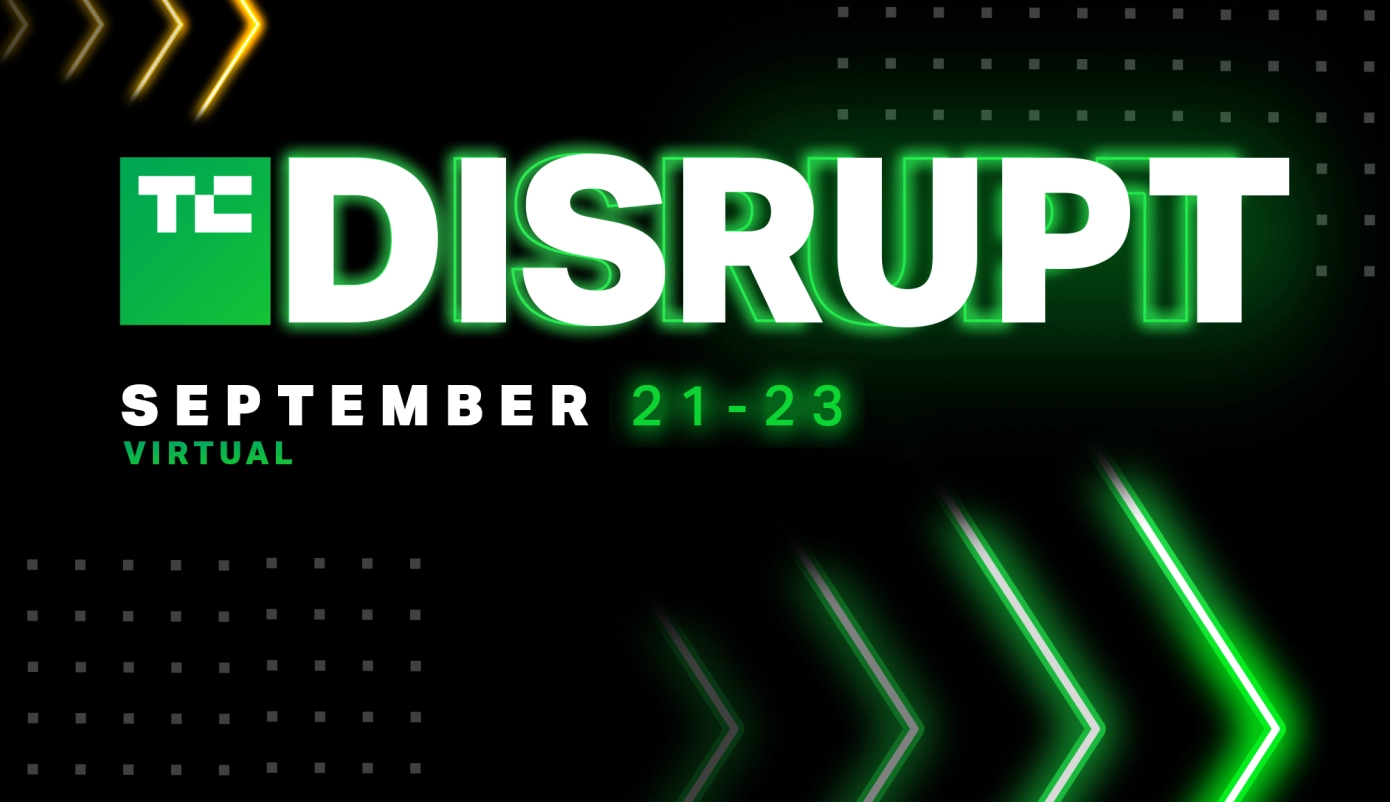 TechCrunch Disrupt is three days of non-stop online programming with two big focuses: founders shaping the future of disruptive technology and startup experts providing insights to entrepreneurs. It's where hundreds of startups across a variety of categories tell their stories to 10,000+ influencers from all around the world. It's the ultimate Silicon Valley experience where the leaders of the startup world gather to ask questions, make connections and be inspired.
Online | Sept. 21-23
10,000+ SaaS executives, founders, and VCs will come together both in-person and digitally for SaaStr Annual 2021, the world's largest SaaS community event on the planet. Experience 3 full days with 100+ tactical sessions from world-known founders, new voices, and up & comers, 200+ speakers from the best SaaS companies across the world, and 750+ VCs in attendance. If you are a B2B founder, exec, revenue leader, or investor, SaaStr 2021 is a must-attend event!
San Francisco, CA | Sept. 27-29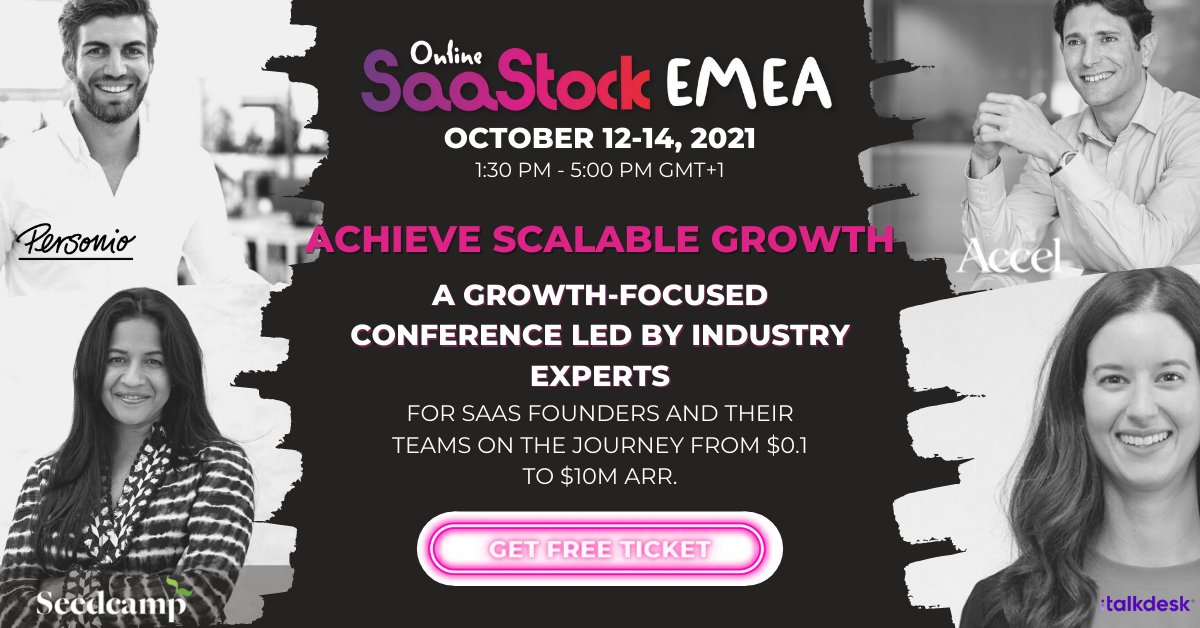 With a curated agenda of actionable content and networking opportunities, SaaStock will help you hear the growth stories, learn the proven strategies, and meet the right people to scale your SaaS business. At SaaStock EMEA, 3000+ SaaS Founders and their teams will come together and leave equipped to scale. Attend networking sessions, fuel your growth with actionable content for companies on the journey from $0.1 to $10M ARR, and connect with CEOs, Founders, and VCs from across the world.
Online | October 12-14
Join the largest collective of product marketing managers who live at the intersection of product, marketing & sales. With two days of groundbreaking keynotes, breakouts, and panel discussions, Product Marketing World Summit assembles product marketers from the world's largest companies and most exciting startups to share and discuss success stories, best practices, and product marketing challenges.
Boston, U.S. | Oct. 20-21
This five day virtual conference offers 25 free talks from growth leaders in SaaS, Mobile, E-commerce and more! Each day will be dedicated to bring actionable and practical examples on how companies run experiments across the AARRR funnel. Mornings will be filled with free talks and afternoons will be reserved for exclusive paid workshops, where teams can get guidance on their growth hacking and experimentation efforts. This conference is a great opportunity for online retailers to learn about how an experimentation culture can benefit their businesses.
Online | Oct. 25-29
Join 50,000 of the world's brightest minds in advertising to learn, share secrets, and connect online. Ad World will stream 10+ Digital Advertising Tracks, consisting of hyper-focused speeches, panels, and live Q&A sessions to help take your business to the next level. The all-in-one advertising event will bring you closer to leading marketers and brands than ever before, all from the comfort of your home.
Online | Oct. 27-29
SAAS NORTH by L-SPARK and Cube Business Media
SAAS NORTH is recognized as the best conference for the fastest growing SaaS companies to learn, network, and grow. SAAS NORTH brings the entire Canadian SaaS ecosystem under one roof. Whether a start-up or a global brand, an investor, or a service provider specializing in SaaS, SAAS NORTH is your opportunity to interact with SaaS professionals from coast-to-coast.
Ottawa, Canada | Nov. 17-18
---
What events will you be joining? Have any startup events we should add to the list? Let us know on Twitter @Gr0wthChannel !