Growth Channel recently launched a new interactive Persona Module, designed to help businesses create and manage all their ideal customer profiles. In this blog post, we break down the importance of buyer personas and walk you through a step by step process of how to create your first customer profile with Growth Channel.
What is a buyer persona?
As marketers, sometimes we create campaigns that we enjoy or that we think are amazing, while completely neglecting our target audience. Yet as Seth Godin explained,
"If you're only willing to market to people like you, then there's no one left." - Seth Godin

The goal of marketing is to create and communicate value. If you want more leads, repeat customers, and positive word of mouth, you must satisfy the needs of your target audience. But how do you learn what your audience actually wants and deliver it to them?

That's where buyer personas come into play, or often referred to as ideal customer profiles. A buyer persona is a fictional representation of an ideal customer segment, and it includes information like demographics, location, social media usage, likes, dislikes, goals, and pain points. Companies create personas from extensive research. They may even give their personas a name and image, like "Stacy the stay at home mom" or "Freddie the full time student," to make them feel real. Many businesses also cater and market to more than one persona. For example, a university may target high schoolers from affluent families for their traditional four-year program on campus. But they may target their more affordable, online classes to middle aged parents who haven't received a college degree. Yet another persona may be working professionals in their mid-20s looking for a part-time graduate program.
It's important to remember that buyer personas are a general representation of your target audience. Not every customer will exactly match the profile you created, and some customers may belong to a completely different profile. Even so, buyer personas are still important because they help you understand your target audience and better satisfy their needs, leading to more sales and revenue growth.
Why are buyer personas important?
Knowing your audience helps you anticipate their wants and execute personalized campaigns, rather than marketing to the masses and hoping something sticks. Once you know the most relevant personas for your business or product, you can identify customer profiles that aren't in your audience, so you don't waste time and resources marketing to people who are unlikely to convert.
Not everyone in your audience thinks exactly the same, uses the same communication channels, or has the same problem. Buyer personas help you understand your overall audience, and then segment that audience into groups of like-minded consumers so you can create a more customized marketing strategy and build stronger relationships. Creating different personas makes it easier to provide relevant and valuable content to the right people, on the right platform, at the right time. For example, Growth Channel uses communities like Pioneer, Indie Hackers, Startup School, Slack and Facebook Groups to connect with other startups and founders. However, to reach agencies and enterprise teams, we rely more heavily on LinkedIn, email campaigns, and events from partners, like Agorapulse's Agency Summit. Most times, we don't send the exact same message to each group. We typically send different variations of the same base newsletter, updating the messaging and including information each segment would find most relevant.
6 Aspects of great buyer personas
In order to create a helpful buyer persona, you need to know a lot of information about your audience, including demographic, geographic, psychographic, and behavioral insights. To make it easier to organize this important data, all of our persona templates include the following:
Demographics - demographics include data points such as age, gender, race, nationality, education, income level, and occupation. These categories often affect people's buying power, desires, and preferred communication channels. However, it's important to avoid outdated stereotypes (for example, more and more men are becoming stay at home dads, a role traditionally associated with women), and remember that similar demographics don't always think the same way (for example, not all young girls want to play with dolls). The demographics are easily used to target specific audiences on ad platforms such as Facebook, Google, or programmatic buying.
Goals and pain points - consider what your audience wants to achieve and how you can help them reach their goals. And on the flip side, think about what problems and struggles your audience currently has and the solutions your business can offer. For example, Growth Channel helps startups who want to scale their business (goal) by automating the market research process so they don't have to waste hours of their precious time or pay expensive outsourcing costs to build their own marketing plan (pain point).
If you aren't sure what your audiences' goals or struggles are, search keywords related to your company and browse Google's "People Also Ask" box and "Related Searches" section. You can also check forums like Quora and Reddit to get insights into the conversation around your industry. Customer testimonials and success stories on your website are great ways to highlight how your product or service helps your audience achieve their goals and eliminate their pain points.
Influence - Sometimes you need to appeal to someone else in order to persuade your audience to make a purchase. What might be influencing your audiences' buying decisions? Do they care about online reviews? Do they follow certain influencers or celebrities? Do they rely on advice and recommendations from friends and family?
Decision criteria - think about what your audience truly wants. What factors are affecting their decision? Will they look at price point, product comparisons, a case study, or immediately make a purchase? What will trigger them to buy your product or service?
KPIs - consider the key performance indicators that are important to your audience. How will they measure the success or impact of your product? How will they determine if they should make a repeat purchase? Examples of KPIs include performance, features, reliability, durability, conformance, aesthetics, quality, speed, ease of use, emotions, feelings, and responsiveness. KPIs vary greatly depending on the purpose of your product or service. However, you should always deliver on the promises you make in your marketing and promotional materials.
Likes and dislikes - knowing what your audiences' preferences are can help you tailor an authentic message that really resonates with them. You should include what your audience likes in your ads and promotional materials. You should also either avoid highlighting things your audience doesn't enjoy or show how your product solves their dislikes.
---
How to use Growth Channel Persona Module
Growth Channel's Persona Module helps you create, organize, and manage all your buyer personas. To access the module, log into the Growth Channel app and use the left hand menu to navigate to the Personas section (located under Plan). This will take you to the main page of the Persona Module, where you can create a new persona, view all your current personas, and browse through our pre-populated persona templates.
Create a persona from a pre-populated template
Growth Channel currently offers 15+ pre-populated templates to make your persona creation much easier. Each template is completely customizable, so you can edit it based on your specific business or product. Templates are great if you're just starting out, or if you don't know all the details about your ideal audience. Each template represents a real person and is based on data analytics.
To preview a template, select the green icon listing persona's identifier. To open the editable template, click Select This Template.
The goal of these templates is to make your ideal customer into as much of a "real" person as possible, so you can create relevant and authentic communications and messaging. That's why we include a section for an image and a featured quote. As you fill out your template, consider what your persona looks like, how they act, and where you can find them. Tags are a great way to differentiate your personas, and they can be used as filters when creating audience targets for digital ads. Considering your audiences' goals and pain points will help you create focused and persuasive promotional materials. Technology and social networks help you determine the best channels to reach your audience. For example, you wouldn't want to market to Gen Z through LinkedIn or radio, because they don't use those channels. Instead, you'd want to build a brand presence on apps like TikTok, Snapchat, and Instagram.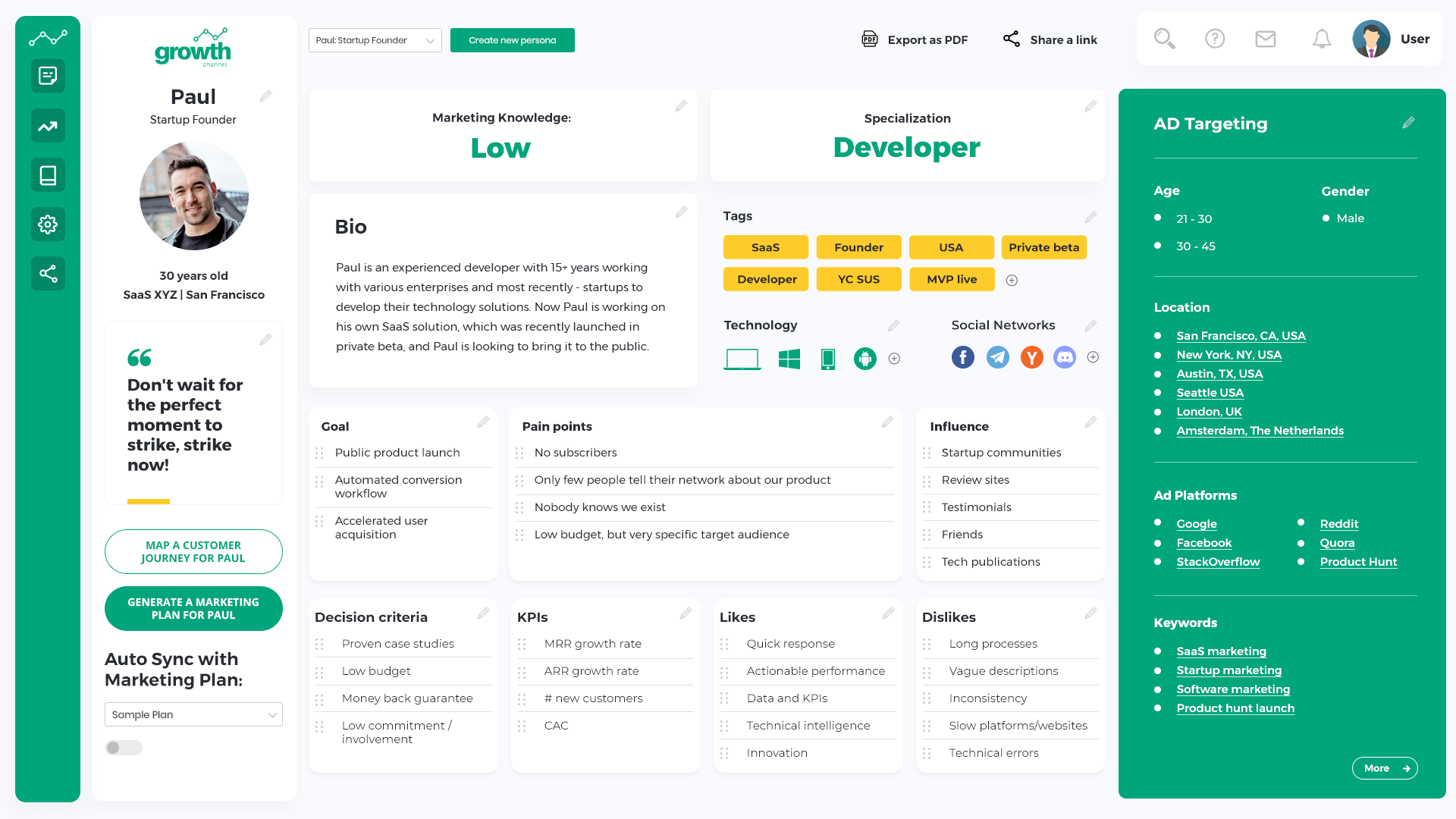 Let's break down how you can customize this template:
Change content - there are two ways to change content. You can double click on the text or click the small gray pencil icon. This allows you to add, alter, or delete text. You can customize every piece of text. Once you've made your updates, click anywhere on the screen to save your changes. Changes are auto-saved every 5 seconds.
Add new lines - to add new points to sections like Goals, KPIs, Keywords, and Influence, select the small gray plus icon. This creates a blank bullet point where you can add your own content.
Delete a piece of information - to delete a point, hover over the text and select the gray trash can icon.
Edit tags - there are two ways to add and delete tags. You can either select the pencil or the plus icon.
To remove a Selected tag, click the x icon in its upper right hand corner. To add a tag, type in the search bar and hit enter.
Edit social networks and technology - similar to tags, you can alter the icons under social networks and technology by clicking the pencil or plus icon. To remove selected Technology or Social Networks, click the x icon. To add technology or networks, click on the desired icon or logo.
Add a company logo - make the persona truly your own by uploading a sample target company logo (for ABM and other B2B marketing) or your own logo (for agencies and consultants). Click the pencil icon and upload an image from your computer.
Change the photo - click the pencil icon over the persona image to upload your own photo. Unsplash can be a great source to find free, high quality stock photos.

Export - select the Export as PDF button at the top of the template to export your persona and share it with your team.

Switch to another persona - select the dropdown at the top of the template to switch to a different persona template.
Create a persona from scratch
Creating a persona from scratch is great if you have a very niche audience or if you've collected enough data to know specific details about your customers. To start building your persona, select the green plus button from the Persona Module and select Get Started under the Create From Scratch tile.
This launches a blank interactive template with the same categories and layouts as the pre-populated templates. The sections and titles are there for guidance and to ensure you have a complete 'big picture' of your audience.
You can navigate and edit the blank template in the same way as the pre-populated templates (see previous section). All personas created from scratch are titled "Name - Enter role." Once you add the name and role of your persona, the title will update on the Persona homepage and within the template.
Generate a persona with AI (paid feature)
If you don't know who your target audience is and how to communicate with them, or if you don't have time to research and create your personas, let Growth Channel AI generate personas for you. All Growth Channel marketing plans include custom-generated buyer personas. Growth Channel AI uses over 500 data sources to determine the best and most relevant customer profiles for your business.
The feature is available as a part of the full marketing plan (included in the Marketer plan and available as an add-on for the Member plan). Each marketing plan includes 2-4 target personas for your marketing plan campaign and covers the same sections as the persona templates. Each persona represents a real person, even though generated automatically. For B2C campaigns, the demographics are coming via Facebook, and for B2B campaigns - via LinkedIn. Growth Channel matches the audiences on those channels, and helps you (automatically) identify their psychographic and behavioral characteristics. If you're planning your next marketing campaign and don't have time for lengthy interviews and surveys - you may want to check it out 😀
Generate an instant persona from Google Analytics data (paid feature)
Growth Channel lets you generate custom, data-driven personas in under 5 seconds using your Google Analytics Universal data. Before you start, you'll want to make sure your Google Analytics account is connected to your Growth Channel account. If it's not, head over to Integrations under the Account menu to get everything set up. If you are an agency or freelancer, you can connect multiple Analytics accounts and generate separate personas for each. To learn more about the Growth Channel Agency solution head over here.
Once the accounts are connected, open the Persona Module and click on Create new Persona button. Click the green Get Started button in the tile titled Generate from Analytics.
It will then take a couple of seconds for Growth Channel to scan, analyze, and organize all your Google Analytics data (just 1-5 seconds to be more precise). The amount of personas generated depends on the amount of users and data Growth Channel can pull from your Analytics. Typically, one to three personas are generated. Personas include information about the demographics of your site visitors, what content they're engaging with, what social networks and technology they use, and what market segments they belong to. Just like with the interactive persona templates, you can export the persona as a PDF, share it your team, or send to a client.
Manage your personas
To get from a template back to the Persona Module homepage, click All Personas at the top of the template. To create a new persona, click the Create New Persona tile. To edit a current persona, click the gray plus icon or click anywhere in the white tile to open up the template. To delete a persona, click the trash can icon. This brings up a confirmation popup with the option to cancel or delete the persona permanently.
As your business grows and evolves, it's highly unlikely that your buyer personas will stay exactly the same. As you start to gain more leads and customers, you can optimize your buyer personas based on the data you're collecting. Oftentimes, the people who end up buying your product or service are different than what you originally predicted, and your buyer personas need to reflect these changes so you can focus your marketing efforts on those who are most likely to convert.
Buyer personas are an integral part of every great business strategy. They focus your marketing strategy on the segments that are most likely to convert and become customers, so you can create more personalized and convincing campaigns. Without clear, accurate buyer personas, it's easy to promote to the wrong people, miss valuable opportunities, and see low returns on your marketing efforts. Personas need to be backed by good data and updated regularly to ensure you're targeting the most relevant audience. Start creating and managing your personas with Growth Channel today, and don't be shy to send your feedback to hello@growthchannel.org. We're always looking to improve and add new features!
---
Want to experience Persona creation in an interactive workshop? Watch our webinar recap with Agorapulse