The year of 2020 has been nothing but eventful. If this year had a theme, it would be adapt, evolve, or go into extinction. The phrase 'change is constant' has been very imperative throughout this year and has affected every aspect of life with major emphasis on business and marketing.
The way customers perceive brands have changed over the year and we have seen brands struggle to keep up and maintain the status quo. At different times during the year, new statistics, technologies, and strategies have evolved, and brands who are eager to tap into the disruption caused by the new normal have adapted to forge a stronger image in the minds of their customers.
Going into 2021, how can businesses ensure they succeed, particularly in the face of the ever-changing landscape and consumer behavior?
Let's take a look at some of the trends that are sure to step up your game in the coming year🕺💃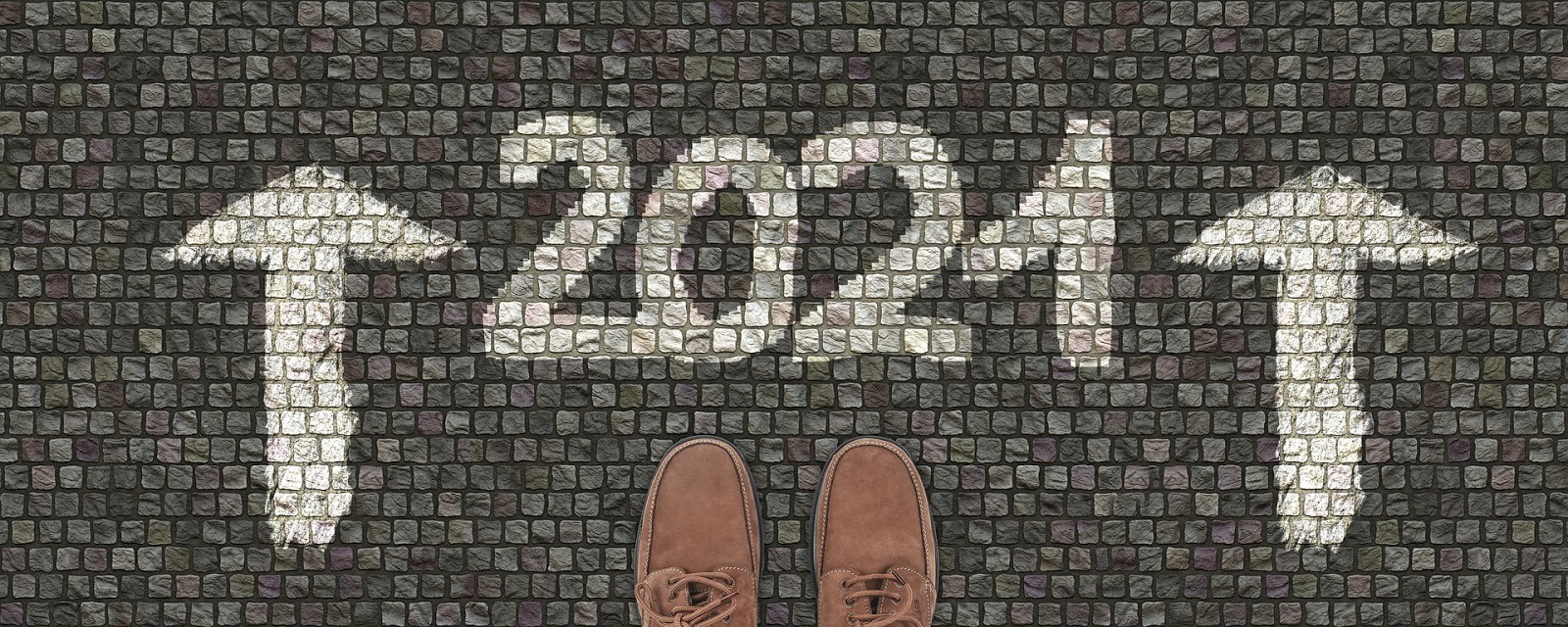 1. Building content communities
With the focus on personalization in marketing and the rise of Facebook, Linkedin, and Slack communities across the tech industry, building communities has been booming all year. Building communities around content creation allows businesses from various industries to expand their reach.
This is not only a great way to boost brand awareness and metrics, but this form of inclusion is also good for nurturing a sense of community with your customers, too.
Either it's content for your blog, social media, or a webinar, building communities makes your audience feel valued so it's a trend that should continue picking up pace.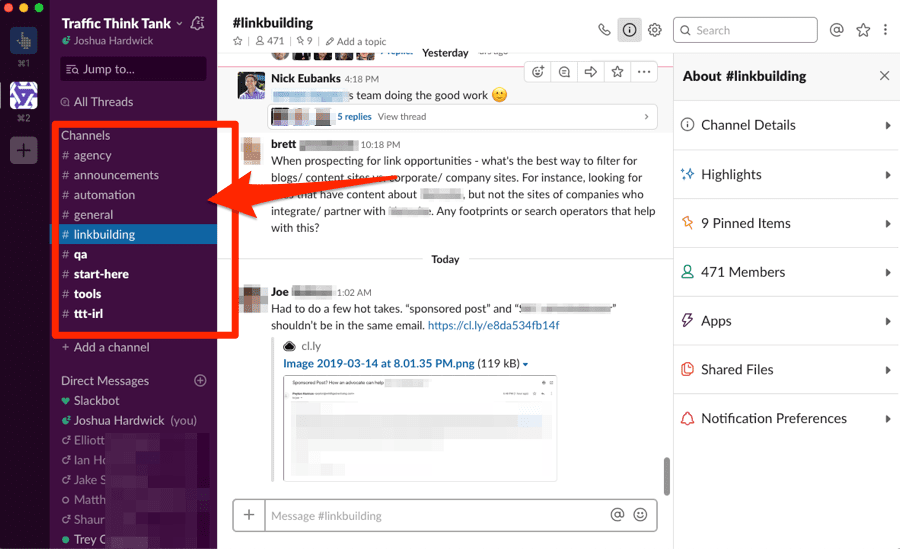 Did you know that Growth Channel has a LinkedIn community for growth hacking? Join us here >>
2. Featured snippet (no-click searches)
A lot of brands strive to be the first to appear on Google's search results. However, in recent times, a new number one position emerged. As we go into 2021, the goal is for most brands to continue to shift to more SEO visibility in "position zero".
Position zero signifies Google's "featured snippet", and it is being prioritized as the top of 2021 SEO marketing trends. This snippet is displayed uniquely than the other SERP entries as it is separated by a small box and located at the top of the search page. Moreover, it shows added, relevant information as it strives to help people find answers quickly without them needing to click on it, which prompted the name 'no-click search'.
This could be frustrating for business owners as it can be counter-intuitive to forgo attracting visitors to their website. But, it is not always a negative effect as these snippets are occasionally read out loud with Google voice search.
The trick to targeting a featured snippet is to focus on optimizing your content with a suitable format which is mostly 'long-tail keyword phrases' in the form of questions (e.g steps to creating Instagram content).
The significance of featured snippets is growing as time goes on. And I wouldn't be surprised if the trend persists for a while.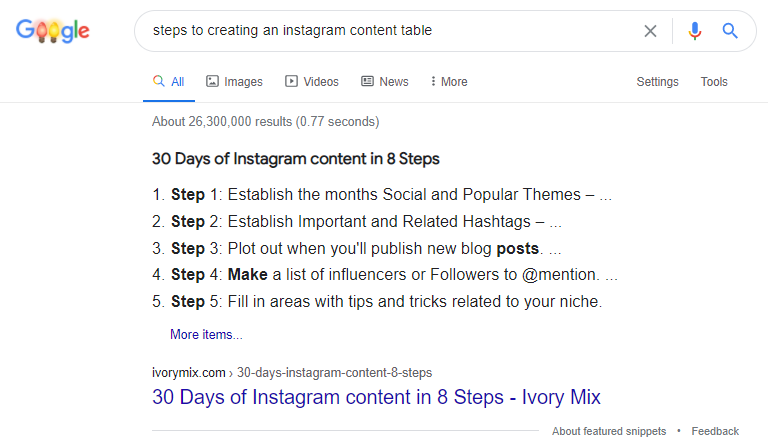 3. Implement a voice search
Siri, Alexa, Cortana… It's safe to conclude that you've used or come across these before?
Not only do these voice assistants respond to brief questions such as 'Who played Jess in New Girl?' or 'What is zero divided by zero?', but they've also started to process native, chatty, and personalized searches. Some of which could sound like, 'Where is the nearest Domino Pizza to me?', 'Have they closed?', and 'Do they serve Chicken Tikka?'
Due to this rising practice, brands have to acknowledge and optimize their content for voice.
An approach businesses can take is to pick a topic and think about the questions their users could ask about it. Next, they should seek opportunities to insert questions. Doing this will allow digital assistants to grasp questions easily and proffer content they perceive as solutions.
Embracing a voice search approach is not only about staying relevant — it is mostly about constructing a distinctive and improved customer experience that will help build customer loyalty and strengthen relationships.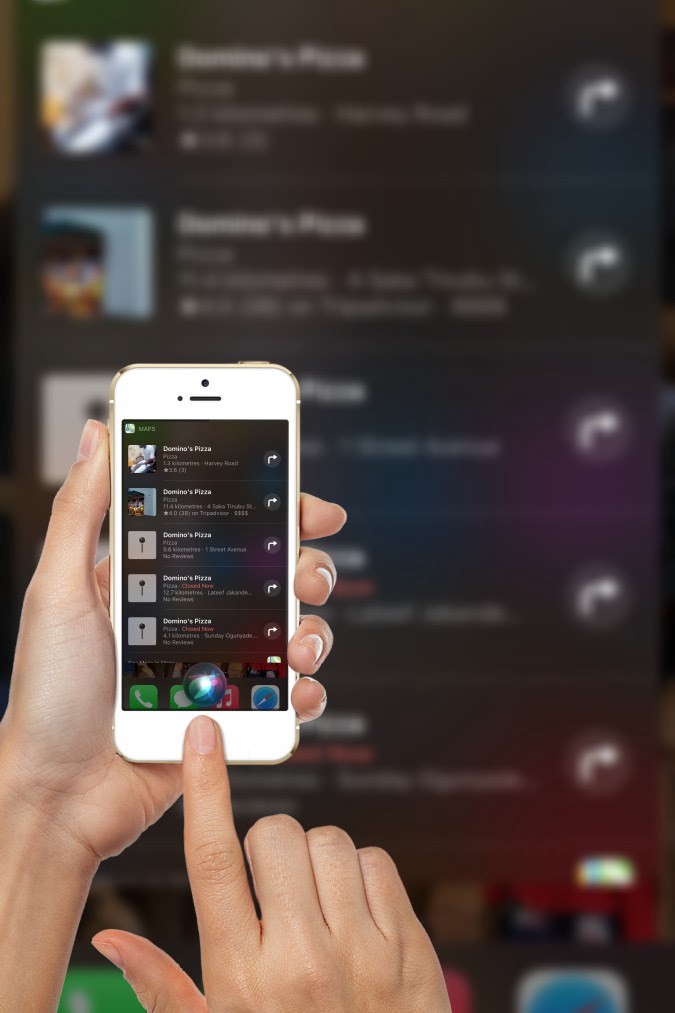 4. Embrace virtual and augmented reality
In current years, virtual and augmented reality have become popular as top marketing trends. Most people might not know what this is.
So simply put, virtual reality is viewing a computer-generated lifelike scenario, while augmented reality is viewing the real world augmented with visual, haptic, olfactory, or visual additions. They both offer different experiences but are making waves in the marketing world today.
Gartner predicts that by 2022, 70% of enterprises will be experimenting with immersive technologies, and 25% will have deployed to production.
Virtual reality and augmented reality are used to complement and boost clients' experiences at events and virtually. These marketing strategies are used by businesses to promote brand awareness. Although virtual reality (VR) is everywhere and gets people hyped with grand sci-fi ideas, augmented reality (AR) is much more actionable from a marketing point of view. It is predicted that AR will carry on outdoing VR in the market share sphere.
With AR improving rapidly, we will see a huge uptake in brands finding useful applications for the technology in the future.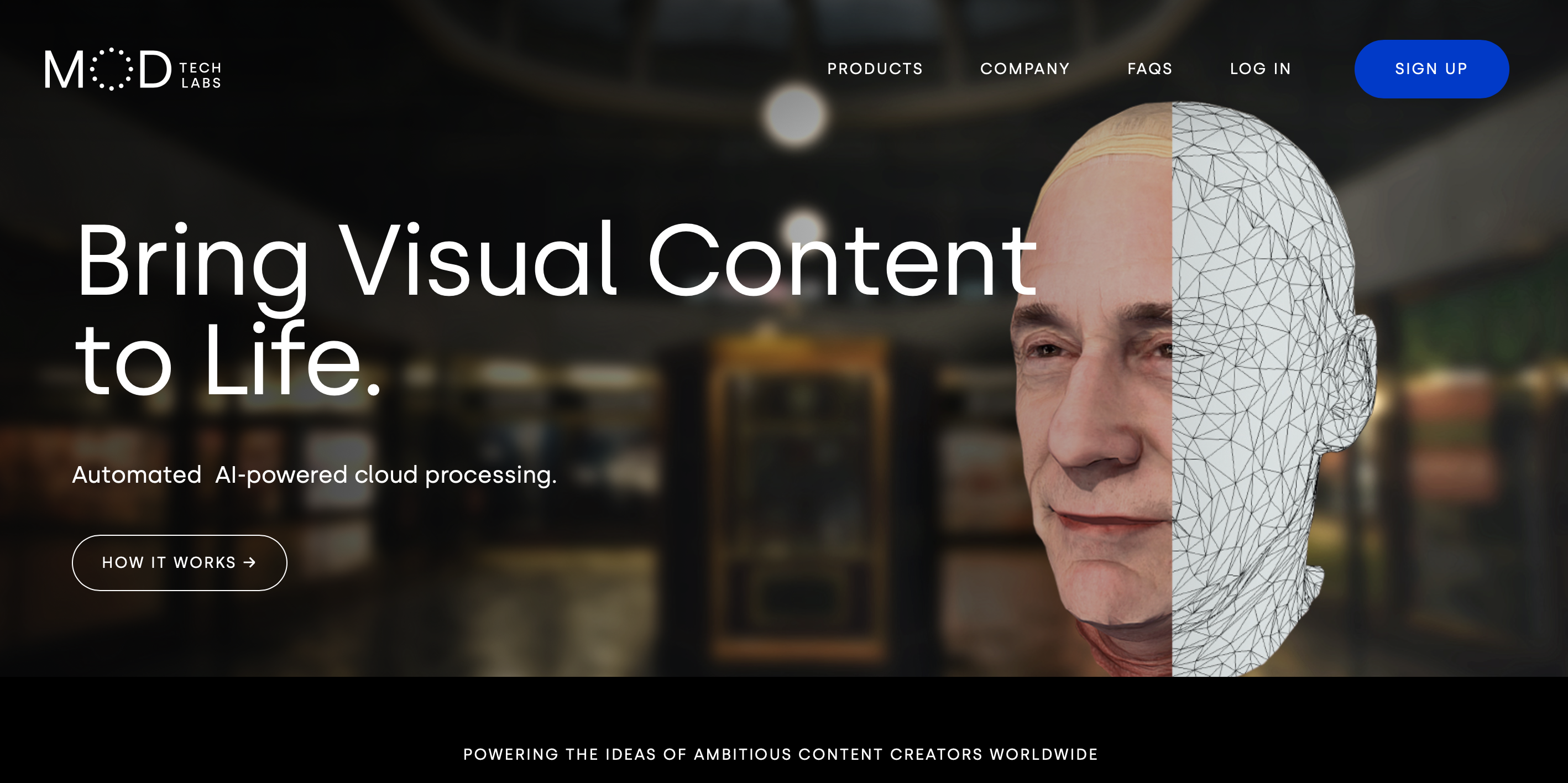 For example, MOD TECH is using AI to automate visual effects. Check them out >>
5. Artificial intelligence integration
Our day-to-day lives have been penetrated by artificial intelligence. If you didn't realize it, a lot of people woke up to the dominance of AI in 2020.
Artificial intelligence is gradually taking over a lot of simple jobs, and it is certain to be the heart & soul of industries worldwide in the near future.
Forrester predicts for 2021 that:
AI and machine learning will permeate new use cases and experiences.
Workplace AI will boost automation and augmentation needs.
2021 will hold more progress toward trusted data for AI.
AI and machine learning (ML) will permeate new use cases and experiences.
From a marketing point of view, AI has many applications, it requires investigating data about customer behavior to help form enlightened business decisions. As fresh data is collected, algorithms tend to be more precise. For example, Growth Channel is using AI to automate market analysis and then map personas and customer journeys to generate marketing plans for businesses.
When you hear a song you want on your phone, you open up your Shazam app to hear and identify the song, You're tapping into AI. As Artificial Intelligence is being utilized by customers, brands will be obligated to acknowledge this.
There is a lot of good that can come from utilizing AI, some of which include;
Boost customer loyalty and retention
Improve digital targeting across multiple channels
Optimize for voice search queries
Quantify the performance of your marketing campaigns, and many more!
Artificial intelligence is said to be the driving force behind many services, and if you've not jumped on this trend, you are likely to be left behind.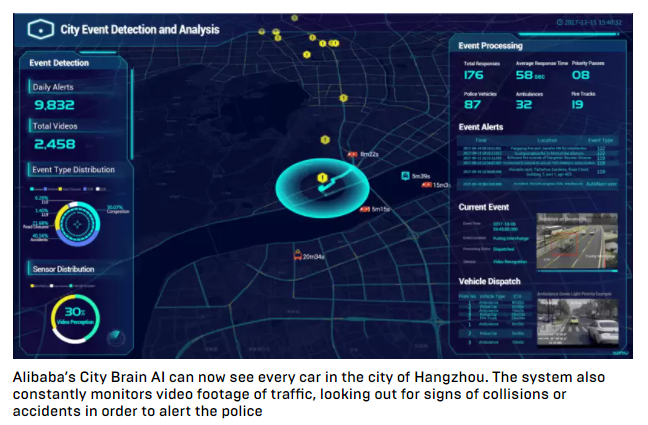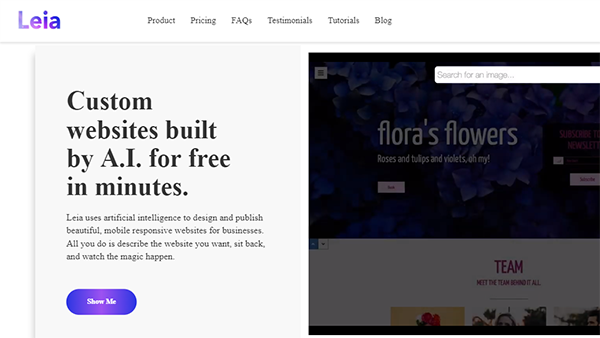 One of our partners is also using AI to build custom websites in a matter of minutes. Check them out >>
6. Interactive content
Buyers today look for new experiences whenever they are online, which means more interaction. Gone are the days when customers were prepared to stay on your site and consume content to the last word. Nowadays, various websites are playing in the same niche. This has given way to a plethora of information which has played an active role in reducing the attention span of customers.
Including interactive content like charts, quizzes, timelines, VR content on your website, social media and email is a key way to give value to customers, learn about them and get them to engage with your business. It is also a good idea to design a content strategy that links a shopper to the right product. This entices consumers to explore the site a little longer.
With the advance in technology and customer demands, brands are discovering creative ways to structure and deliver interactive content.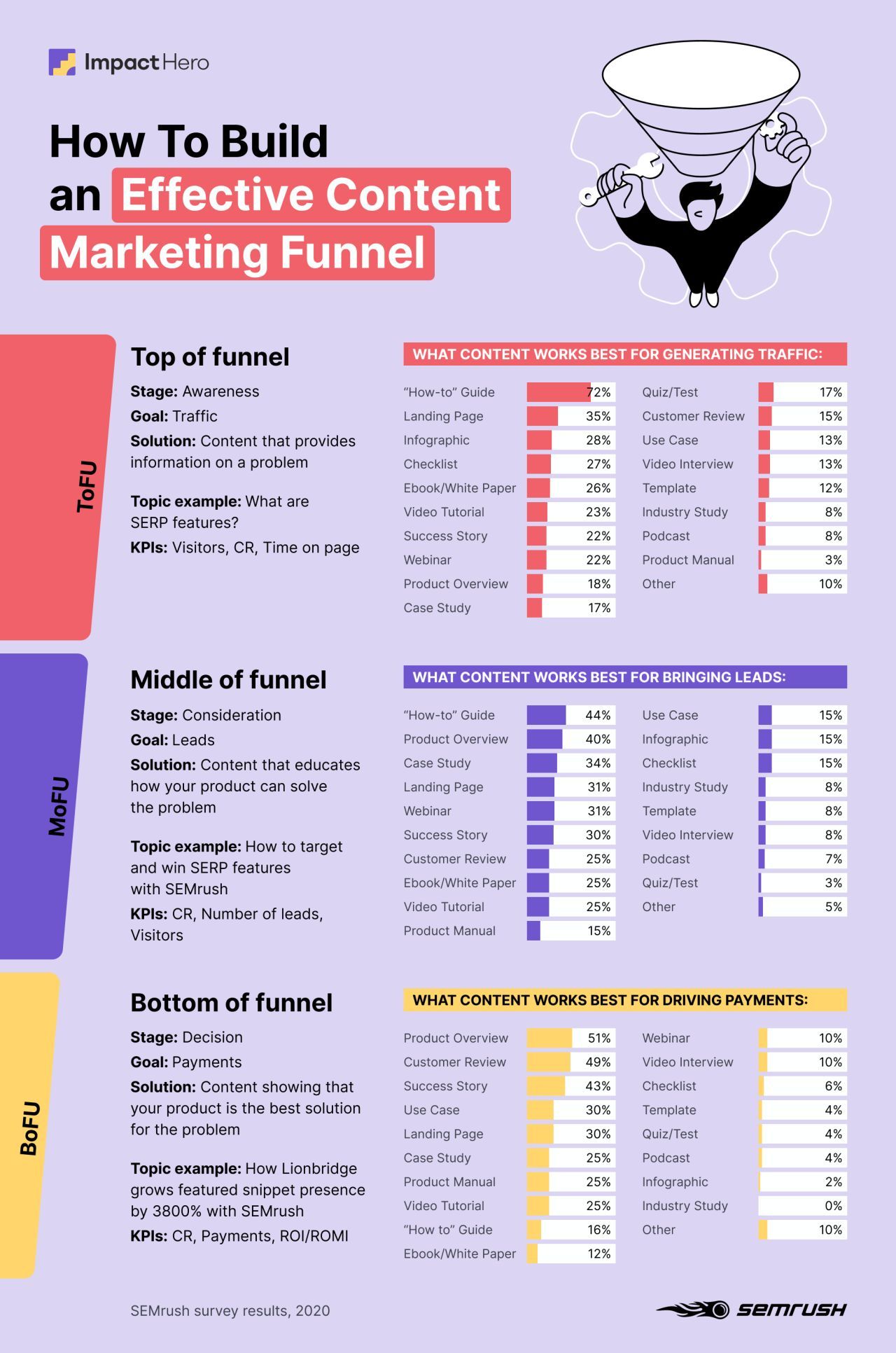 7. Adopt a minimalist email marketing design
Email marketing is not likely to ever go obsolete. Brands are now intent on creating personalized content for their targeted audience. However, since customers receive a huge amount of emails, any brand needs to stand out from the crowd. When it comes to designing striking emails, a lot of people believe that vivid images attract curiosity.
However, in this generation of paid posts and excessively - people crave originality. So to humanize your business and initiate an emotional connection with your clients, sending straightforward emails can help. This also implies that you have an advantage over your competitors whose main focus is their products, not the audience and their needs.
Doing this helps you gain their attention to the offer and not be blinded by the image. Which as a result, you ultimately share a direct message that aids in more sales. Here are some examples for your inspiration from GetResponse.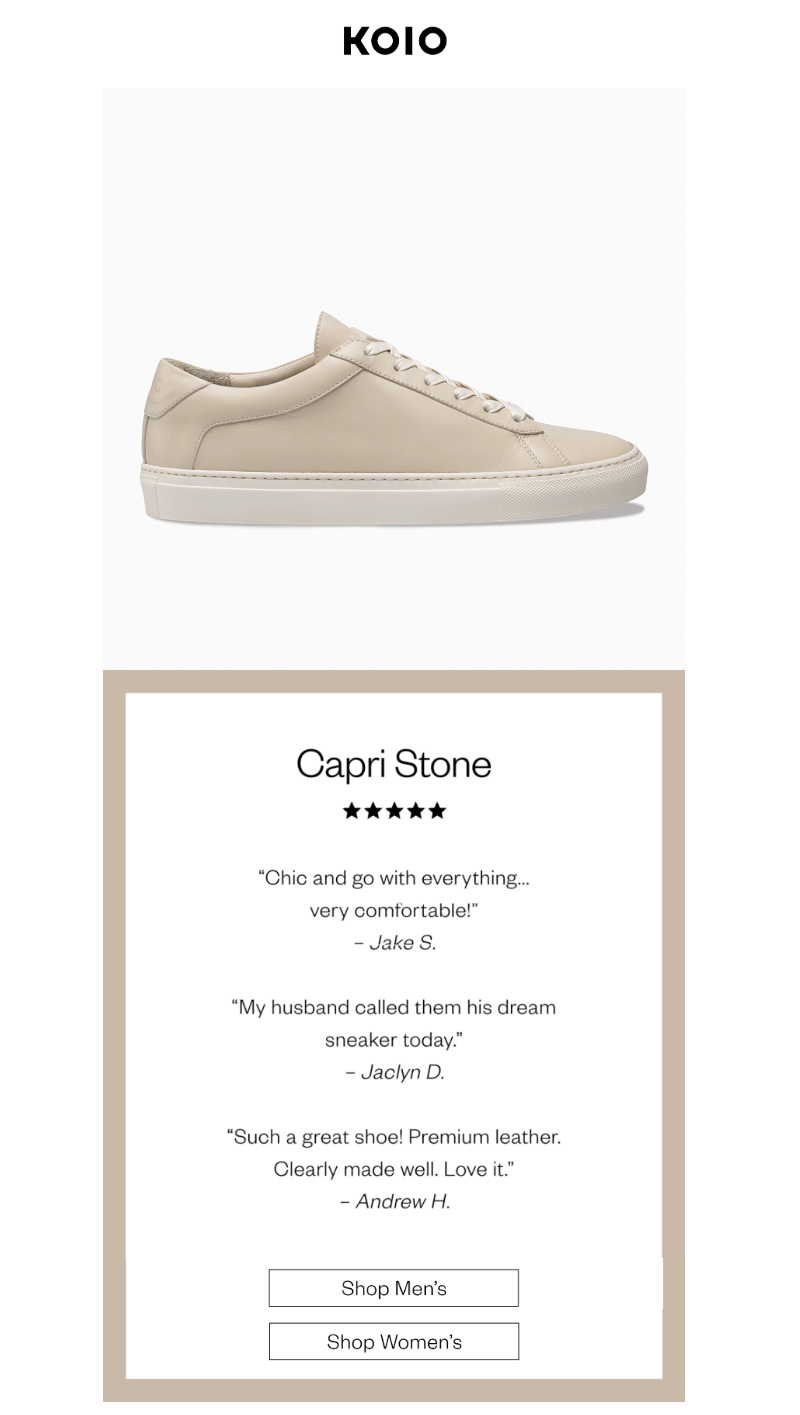 8. Conversion rate optimization
This isn't by any chance a recent trend, but it is a trick that many brands ignore even with the many benefits.
Conversion rate optimization (CRO) is the practice of testing and implementing changes to a site to increase the percentage of users who perform a desired action. And if you're intent on sticking to one thing to drive sales, this one is presumably your best bet.
Running tests to help polish up your unique selling points and communication is one of the best practices that CRO offers. Many of us depend, to a certain degree, on instincts when deciding the way we communicate with customers, which is honestly absurd if you consider the fact that messaging is one of the primary factors determining if customers convert or not.
Testing your USP will help you discover the approach you must use to reach your audience. Additionally, any other thing learned in your tests can be used to refine other areas of your marketing. To learn more about CRO, head over to CrazyEgg.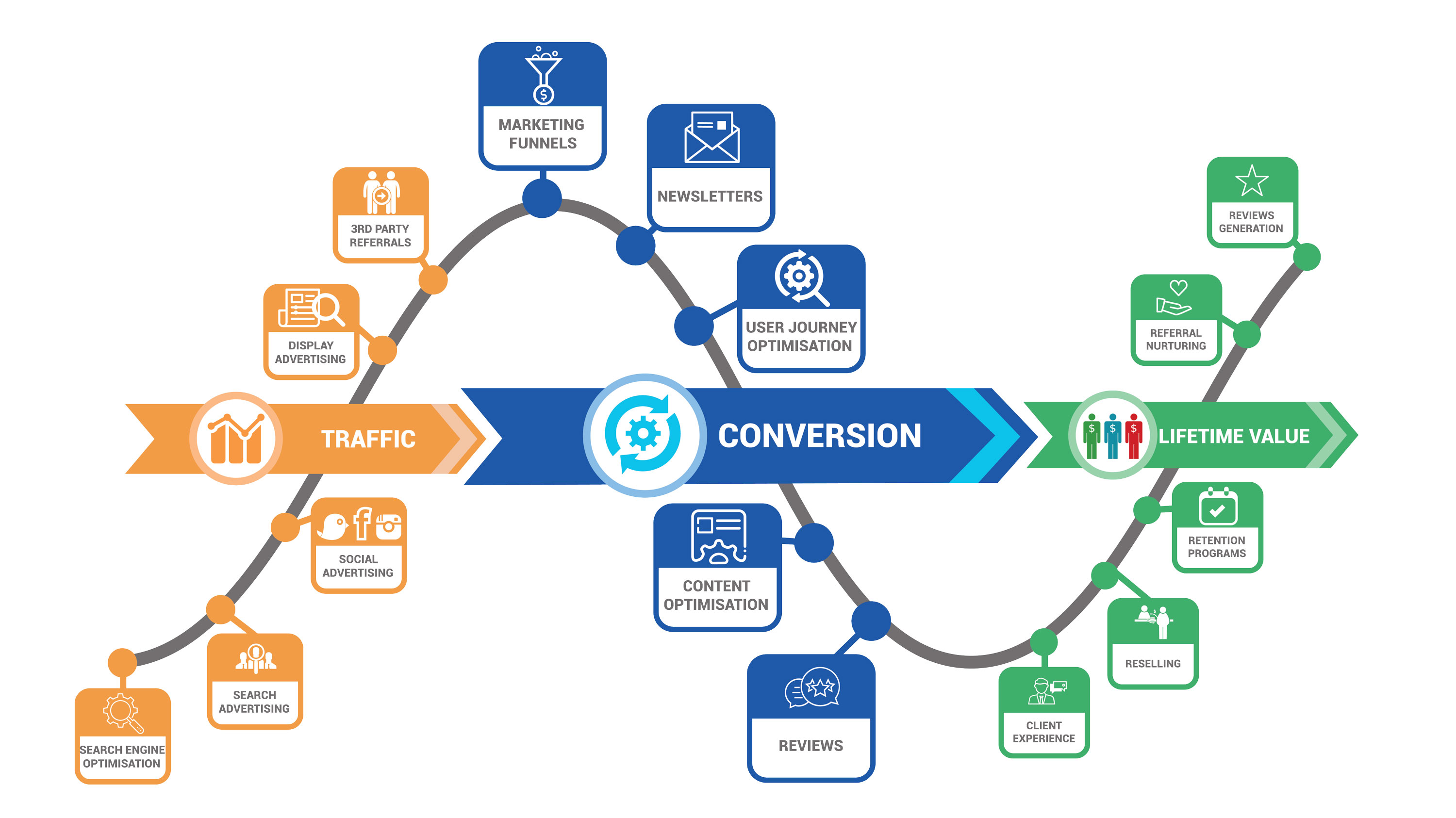 9. Mobile optimization
Forecasts have predicted that the number of mobile users worldwide will be 7.1 billion by 2021 as opposed to 6.95 billion in 2020. This goes without saying that mobile usage is soaring, particularly for research.
In today's market, you might as well walk and hand money over to your competitors. That's what a lack of a mobile-friendly site is doing. By not having a website that can adhere to smartphones and tablets, you're alienating a vast portion of your online audience. This will surely play a part in losing out on revenue.
Starting out with Google Page Insights might be the right choice.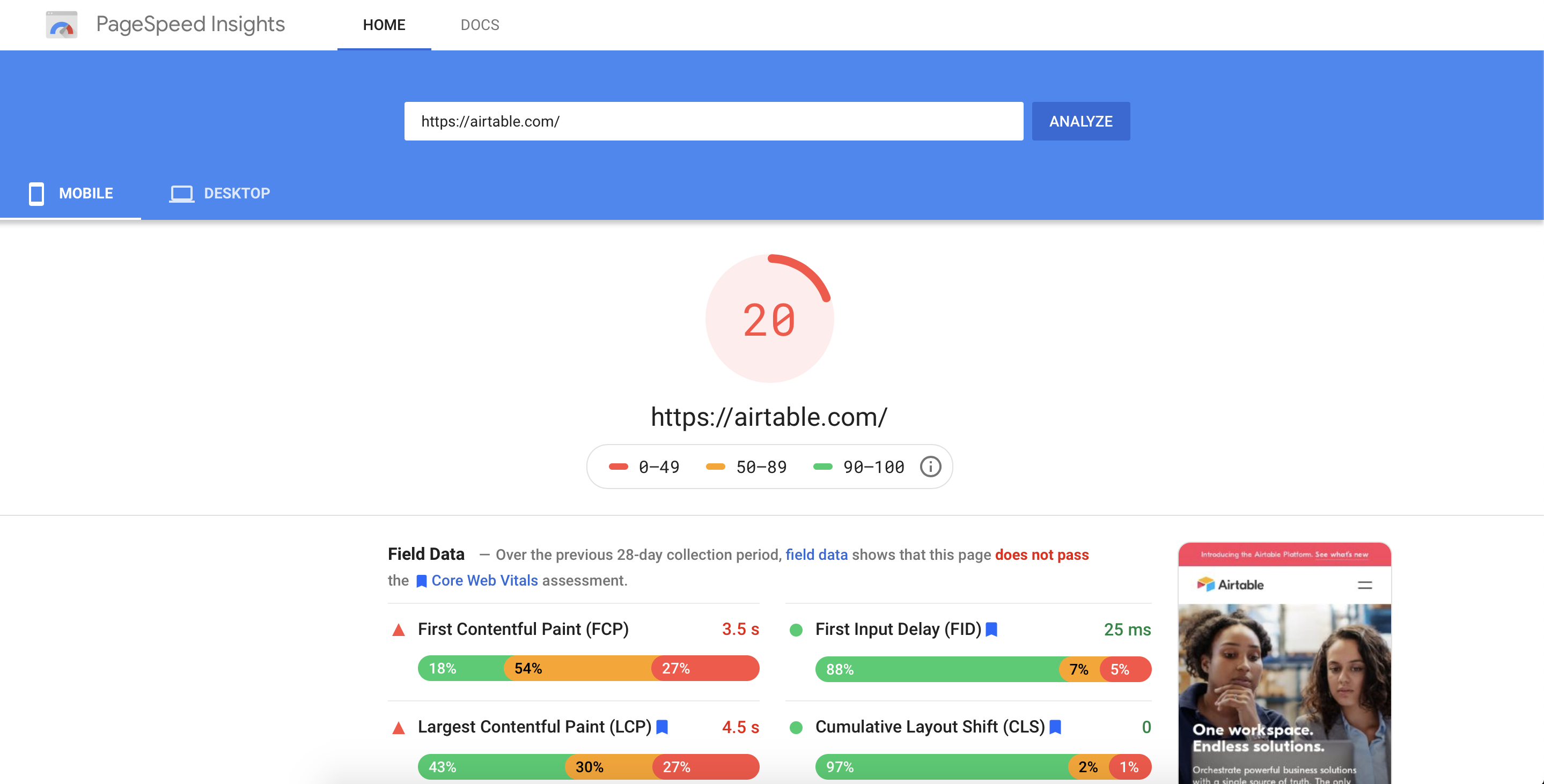 10. Integrate chat on your website
Chatbots will continue to be an integral part of marketing in 2021. This AI-based technology uses instant messaging to provide real-time support, day and night, with both existing customers or new visitors to your website. Also, to stream, customers prefer interacting with chatbots because they are 24/7 responsive, promptly give answers, accurately recall your entire inquiry and buying history, and never lose patience.
Studies show that 80% of businesses are projected to integrate some form of chatbot system by 2021.
And with projected worldwide market size of more than $1.3 billion by 2024, chatbots will be a driving force for business communications.
With this in mind, consider this massive window of opportunity. In the sense that these virtual assistants offer outstanding customer service by meeting customers' expectations and automating repetitive tasks — which means that you can focus on more important work. MobileMonkey is one of the great tools to achieve that!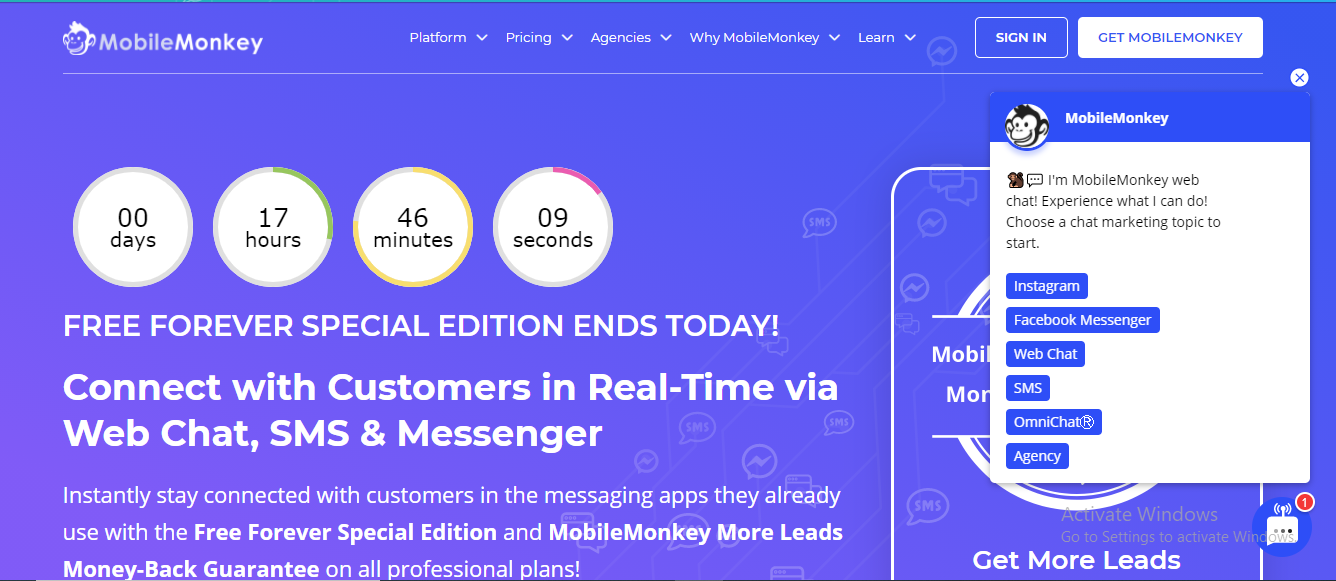 11. Shoppable social media
As of now, social media is known to be the largest and most valuable medium for online marketing. And, it is no secret that with the launch of Facebook Shops, Instagram Shops, and Pinterest Shopping Ads and Catalogs, social commerce is set to become one of the substantial marketing and eCommerce rage of 2021!
With the Instagram report stating that they have 1 billion users, and 90% of them follow active shopping brands, it's now more essential than ever to make your business, products, and services 'shoppable' on social media. This helps to leverage the massive potential social media has to offer, especially as more businesses move online to adapt to the COVID-19 pandemic.
Shoppable posts are rapidly becoming the way of the future as it is being embraced by both, small business and large enterprises. Research has shown that shoppers are more inclined to buy when given a streamlined retail experience. Social commerce allows brands to optimize the shopping experience over many platforms and channels, allowing their consumers to buy products every step of the way.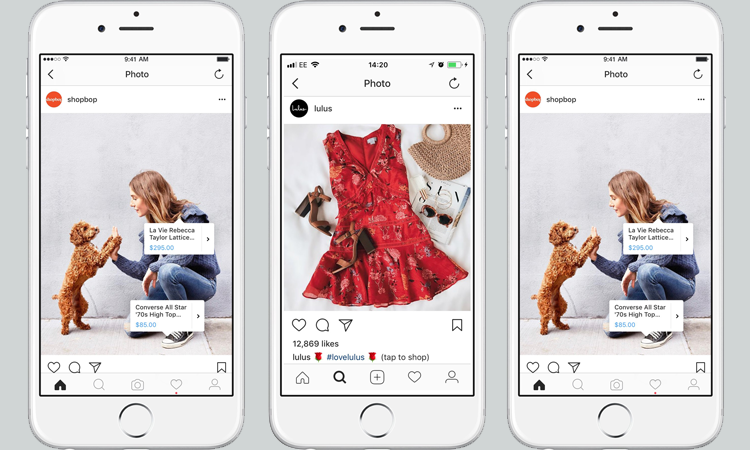 12. Micro-influencers
Influencers nurture a massive following by getting engaged in relevant topics and staying on top of trends, irrespective of it they have a Youtube channel, a blog, or drop posts on Instagram. Any influencer that has an online connection with your target audience can use their reach to boost your brand.
More often than not, influencers tend to be relatable, and this makes their followers believe them. As a result, their point of view is usually respected and can effortlessly determine the actions of a target market. Brands are most interested in this trait. Businesses build brand awareness, connect with customers, and promote content all by leveraging the influencer's position.
According to the report; 63% of consumers trust influencers' opinions of products much more than what brands say about themselves; and 58% of people have bought a new product in the past six months because of an influencer's recommendation.
Let it be known that micro-influencers are the future. Even though it may be appealing to determine the impact an influencer had through their number of followers, always recall that true influence is determined by engagement (clicks, subscribers, and purchases). Influencers also push virality when they create and post personal content.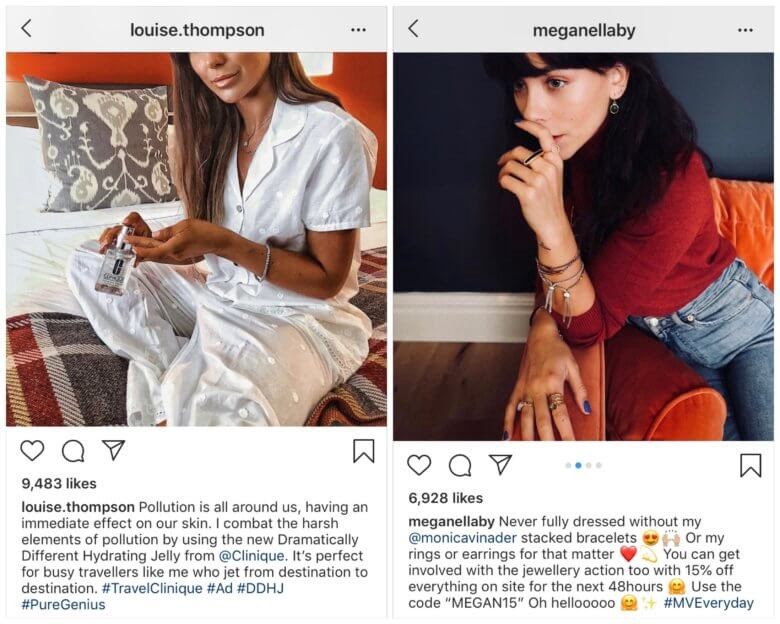 13. Short form video marketing
Content marketing has changed a lot over the last couple of years. Nearly all the facets have had an upgrade; from the way it is designed to the way it is presented, and finally absorbed.
For sure, content will never stop reigning, but the type of content that dominates the internet is changing. A content type that is one of the paramount marketing trends today and likely for the next 5–10 years is video marketing.
Studies show that:
48% of consumers want videos to reflect what they are interested in.
People will spend 100 minutes a day watching online videos in 2021.
Adding videos on landing pages can increase conversion rates by 80%.
Video marketing is an effective way for brands to engage consumers and aid with their decision-making process. It's simple to display your product, describe how it is used, and strengthen brand authority when you use video content.
With video marketing, there are a lot of avenues to drive a high level of engagement, as you can go live or create a video on Youtube, Instagram, Facebook, and Linkedin. Video marketing is also cost-effective as you do not need to hire a production team or agency. All you truly need is a smartphone, video editing software, and a creative team.
Going into 2021, It is expected that brands invest more in webinars and live to stream. Businesses that fail to integrate videos in their future will be left on the sideline. Tools like Biteable can make it easy.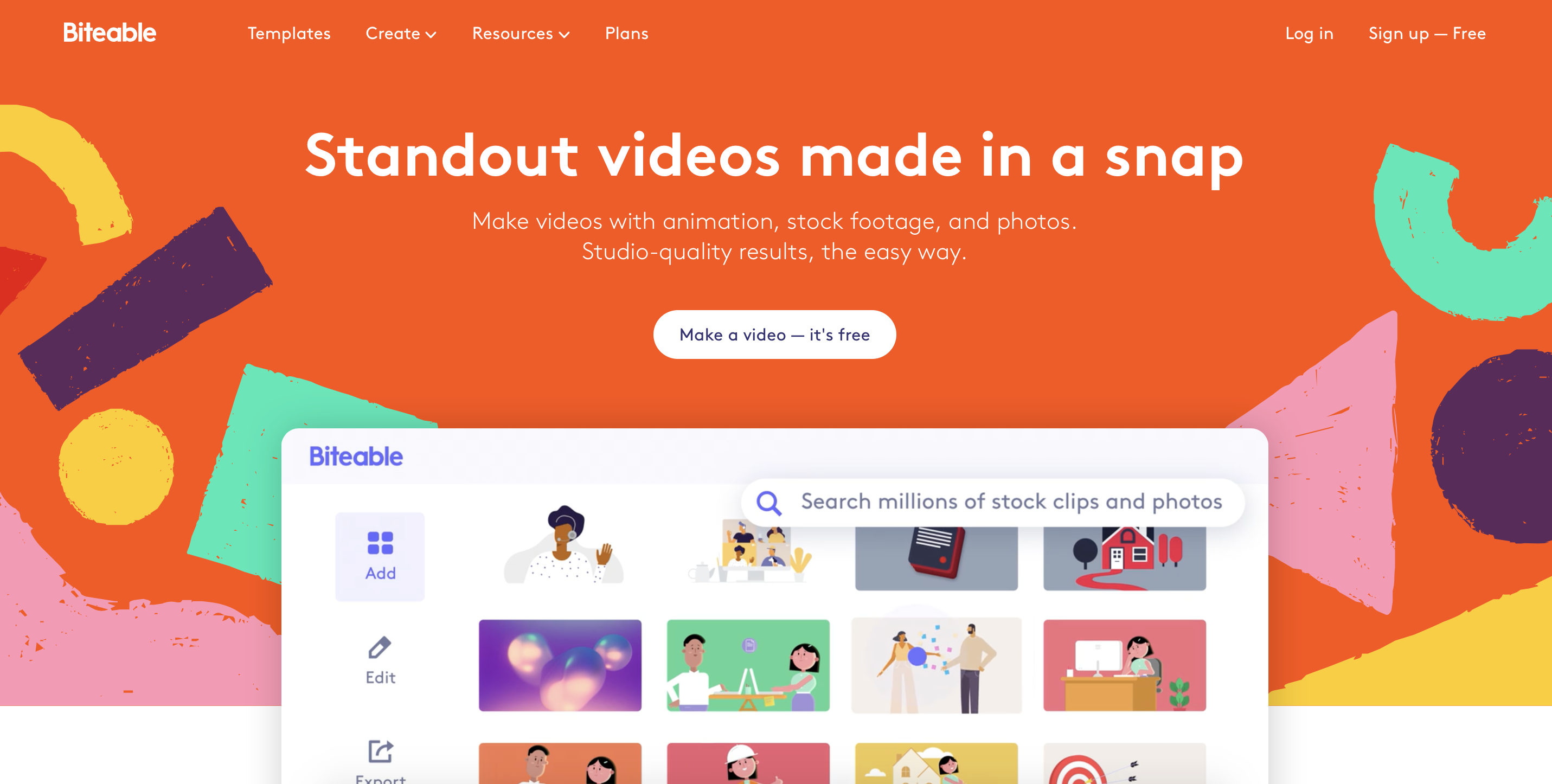 Next Steps
You're up to date … at least for the time being. Now if you notice that your recent campaigns don't add up with the trends listed above, don't sweat it. Gradually implement these into your marketing strategy and keep an open mind going into 2021.
If applied correctly, every trend is bound to have a positive influence. The 13 listed above are some of my picks. Confidently, these will assist to push traffic and increase sales in 2021.
If you'd like more growth marketing trends in your inbox, subscribe to our newsletter!