As the advertising industry continues to evolve, staying ahead of the latest trends becomes vital for success. Consumer preferences and the emergence of new technologies are major drivers of change in the advertising industry. Among the most promising areas for growth is programmatic Digital Out-of-Home, or DOOH advertising, which is expected to undergo serious changes in the coming years.
In this blog post, we'll delve into the top 4 trends predicted to shape the programmatic DOOH advertising landscape in 2023. By staying ahead of the curve, advertisers can better reach and engage their target audiences and drive business growth. So, whether you're a marketer, advertiser, or simply interested in the future of the ad industry, keep on reading.
---
What is programmatic DOOH advertising?
DOOH advertising isn't just a means of promoting a product or service, but also a way of influencing consumer behaviour. DOOH is present in various aspects of people's lives, including their daily commute, trips to visit loved ones, and vacations. By using programmatic DOOH, digital advertisers can target specific audiences, choose the locations where their ads will be displayed, and tailor their campaigns based on factors like time of day and weather conditions.
By 2024, ad spending for programmatic DOOH is projected to reach 11.4 million dollars, and this is for a good reason. DOOH offers what is becoming increasingly difficult for marketers: capturing busy consumers' attention during noisy, media-cluttered days. By combining sophisticated technology with clever content, advertisers can create an emotional and engaging experience for millions.
Source: Statista
Programmatic DOOH trends to watch in 2023
The reach of programmatic DOOH advertising has grown significantly in recent years, as more and more billboards and other out-of-home media are connected to the internet and made available for programmatic advertising. A hefty 77% of advertisers have worked to increase their understanding of DOOH in 2021. This number indicates that programmatic DOOH advertising has already become an attractive option for many advertisers.
Now, you may be wondering what programmatic DOOH trends precisely to keep an eye on throughout 2023. Keep scrolling, we discuss the 4 key trends below.

1. Continued growth and adoption of programmatic DOOH advertising
As more advertisers and marketers see the benefits of programmatic DOOH advertising, it's likely to continue its growth and become more mainstream in the advertising industry. Interestingly, The interest and investment in programmatic DOOH are on the rise, with 94% of media professionals planning to increase their spending in the next 18 months, and nearly one-fifth (20%) planning to significantly increase their investment by doubling it.
As programmatic DOOH advertising becomes more widely accepted and adopted by advertisers and marketers, it is likely to continue to grow in popularity and become a more mainstream option in the advertising industry.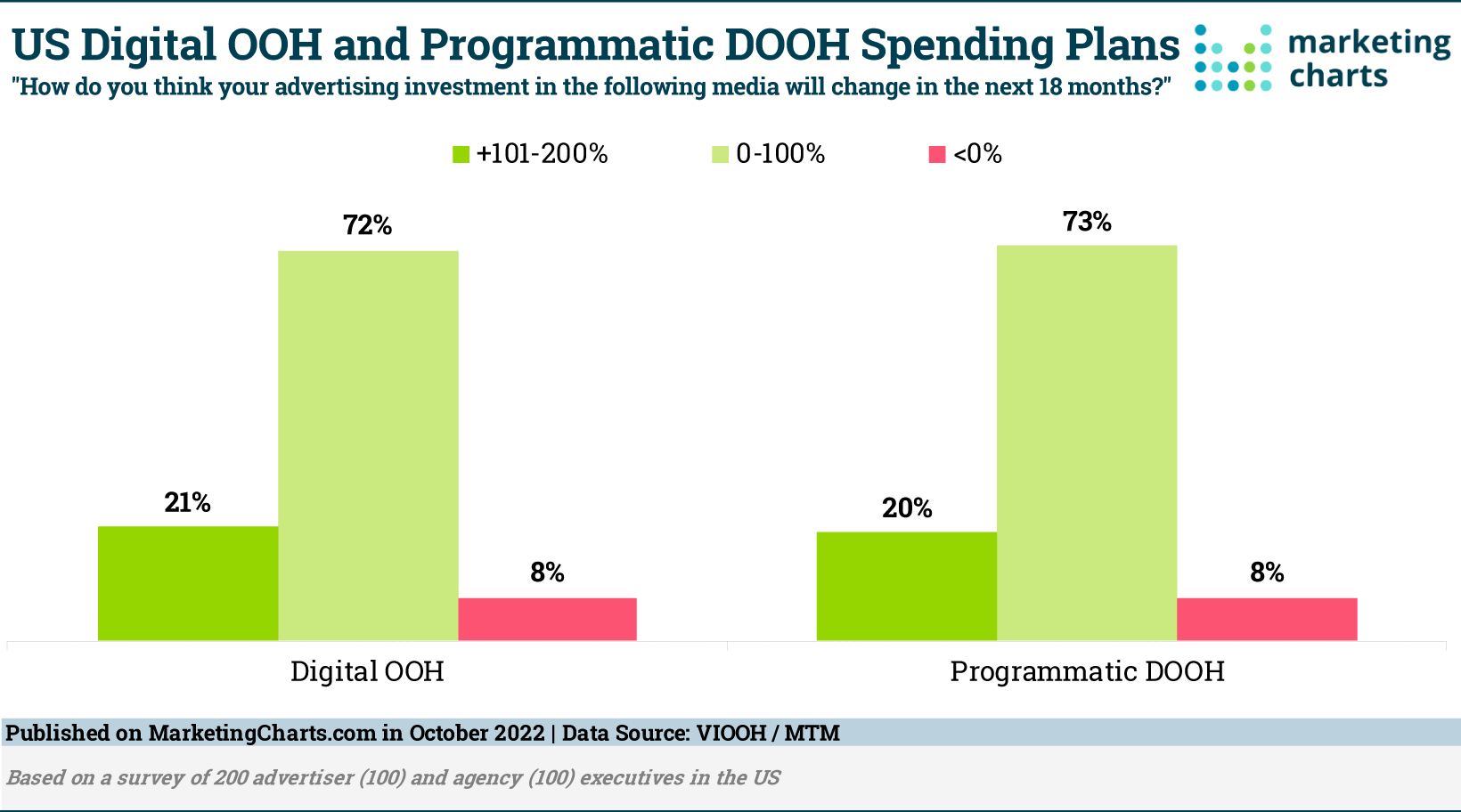 2. Omnichannel scale with other forms of advertising
We predict that the omnichannel scale with other forms of advertising will be the future of DOOH advertising. This integration and collaboration will create more cohesive and consistent messaging for consumers across multiple platforms, resulting in a more effective and impactful advertising campaign. The more memorable and positive the impression your ad leaves, the more likely people will be interested in trying your product, right?
For example, a brand could run a television commercial, display the same advertisement on billboards and bus stations, and then retarget the same message to consumers through digital channels like social media and email. The idea behind this approach is to reach the consumer at multiple touchpoints, increasing the chances of the message being seen and remembered. Omnichannel scaling also allows for real-time data analysis and optimization, improving the targeting and overall effectiveness of the advertising campaign.
3. Significant ad tech improvements
Technology improvements in advertising are an essential component of the advertising landscape and will continue to play a vital role in shaping the industry for years to come. By saying ad tech improvements, we mean the advancements in technology that enhance the delivery, targeting, measurement, and optimization of advertising campaigns. These can include innovations in areas like data management and ad tracking, and analytics.
Innovation comes in different flavours. It's not always about fancy technology or smart displays, but sometimes innovation can come in the form of better measurement and analytics. For example, a few years ago, investors were hesitant to invest in the adtech industry due to concerns that it would decline as the industry shifted from using tracking cookies to privacy-focused targeting methods. But adtech proved to be resilient and adaptable to the changing landscape, which has led to increased investor interest. Plus, we also anticipate that many adtech companies will face a significant challenge as they adjust their services to meet the new rules surrounding privacy to help advertisers and publishers succeed.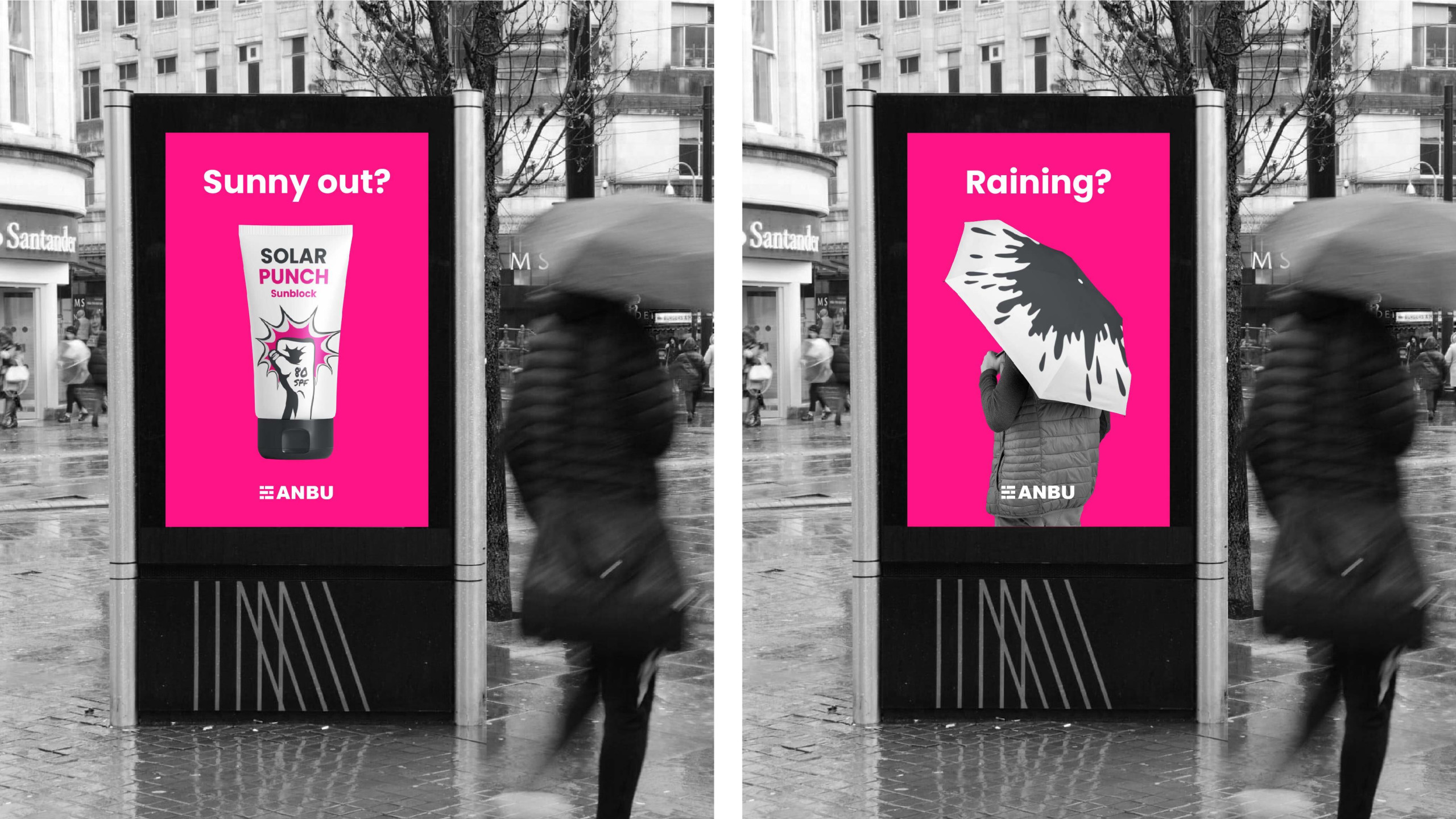 4. Development of industry standards and benchmarks
As the programmatic DOOH advertising industry continues to evolve, there will likely be a greater focus on developing industry standards and best practices to ensure the quality and effectiveness of campaigns. The programmatic DOOH advertising industry is relatively new and still developing, which means there is a lack of standardization and best practices in place. This can lead to confusion and uncertainty for advertisers, who may not be sure how to effectively use programmatic DOOH advertising to reach their target audience. Furthermore, without standards in place, there is a risk of fraud and low-quality inventory.
Establishing industry standards would provide a framework for programmatic DOOH advertising, making it easier for advertisers to understand and trust the medium. This will increase the adoption of programmatic DOOH advertising, making it a more viable option for advertisers. Additionally, it will also help to ensure that digital out-of-home advertising is more effective and efficient, which will benefit both advertisers and consumers.

Unlock the full potential of programmatic DOOH advertising
The capabilities of DOOH have reached new heights and are predicted to become even stronger in the future. By taking advantage of the emerging trends in programmatic DOOH advertising trends in 2023, you can ensure that your advertising efforts are reaching the right people in the right places at the right times. By dedicating a portion of your ad spend to this expanding field, your brand will be well-positioned to outshine your competitors.
Growth Channel is making confident steps in the direction of DOOH media integration into the global programmatic ecosystem. We provide our partners with programmatic demand sources and ways to integrate them with ease. Book a demo now, and see how you can create, manage, and optimize your display, native, in-app, TV, audio, and OOH advertising campaigns across every major global media with Growth Channel AI.