Do you know what the most downloaded app was in 2021? You probably guessed it from the title but, spoiler alert: it was TikTok. This insanely popular app continues to skyrocket in popularity as people discover its uncanny ability to make hours pass in minutes as you voraciously consume video content from the comfort of your couch (or office).
So, what does that mean for you as a business owner? In short, it means you need to join the party. Keep on reading if you want to learn how to easily integrate TikTok into your video marketing strategy
AND why you should stick around.
---
Begin With the "Why"
As with most things in life, it's always a good idea to begin a new pursuit by first asking yourself why you should do it at all. When it comes to marketing on TikTok, the "why" is pretty obvious when you look at the number of monthly users (over 500 million) and realize you could be the benefactor of: 
Better engagement with your target audience
Improved advertisement conversion
Widespread brand awareness
Deeper connection with the online community
If the "why" isn't obvious to you yet, we'll sum it up in one word: revenue. Increasing your followers on TikTok and marketing to them effectively is a sure-fire way to increase your revenue in 2022.
Source: Digital Information World

How Do You Start?
If you're new to TikTok entirely, you'll need to first download the app and then create a business profile. If you've been using the app but only have a personal profile, we recommend going through the steps to create a separate business profile so you'll have access to its features such as metrics, insights, and editing tools.
Next, take some time getting to know TikTok. Scroll mindlessly on the newsfeed that they call the "For You" page, visit your competitor's accounts, and take note of what's trending. The more observations you can make, the better of a handle you'll have when it comes to creating your own content.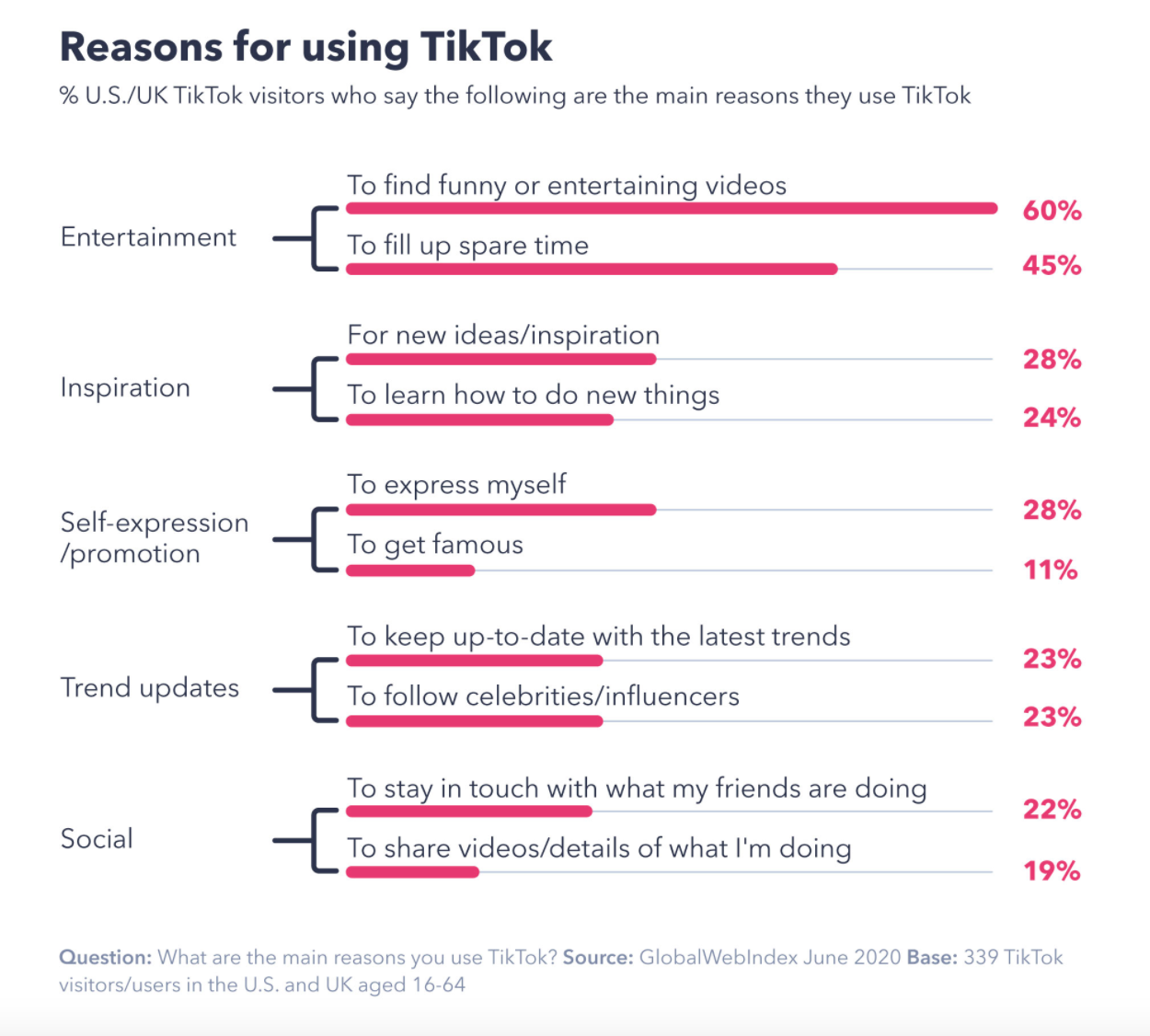 3-2-1, Action!
It's time to bite the bullet and start creating your own content to post from your business account. After all, that's the only way you're going to get noticed on TikTok. The good news is that TikTok isn't for the professional directors of the world. Rather, it's for the average Joe looking to entertain the masses, and, luckily, the TikTok app makes it fairly easy to create content with the use of filters and editing tools.
Once you're ready to film, remember to be yourself and be engaging. Users want to feel like they're getting to know you so let your personality show and don't be afraid to make mistakes. The more important thing is to post consistently and often. Your followers are hungry for content and if you're not giving it to them, they'll find it elsewhere.

Getting Noticed
Now that you're posting content, you're going to want to make sure it's being seen. In the beginning, it's a good idea to find an influencer that you can partner with to spread your brand awareness. By teaming up with the right person, you can quickly add hundreds of followers just because they said to check you out.
If influencers aren't your thing, you're going to want to post enough content to get you to the "For You" page of other users. If just one of your videos can get on this newsfeed, your content could end up being shared, going viral, and living forever with new users finding you daily. The key to getting on the FYP is to post engaging content and post it consistently .
Finally, consider putting some money towards paid advertising with TikTok. There are many ways to allocate some of your budget on the app and all of them are a great way to get users when you're new to TikTok.

TikTok to the Top
With the way that TikTok continues to grow, it's safe to assume that 2022 will be another record-breaking year for the social media giant. As users are added, the demographic that you could reach on the app will continue to spread, as well. Now is the perfect time to start building your presence and following so you're ready to take advantage of the growth and make it your own.
---
About the author:
Torrey Tayenaka is the co-founder and CEO at Sparkhouse, a corporate video production agency. He is often asked to contribute expertise in publications like Entrepreneur, Single Grain and Forbes. Sparkhouse is known for transforming video marketing and advertising into real conversations. Rather than hitting the consumer over the head with blatant ads, Sparkhouse creates interesting, entertaining and useful videos that enrich the lives of his clients' customers. In addition to Sparkhouse, Torrey has also founded the companies Eva Smart Shower, Litehouse & Forge54.