Welcome to Growth Channel! We're so excited to have you as a part of our community. We've created this Welcome Guide to help you with the onboarding process and get you acquainted with all the ways Growth Channel can help you optimize your marketing efforts.
Getting started
Before you start exploring everything Growth Channel has to offer, there are a few steps you need to take to get your account up and running.
The very first thing you'll want to do when you log into your Growth Channel account is fill out our onboarding questionnaire. It includes questions about your business, customers, competitors, campaign goals, and main KPIs. It's very easy to fill out and takes only a few minutes to complete. Growth Channel uses your answers to define your micro-segment and recommend resources in the Growth Library, our massive collection of marketing tools, case studies, templates, and additional resources. Plus, for paid Members, Growth Channel will perform a competitor analysis, website audit, and compile a list of personalized growth tactics.
Your next step is to connect your Google Analytics account, if you have one. Once connected, you'll receive a weekly summary of your key website performance metrics, including what's working, what's not, and personalized optimization suggestions to improve your site. Many agencies and freelancers use this feature to monitor their different clients. You can disconnect your account at any time.
Here's how to connect your Google Analytics account:
1. Log into your Growth Channel dashboard




2. Under Account, select Integrations



3. Connect a Google account




4. Select the Google account you want to connect




5. Allow Growth Channel to access your account



6. Select the proper account, property, and view




7. Click save



Note that currently Growth Channel only supports Google Analytics Universal integrations, while GA4 is still in the BETA.
Here at Growth Channel, we view customer and data security as a top priority. That's why we offer optional two-factor authentication to add an extra level of security to your account. To set up two-factor authentication, head over to your Profile, under the Account menu. You can verify your account using either Google Authenticator or email. Two-factor authentication can be disabled at any point when logged in.
---
Free features for all users
Growth Channel offers numerous features for all its users, designed to help you optimize your marketing efforts and rapidly scale your business.
Create, edit, and manage all your buyer personas with our interactive Persona module. To access the module, select Personas under the Plan menu. This will bring you to the Persona homepage, where you can manage all your personas.
You can build a persona from scratch or use one of our 15+ pre-populated persona templates. We created our persona templates with extensive research and data, and each is designed to represent a real customer segment. All our templates are completely interactive, so you can customize them based on your business' specific needs.
To learn more about the importance of buyer personas and how to create personas with Growth Channel, check out this tutorial blog post.
We have a database of over 230 growth marketing tactics. These tactics are easy and quick to implement, designed to help you grow your business, increase conversions, and generate more revenue. Each tactic has a title, a short description, and an image example. To see more tactics, click the See Another Example button. You can view and shuffle between 5 tactics per day on a free account. Members get full access and a custom set of growth tactics based on their goals and KPIs. Free users are able to view a preview of their personalized tactics immediately after submitting their onboarding questionnaire.
Our Growth Library is a massive collection of 250+ marketing tools, case studies, templates, best practices, podcasts, educators, and agencies. We're constantly updating it, so make sure to check back often and see what's new. After filling in the onboarding questionnaire, you can view recommended resources based on your micro-segment and marketing goals. To make it super easy to find the perfect resource, you can filter the Growth Library by customer decision journey stage, objective, KPIs, customer type, and industry.
If you've got a great marketing resource you want to recommend to the library, you can submit them using this form.
Once you become a Growth Channel user, you'll get special access to our exclusive LinkedIn Community, Growth Hacking Strategies, Techniques, Best Practices and Case Studies, and our exclusive Slack community, Growth Channel Talk. We often post product updates and announcements, helpful marketing content, and free resources. Plus, we encourage members to introduce themselves, ask for support from the community, and share their current projects. Access the community from your Growth Channel dashboard and send us a request to join. Once you're approved, you'll get access to the community feed!
Here's what you get by joining our communities:
Directly communicate with our team and get your questions answered fast
Be the first to hear about our product updates, events, newly available resources, trending growth tactics, strategies, and other announcements
Interact with other Growth Channel members and followers
Share your experiences and advice with the rest of the community
Share your own updates (products, content, or events)
Want a smarter way to measure your website's performance? As mentioned above, connecting your Google Analytics account helps Growth Channel send you better alerts and marketing recommendations. Growth Channel analyzes your Analytics data and helps you identify website growth opportunities, saving you hours every week.
Our notifications will tell you what's working, what's not, and how you can improve your web performance. Here's some of the metrics we track for your weekly summary, sent directly to your Growth Channel dashboard every Monday morning:
Weekly traffic change - track the visitors on your website every single week. Growth Channel will also tell you the top performing page and the best acquisition source.

Bounce rate - identify if your bounce rate is increasing or decreasing and identify the page with the highest or lowest bounce rate.

Average session duration - see what page has the highest session duration, what source is bringing high-engagement traffic, and optimize your content to increase session length. Use this metric to identify content and UX optimization opportunities to engage users on your website.

Mobile website visits - track the change over time of visits coming from mobile devices.

Social website visits - monitor website traffic from social media, including the channels with the most traffic and greatest change in traffic.

Organic visits - track website traffic from organic search, including the most visited page and the best acquisition sources.

Location - identify the region with the highest traffic and gain insights into this particular segment of your audience.

Best and worst performing pages - learn which page on your website has the highest traffic and get information about visits, bounce rate, and average session duration. Plus, uncover which page had the biggest decrease in traffic.
Because Google and website analytics platforms are often overwhelming, we've compiled your most important metrics so you can get an overview of your site quickly. Connect your Google Analytics and monitor your website performance with our integrated dashboard view.
In our interactive dashboard, you can set a custom date range and track metrics like visits, bounce rates, top locations, and average session duration. You can also view reports on top traffic sources, top social channels, and top site pages.
You can access your analytics under the Progress menu.
---
Paid features for Members
Once you're ready to upgrade to your annual Membership with Growth Channel, your business will get even more access to the platform's great features to help you grow.
Growth Channel will perform a competitor analysis for the competitor URLs you submitted in your onboarding questionnaire. You can access your competitor analysis under the Progress menu. In this dashboard, you can explore your competitors' top organic and paid keywords, latest landing pages and media publishers, top backlinks, monthly traffic, text ads, referring domains, landing pages, and more. You can also download the analysis as a PDF report and share it with your team or clients.
You can access your website audit within the Growth Channel dashboard. We will give you an overall website health score, created from an analysis of on-page SEO, links, usability, performance, and social performance. You can also drill down into the details of each category to see what's working and what's not. Plus, we'll give you tips and optimization suggestions so you can improve your website. For agencies and resellers, you can also get actionable insights into your clients' websites. We can also white label the website audit upon request.
3. Consultancy call
All paying members get one free consultation call. You'll be able to discuss your marketing strategies with one of our growth experts and learn how to take advantage of everything Growth Channel has to offer. The consultation call is also a great opportunity to get any of your questions answered.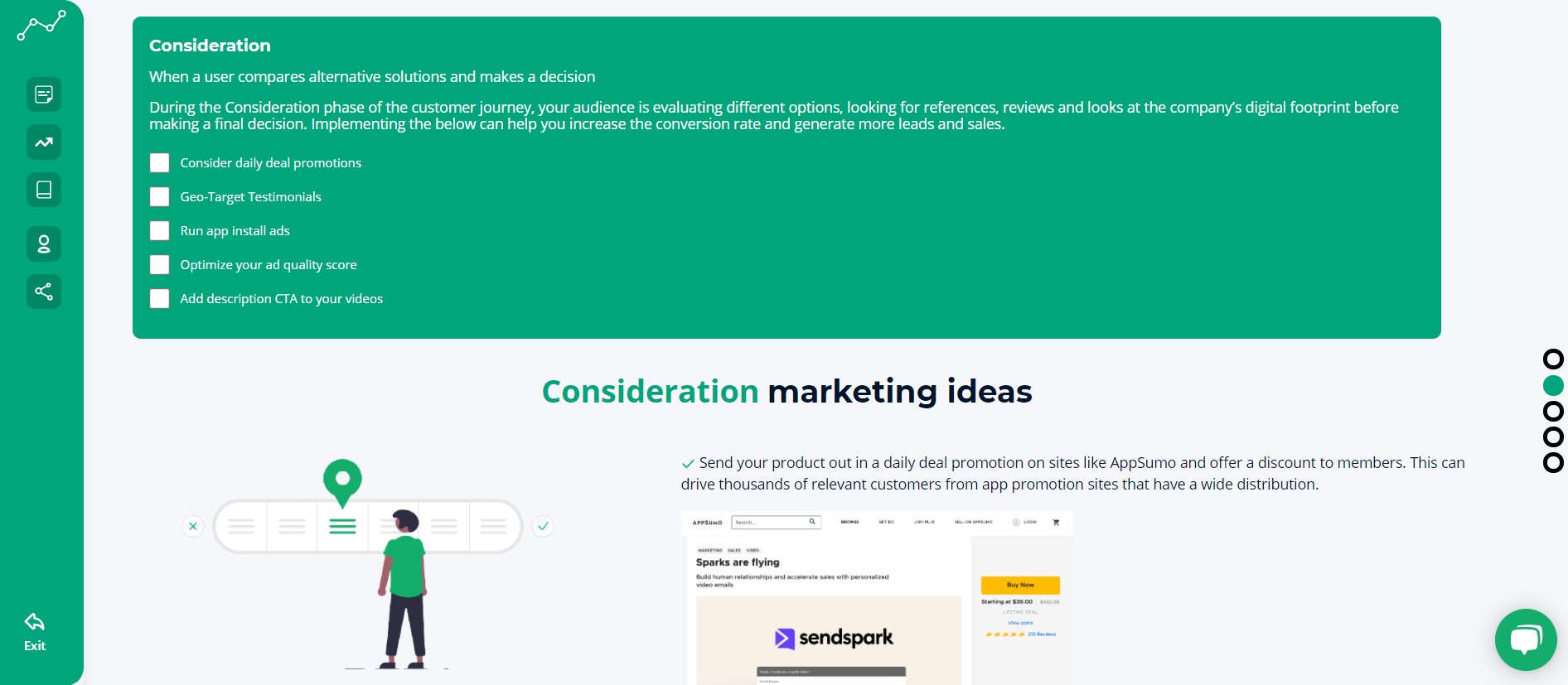 While all users can view one growth tactic at a time on their dashboard, we send members a set of personalized growth marketing tactics right after they submit their onboarding questionnaire. These tactics are tailored to your specified goals and KPIs. You can also generate a new set of custom growth tactics whenever you want. Plus, you'll get full access to all our growth tactics in the library. You can view sample tactics for a SaaS, pet food company, education company, tech startup, and others here.
Members can generate personas nearly instantly with Google Analytics data and via a Growth Plan (available as an add-on). To learn more about premium features, check out our Persona Module blog post.
To create a persona with Google Analytics, make sure your account is connected via Integrations, click on Create New Persona button, and then Get Started in the Generate From Analytics tile.
It will just take a couple seconds for Growth Channel to scan, analyze, and organize all your Google Analytics data. Personas include information about the demographics of your site visitors, what pages they're visiting on your site, what social networks and technology they prefer, and what market segments and categories they belong to. Just like with the persona templates, you can export the persona as a PDF and deliver it to a client or share it with your team. If you are an agency or a freelancer, you can connect multiple Analytics accounts and generate separate personas for each client.
If you don't know who your target audience is and how to communicate with them, or if you don't have time to research and create your personas, let Growth Channel AI generate personas for you. All Growth Channel marketing plans include 2-4 custom-generated buyer personas. Growth Channel AI uses over 500 data sources to determine the best and most relevant customer profiles for your campaign. For B2C campaigns, the demographics are coming via Facebook, and for B2B campaigns - via LinkedIn. Growth Channel matches the audiences on those channels, and helps you (automatically) identify their psychographic and behavioral characteristics.
6. AI Content Writer
With Growth Channel AI Content Writer, you can generate high-converting copy in seconds. You can find the Content Writer under the Plan tab. Simply enter a short description of your product, service, or company (up to 100 characters), specify your target audience, and select your desired content format. Our AI will instantly generate a few content ideas for your Facebook, LinkedIn, and Google ads, with more formats coming soon. Plus, all your outputs are saved in your dashboard, so you can access them at any time.
After realizing just how time consuming and expensive it can be to research and create a marketing plan, we decided to build Growth Channel to automate the process. Growth Channel collects marketing data from over 500 sources and helps you identify the best go-to-market strategy for your campaign. Our data-driven and comprehensive marketing plans are available as add-ons for Members and are included in the Marketer access. Plans include buyer personas, customer journey maps, competitor analysis, personalized campaign ideas, budget allocation, and more. If you're not sure if our growth marketing plans are right for your business, you can look through an example plan or schedule a one on one demo call.
8. White Label for agencies and resellers on the Marketer Plan
Growth Channel offers white labelled plans for agencies and resellers, so the generated marketing plans look like your own. Once you become a member, send us your agency's branded master presentation deck. Acceptable formats include Google Slides, Power Point, and Keynote. This way, all your marketing data will flow directly into your template, and you can edit anything as you please. If you don't have a presentation template, simply send us your logo and color hex codes, and we will apply those to our own template.
---
We're here to help you get the most out of Growth Channel, so don't hesitate to reach out. If you have any questions at all, you can reply to this email, reach out via live chat, or visit our Help Center.

Happy hacking!