In 2021, more than two-thirds of the population are monthly users on social media according to Influencer Marketing Hub. So how do you as a business engage with these online prospects? You need to connect and stay above the pack by constantly having insightful and purposeful information about your brand. Creative marketing campaigns can help you turn leads into customers. Let's dive into some inspiration!
---
1. Launch an animated infographic series
Sometimes we forget simplicity can go a long way.
Why an animated infographics series? For one, they can deliver essential information and statistics to a large audience. Basic infographics can no longer do that because you need to have content that is impactful and visually appealing. With the influx of digital information, you can not only add content on a topic but also make your content the go-to when people want answers.
Email Uplers presents an innovative idea for optimizing your landing page with interactive infographics. By scrolling down the screen, you are in control of a car driving down "Landing Page Road", leading straight to a company's "Business Success". Just as with a customer's journey, you can think of clever ways to lead them down your animated road. Just remember to keep it simple, short, humorous, and close to your target audience!
2. Try a multi-channel campaign
A Multi-Channel campaign helps you reach more of your audience while cutting down the need to constantly create new content. You have the opportunity to connect on websites, digital ads, social media, direct mail, catalogs, email, and even mobile devices. You have to remember that campaigns are an investment and what may not work on one channel can surely work on another.
A great example is Single Grain, a digital marketing company that thrives on B2B SEO growth. CEO Eric Siu uses a multi-channel marketing campaign by having a daily marketing podcast called Marketing School, as well as the weekly Leveling Up podcast and a YouTube channel. By taking a topic that works from one channel he can repurpose it for other channels.
3. Create a messenger drip campaign 
If you haven't heard of a Messenger Drip campaign, I suggest you check it out! It's a marketing strategy that sends, or "drips," a pre-written set of messages to subscribers over time. Based on the subscriber's input, they will be assigned a designated drip campaign that you have pre-created.
For example, Mobile Monkey took their $250 cost per lead and reduced it by 97% by utilizing messenger as an origin point for leads. With this they were able to create a more personalized experience for each person. Similar to a workflow but built within a messenger.
4. Start a Referral Program
The infamous Referral program never goes out of style. Did you know that companies who use employee referral programs have average retention rates of 46 percent and employee referrals finish training and onboarding sooner? Why is that? Well, when you think about it, people who are referred are coming in more knowledgeable than the average person. So the desire to come work or use a product is more appealing.
When you look at DropBox, they use a referral program that gives you and a friend 500MB of additional free storage space, and up to 16GB in total. This alone increased their signups permanently by 60% and decreased their ad spending in just 15 months.
5. Launch a collaboration with an influencer
Influencer marketing increases brand awareness and grows your audience. According to LeverageMarketing, it's the "management of exchange relationships between service and product providers and trusted consumers with authority over a target audience". With 4 billion people using social media each month, leveraging influencer marketing is an effective way to reach pre-existing social spaces.
BMW launched their new series one model and partnered with 4 popular TikTok influencers. The influencers were able to create a hashtag challenge of a dance they created for the release of the car. The challenge gathered over 200,000 likes and 6 million views.

Remember, working with influencers can cost as low as $100 but have an ROI that is 11x higher than other digital marketing channels, such as banner ads. This profit potential explains why influencer marketing platforms have a 30.3% expected annual growth rate from 2021-2028, per data.

6. Create a design challenge
Canva recently announced a design challenge called #DesignedWithCanva to inspire users to create beautiful designs using their platform and share them on social media with the world. This campaign showcases the power of their product while incentivizing creators for user-generated content. This way, not only is Canva showcasing some of the best artists around the world, but they're gaining awareness in doing so. Several other brands that ran a similar challenge include Adobe's "Little Dream" and GoPro's "Million Dollar Challenge" which were both aimed at content creators. If you want to replicate Canva's concept, here are the three steps format.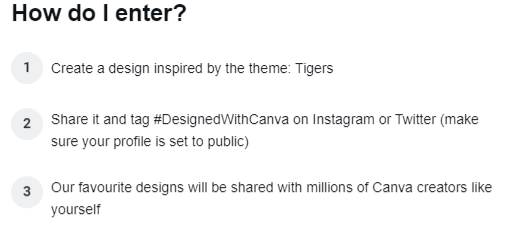 Generate your Holiday Marketing Campaign Plan with Growth Channel AI
-----------------------------------------------------------------------------------------------------------------
Seasonal Marketing Campaign Ideas
Seasonal marketing campaigns are a great way to engage with your audience, build brand awareness, and turn prospects into customers. Here are a few of the great campaign examples: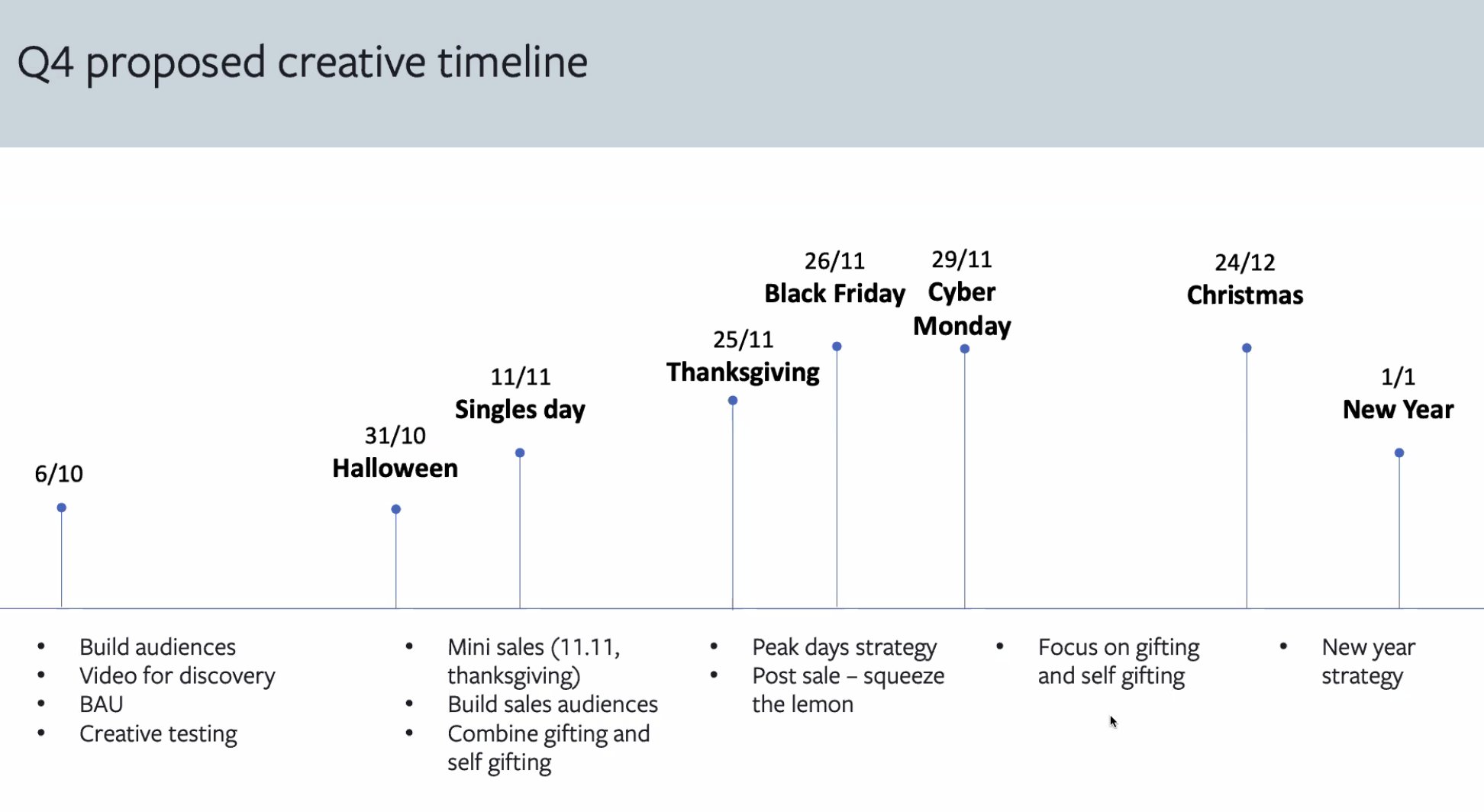 7. Halloween campaign
Halloween is an excellent target for marketing campaigns as consumers tend to buy many seasonal Halloween-related item. It's also one of the biggest days for retail with an estimated $102.74 spending per person and $10.14 billion overall.
As an example, M&M's chocolate created an interactive social media ghost story which was a hit for weeks! Users had the chance to follow around the main character Millie as she tracked some delicious chocolate candies. This choose-your-own-adventure type series featured 30 second animated videos with a ghostly theme. A great way to keep your audience engaged during prime candy buying season!
8. Thanksgiving campaign
Thanksgiving is widely celebrated in the US with over 85% participating and $1.05 billion spent on turkeys alone! This family-style tradition is a great place for marketers to get on the dining table and talking list. You can place your campaign efforts around food, history, or sports which are all abundant on this holiday.
Thanksgiving is one of the easiest holidays to market on Instagram since everybody loves to post pictures of their meals! You can build off these interactions by including quizzes, live polls, and memes on your media channels to relate to the Thanksgiving festivities. You could even throw a contest for wackiest turkey custom or food dish!
9. Black Friday rush campaign
Black Friday is one of the most talked about events during the holiday season. It is arguably the biggest shopping day of the year. So it's important to capitalize as a marketer on some of the new trends. One being the switch to online shopping. At least 93 million shopped online in 2020 and there's a predicted 20% increase to $17 billion spending online this Black Friday season. So what does this mean for marketers?
For example, the keyword "early" has seen a 160% increase from 2019 as brands are beginning to spread their online deals out longer than just Black Friday. It is very important to follow through with this and use social media campaigns to release sneak peak discounts or other incentives. You can also mix this with a flashy hashtag to support your holiday season and drive impressions like #earlybird.
10. St.Patrick's Day email campaign
St.Patrick's Day, also known as the luckiest time of the year, saw 49 percent of U.S. adults celebrating in 2020. With each adult spending an average of $40.77 on St Patrick's Day items, this holiday is one you don't want to miss! 
West Coast Shaving not only gave a 15% discount for the day but also added a little humor to their campaign. They were able to weave the different styles that customers can achieve with their product by showing leprechauns with various facial hairstyles. This not only highlights their product but helps create brand awareness and familiarity for new subscribers.
11. Easter egg hunt campaign
Easter eggs aren't just for hunting, they can bring in new leads and customers! According to MediaValet, Easter visuals present an element of surprise which drives deeper engagement with content or a product. In general, Easter is one festival with lots of feelings attached and is celebrated all across the world. So what can you do? You can offer discounts or run Easter deals, give Easter vibes to your home page, promote Easter gift cards, or simply run a giveaway! Just take a look at Personal Creations 👇
Personal Creations designed a personalized email that featured its latest Easter sale offers with a GIF animation. This was a cute and colorful way to increase their click-through rate. You can also try redirecting your existing campaigns during the season and implement them into ones that you already created. You want your customers to feel the love of Easter as much as you do, so make sure you are catering to this holiday season.
Advertise across TV, digital billboards, and the rest of the internet with Growth Channel AI

12. Cinco De Mayo email campaign
Cinco de Mayo is a historical holiday for the independence of Mexican people. Running a campaign during this time is great for reaching new demographics and celebrating an influential holiday with some partying festivities.
A great example of this is the Bloomingdale Cinco de Mayo email marketing campaign. Instead of just advertising their drink, they gave a recipe to appeal to Bloomingdale's younger, status-conscious shoppers. This helped categorize their brand as outgoing and fun, which relates to lots of their fashion products and accessories.
A few other great tips for these Cinco campaigns are: 
Buy four items, get the 5th item free
Give a goodie bag to the first five customers
Get 5%, 15%, 25% off any item
Give a special discount to every 5th (or 50th) customer
Have a specialty item available at the counter with purchase for $5
13. Mother's Day Gift Campaign
Mother's Day is an important gift-giving holiday. As marketers it's our job to provide the best promotions and products for this special time of year. In 2020 alone, U.S. consumers planned to spend a total of 2.56 billion U.S. dollars on flowers for Mother's Day. Even during the pandemic, 66% of US consumers planned to celebrate virtually in case they couldn't be with their mother on the holiday, according to Digitalcommerce360.
So mother's day is kind of a big deal in the US! 
Let's take a look at Lush! A fresh, handmade, cruelty-free, and vegetarian product for your body. At a glance, you see that they are not just offering a product but a narrative of "time". They even have a link to their blog that gives great tips for how mothers can wind down. You can make this campaign as simple or as personal as you would like and it doesn't have to be just a one-time event. You can continuously build off of it each year and own the meaning of the holiday. After all, the greatest gift is giving, not receiving 😉
14. Memorial Day Savings campaign
Memorial Day is a day of remembrance, but did you know that a lot of marketers do it wrong? SpinSucks talked with military families and this is what they have to say:
1."Happy Memorial Day," for example, is a disrespectful phrase. It's not a "happy" day.
2. "Words Matter"
3. "Don't Be Tone-Deaf"
When it comes to this holiday critical thinking is important, especially when as marketers we can get lost in the sales. So, how can we navigate this holiday properly in a campaign?
Lowe's did a very good job of honoring and promoting sales throughout their store and even in their parking lot. The idea is that this campaign does not just start on a random page when you have an online platform. It starts on the homepage with a personal narrative or even a short acknowledgment of the meaning of Memorial Day. A little can go a long way when it comes to this campaign!
15. Virtual Christmas Party for B2B Enthusiasts
Virtual Christmas parties are a great way to come together as a team and brainstorm ideas just like marketing campaigns. The top reasons to have them according to ahaslides is they are great for "remote connections, super flexible, and a great practice for the future."
If you are interested in trying it out yourself, a great free virtual Christmas party tool by Ahaslides makes it easy to do just that!
16. Valentines Day Campaign
Valentine's Day is one of the biggest holidays of the year! With an average of $165 spent by American customers, tons of great gifts like flowers, chocolates, and jewelry are bought! As marketers, targeting that special someone is important for making the Valentine's Day campaign work.
One company who utilized this to their advantage was Etsy. They offered a ready-made social graphic for store products and promoted their #makeitmeaningful hashtag to generate social media buzz. This campaign helped drive sales at their eCommerce platform while also forming a sense of community through celebrating our wonderful loved ones.
---
These are just a few of our favorite examples, but the internet is endless! We would love to hear about some of your favorite marketing campaigns? Share it with us on Twitter, and don't forget to tag @Gr0wthChannel so we can retweet 😉 Happy campaigning!