Marketing is often an overlooked business function. Entrepreneurs push it to the side so they can focus their full efforts on starting a business and creating a great product or service. However, if you can't find the right audience, satisfy their needs, and sell enough of your product in a cost-effective way, you won't have a sustainable business. Marketing is all about creating, communicating, and delivering value to your target audience. In order to do so successfully, you need a comprehensive plan to guide your vision. Your marketing plan is a roadmap, detailing where you want to be and the exact steps you need to take to accomplish your goals. Backed by data and research, marketing plans help you make informed business decisions. Instead of scrambling at the last minute, they force you to think about the future and identify strategies with the highest chance of success. Marketing plans give you the confidence to be proactive, instead of reactive. They reduce confusion, unite your marketing team around a set of shared goals, and ensure everyone knows exactly what tasks they need to complete on any given day.
Why are marketing plans important?
Sometimes startups and new founders approach marketing with a "throw everything at the wall and see what sticks" approach. While experimentation is great, this type of strategy can be detrimental in the long run if your marketing decisions aren't backed by research and data. Without a strategic plan, it's easy to waste resources on tactics with low returns, missed opportunities, fall behind your competition, and respond too slowly to market changes. Although marketing plans are time-consuming and can be challenging to create, there are many benefits you should consider:
Anticipate trends and industry changes - constantly analyzing your industry helps you capitalize on trends and pivot your business plan if necessary. For example, consider that Blockbuster and Netflix used to mail rented DVDs to customers. While Netflix anticipated the popularity of online streaming services and pivoted accordingly, Blockbuster failed to shift fast enough, filed for bankruptcy, and now basically ceases to exist.

Beat your competitors at their own strategies - you likely won't be able to outbid a major corporate competitor, but you can stand out by sending personalized videos to every new customer. Before you make your own marketing strategy, you should consider what your competitors are doing. What channels do your competitors use, and which are they missing? What type of content and keywords are they focused on, and can you outrank them? Can you take inspiration from their past successful campaigns?

Understand your business' weaknesses and shortcomings - no business is perfect, but great businesses focus on turning their weaknesses into strengths. This self-awareness helps you focus on issues customers are upset about (poor customer service, broken products, late shipping, slow website, etc.) rather than improving something that doesn't actually need to be fixed.
Improve employee onboarding - a solid marketing plan and good documentation reduces confusion and makes employee onboarding much easier. New employees get an overview of the marketing vision, see what tasks they need to work on, and immediately help the team achieve their objectives.

Track success and determine what strategies are underperforming - marketing plans require you to compare your actual results against your goal or expected results. This way, you can see if you're making progress. Tracking metrics and collecting data also helps you abandon unsuccessful strategies and extend more resources to campaigns with high returns.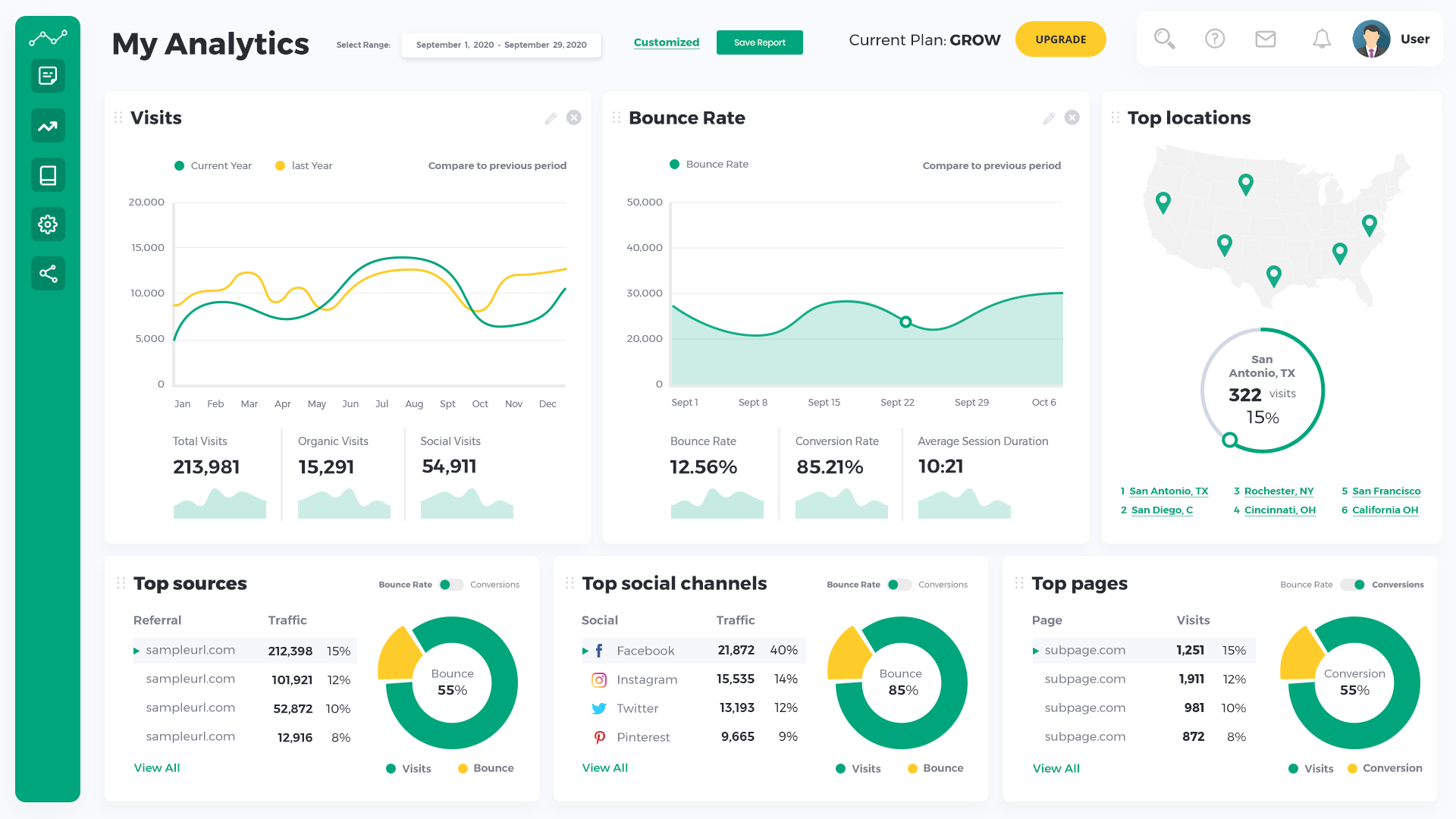 Growth Chanel Analytics dashboard
Get everyone on the same page - regardless of the size of your business or marketing team, you need collaboration and efficiency for success. With a detailed marketing plan, everyone knows their role and works towards the same goals. It also reduces idle time, simplifies processes, and prevents employees from (accidentally) working on the wrong task.
You can create an overall marketing plan for your entire business, but you should also make plans for smaller campaigns, like product launches, events, new partnerships, limited time discounts, and major company updates. In other words, you should create a marketing plan whenever you want to communicate something important with your target audience or persuade them to take a certain action, like sign up for an event, make a purchase, or refer a friend.
---
11 Key components of a marketing plan
The size, granularity, and elements of a marketing plan differ for every business, depending on its industry, goals, and available resources. However, there are some elements that are common in most marketing plans:
1. Executive summary
The executive summary explains the overall purpose of your marketing plan and briefly describes all the relevant components. It includes an overview of your marketing and advertising goals, a description of your current marketing position, an overview of your campaign's timeline, and a description of your product/service and target market.
2. Mission statement
A mission statement is a short statement reflecting the purpose of your business at that point in time. It can talk about what you do, the types of products and services you offer, your target market, or your competitive advantage. Here are some mission statement examples:
" To become the number 1 fashion destination for 20-somethings globally. " - ASOS
" To connect the world's professionals to make them more productive and successful. " - LinkedIn
" Offering all women and men worldwide the best of cosmetics innovation in terms of quality, efficacy and safety. " - L'Oréal
" To make unique sports cars that represent the finest Italian design and craftsmanship, both on the track and on the road. " - Ferrari
3. Market analysis
A market analysis asks you to look deeply at your business and industry. For this section, you will reflect on where your business and your marketing strategy stand right now. You should include what you're selling, your unique selling proposition (what separates you from competitors), your best performing marketing channels and campaigns so far, and your current marketing objectives.
4. SWOT analysis
A SWOT analysis looks at the internal and external environment your business operates in.
Strengths refer to what your business does well, your tangible assets and internal resources, and what sets you apart from the competition.

Weaknesses include areas where your business needs to improve, resource limitations, and places where your competitors are excelling.

Opportunities refer to your industry as a whole, including underserved markets, lack of competitors, growing popularity for the products/services you provide, and positive media coverage of your industry.

Threats include parts of the external environment that could potentially harm your business, like new laws and regulations, negative media coverage, decline of your industry, and emerging competitors.
5. Competitor analysis
If you offer a similar product or service to other companies, you need to communicate why your offering is more valuable. To do so, you must understand what your competitors are selling, who their audience is, and how they're communicating with that audience. The best place to start is your competitors' website and social media accounts. Buy their products, sign up for their newsletter, or attend one of their events. Read their customer reviews and media coverage to learn more about their successes and failures.
6. Target market and buyer personas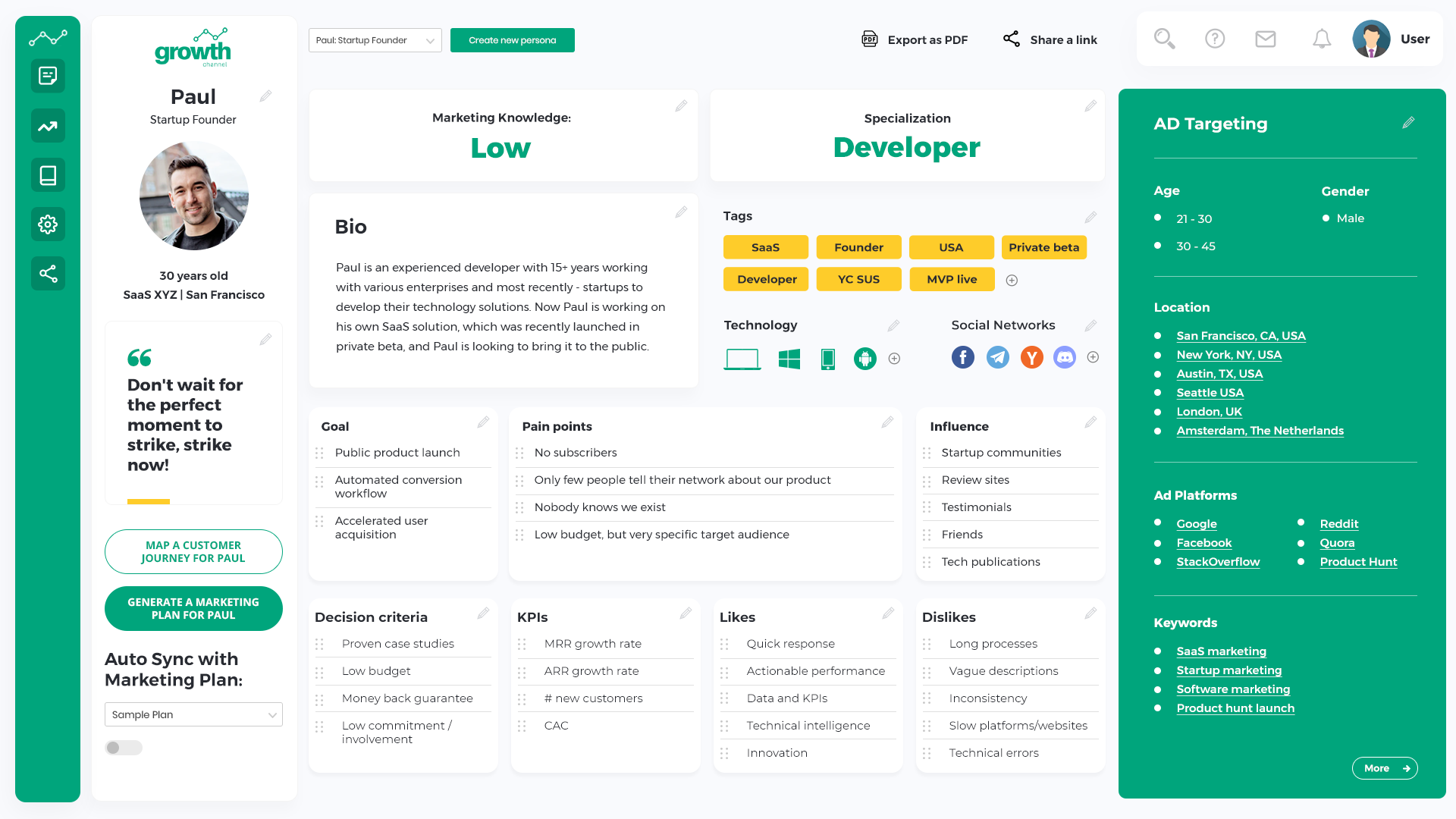 Create your buyer personas with Growth Channel's free template or customize a pre-populated template in the Persona Builder.
Your target market represents the ideal customers of your product or service. You may have one ideal customer, or you may market to a few different personas. When thinking about your target market, consider these attributes:
Demographics - age, gender, income, education, occupation, marital status

Geographics - location (country, region, state, city, town), climate, culture

Psychographics - lifestyle, attitudes, risk tolerance, aspirations, personality, values, struggles, pain points, goals

Behavioral attributes - preferred channels and content types, loyalty, frequency of purchases, affiliations
7. Marketing objectives and KPIs
Your objectives are the goals of your campaign, or what you hope to accomplish. Your KPIs, or key performance indicators, are the metrics you will track to determine if you met your objectives. It's also important to track how your KPIs change over time. Here are some example KPIs to track based on your campaign:
Social media - followers, engagement rate, mentions, reach, ROAS

Content - comments, shares, downloads, conversion rate, leads, search ranking

Website - organic traffic, paid traffic, keyword rankings, session duration, bounce rate, conversion rate, CPA

App - weekly active users, activation rate, conversion rate, churn rate, CLTV
Don't have time to track all these metrics yourself? With Growth Channel Smart Notifications, you'll automatically receive a summary of your key website data, including optimization suggestions, every week.

8. Pricing strategy
You need to consider how you will price your products and services. There are many types of pricing strategies, but these are the main three:
Price skimming - price above competitors to recapture your margins, and lower the price as time passes. With this strategy, you will likely sell fewer products at a higher price point.

Competitive pricing - base your pricing off of what competitors are charging

Penetration pricing - price below competitors to increase market share, gain customers, and sell more units. With this strategy, you try to sell a large volume at a lower price point and then raise prices as time passes.
9. Marketing channels
Consider the best channels to promote your business on. You may even decide to create a separate social media and/or content marketing strategy within your overall marketing plan, including your editorial calendar, content types and topics, and the channels you'll be posting on. When choosing marketing channels, think about where your target audience spends their time and what type of information they engage with. You also need to decide whether to use free channels, paid channels, or a combination of both. Here are some examples of popular channels:
Social media - Facebook, Instagram, YouTube, LinkedIn, Twitter, Reddit, Telegram, Pinterest, TikTok, Clubhouse

Content marketing - blogs, infographics, tutorials, guides, case studies, newsletters, webinars, demos, events, presentations, guest blogs, whitepapers, podcasts

Communities - Industry specific websites, forums, and social media groups

Media coverage - press, features in other websites and publications, partnerships, tags or mentions on social media

Partnerships - Referral or affiliate programs, integration partners

Company website - live chat, SEO, FAQs, resources, landing pages
Not sure what channels you should be focusing on? Growth Channel's free customer journey template can help you decide where to focus your resources.
10. Growth strategy
Growth strategy refers to your long term plans and goals. Think about where you want your business to be in six months, a year, or even five years. How does this individual campaign or plan fit in with your overall marketing or business strategy? If your plan is successful, what project will you take on next? If your plan is unsuccessful, will you move on or try a different approach?
11. Budgeting
In order to actually execute your marketing plan, you will need a realistic budget. Your goal is to execute your plan in an affordable and cost-effective way. In other words, you should be seeing more returns, sales, or benefits than what you're spending. There are many free budgeting templates online you can use to track your expenses. However you decide to create a budget, it's important to build in a little flexibility for unexpected changes in your plan.
---
Tools to help you create your marketing plan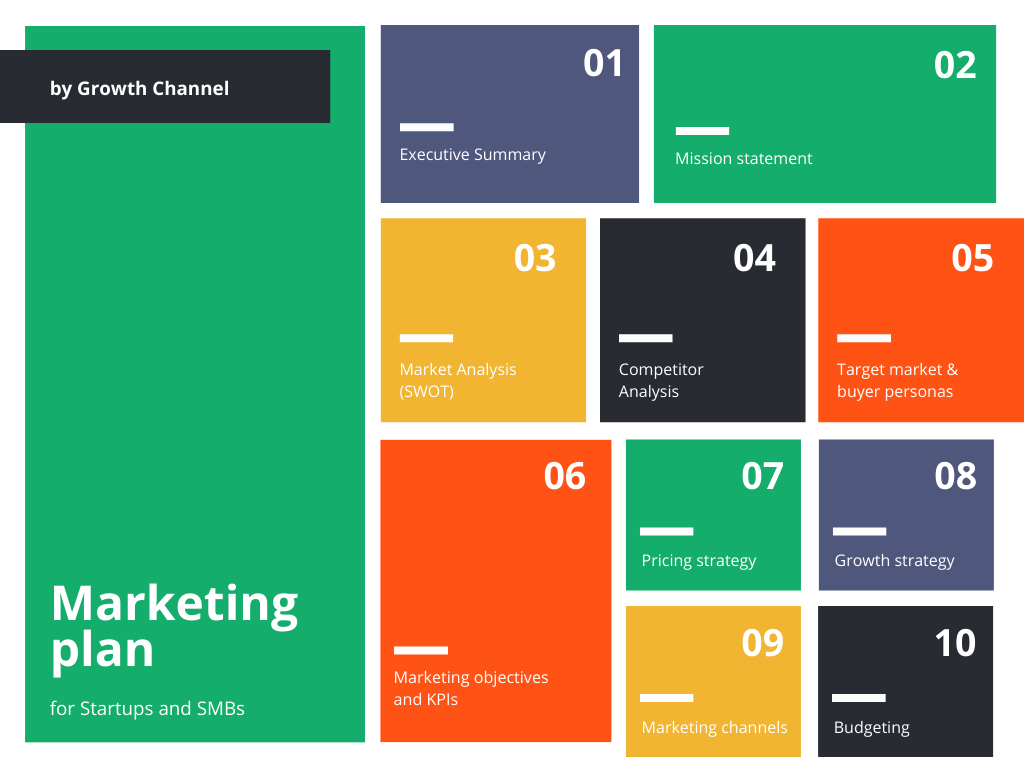 Want to build your own marketing plan? Growth Channel has a free marketing template resource that walks you through every step of the process!
Organizing your marketing plan and tracking success can be challenging. Luckily, there are a lot of great tools out there specifically designed to help marketers and businesses create robust marketing plans. At Growth Channel, we've built a Growth Library of hundreds of marketing tools and resources. You can even filter by customer journey stage, marketing objective, and industry. Here's a snapshot of some of our favorite marketing planning tools:
For organization and visualization
Trello is a visual project management platform that breaks down complex tasks into customizable boards, lists, and cards.
With CoSchedule's simple drag and drop marketing management software, you can schedule projects, track progress, and see everything your marketing team is working on.
Source: CoSchedule
Visualize your customers' journey with Funnelytics. Map funnels, calculate stats that make them profitable, and identify bottlenecks that prevent conversions.
For launching and managing campaigns
SocialBu is the ultimate social media management and automation platform, letting you run all your social media accounts in one location.
Trumpia offers the easiest platform to create a variety of targeted and automated text messaging marketing campaigns.
Get instant access to brand mentions across social, news, blogs, videos, forums, podcasts, reviews and more with Brand24.
Source: Brand24
Unstack's content marketing platform is designed to help you rapidly build, measure, and scale your digital presence without code or developers.
Attract more leads, manage contacts, deliver personalized experiences at scale, and automate your marketing campaigns with Freshmarketer.
For branding
Design like a professional with Canva. You can use Canva's customizable templates to organize, create, export, and share your marketing plan and other promotional assets.
1Brand creates shareable brand guidelines within minutes from your business' website, so all your campaigns and promotional materials remain consistent.
Source: 1Brand
For competitor analysis
Monitor your competitors' keyword and SEO strategies with SEMrush.
Competitors App automatically monitors your competitors and alerts you of any major changes to their marketing strategy. Competitors App tracks their keyword rankings, website changes, newsletters, social posts, reviews, and more.
Use Visto AI to get a top view of the latest marketing trends and direct access to your competitors' top ad campaigns. Easily filter thousands of new ads or millions of archived ones, and access key performance metrics.
Source: Visto
For tracking progress and measuring ROI
With Apteo, you can segment customers, monitor lifetime values, identify cross-sell opportunities, and track product journeys.
Get real-time visibility into your data, understand the full story behind every customer journey, and automatically uncover how each marketing activity impacts your KPIs with InfiniGrow.
Plannuh, an AI-driven marketing management software, lets you create agile marketing plans, budgets, and accurate ROI reports. You can even automate budget import, invoice entry, and expense reconciliation.
Source: Plannuh
For automating the entire marketing planning process
Growth Channel collects your market research from over 500 data sources and simulates thousands of campaigns, presenting the strategy with the highest chance of success for your business. Generate a plan today .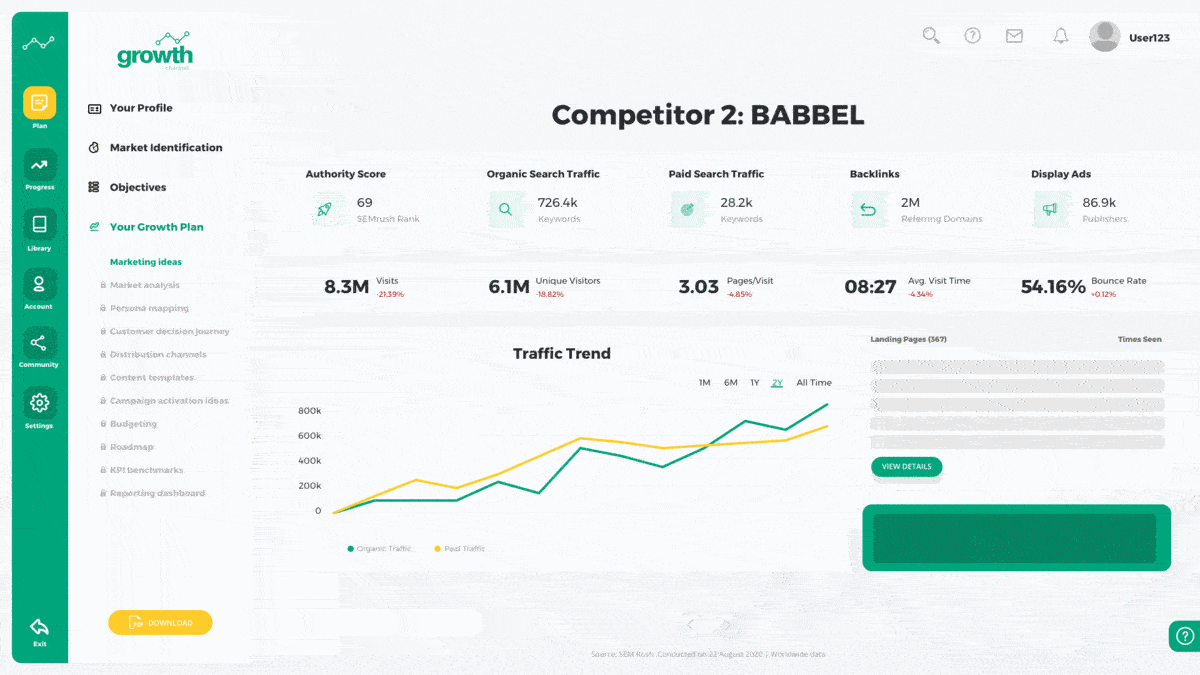 Source: Growth Channel
For fun :)
Listnr helps you to convert text into High Quality Speech. You can then use your synthesized Speech to add voice overs to videos, distribute blog posts as podcasts, or convert an ebook to an audiobook.
Convert, retain, and grow your customers with delightful personal video emails with Bonjoro. By connecting Bonjoro to your existing tools, you can send personalized video emails at key moments in your customer's journey.
Source: Bonjoro
---
By using these great marketing tools and incorporating the components discussed above, you'll be on your way to creating, executing, and optimizing a marketing plan in no time. Have any questions about how to create a successful marketing plan? Send us a message on Twitter @Gr0wthChannel.