---
Agency challenges
New Media Advisors helps brands grow revenue in search and local marketing by improving their in-house capabilities and reducing media and agency costs. Founded in 2020, the agency specialises in SEO, content marketing, digital media, consulting, and advertising, primarily within financial services industry, working with small credit unions and local banks all the way up to some of the largest banks and mortgage lenders in the country. New Media Advisors also work in other industries including non-profit, education, industry trade associations, and construction.
When New Media Advisors Partner and Co-Founder, Brent Bouldin, was faced with the struggle of finding a DSP that allowed him the freedom to set up programmatic advertising campaigns himself, he looked at a host of other vendors such as Simpli.fi, StackAdapt, AdCritter, but also considered trying to use some of the larger players like MediaMath and Xandr. Each of those had a minimum spend requirement to keep the seat active, or they didn't offer all of the different channels that they wanted. They knew that they most probably wouldn't have enough spend each and every month to pay for managed service and that they wanted to run across a variety of channels - not just Display, not just Native - so needed that ability as well. Growth Channel provides all of the options and flexibility they were looking for.
"I wanted a solution that didn't put limits or minimums on my spend level - as I don't have direct control over that month-to-month given that I'm working on behalf of clients. Losing my seat because I was down in spend for a month or two was not going to work for me. I also wanted a system that had robust, easy-to-use features - like the ability to geo-target, the ability to implement blocking at the site/domain level, the ability to leverage third-party data sets inside the platform, and the ability to traffic across more than just desktop and mobile display."
---
Making the switch
The New Media Advisors team looked into many other vendors, but ultimately decided on Growth Channel due to the flexibility, built-in integrations, and advanced features. When it came to transitioning to Growth Channel from other platforms, Brent and his team got trained and were able to fully operate in the system within just a few hours.

The team ran a few test campaigns to make sure that the performance was on par or better than they were getting in the other platforms, and once that was confirmed, they started transitioning the campaigns.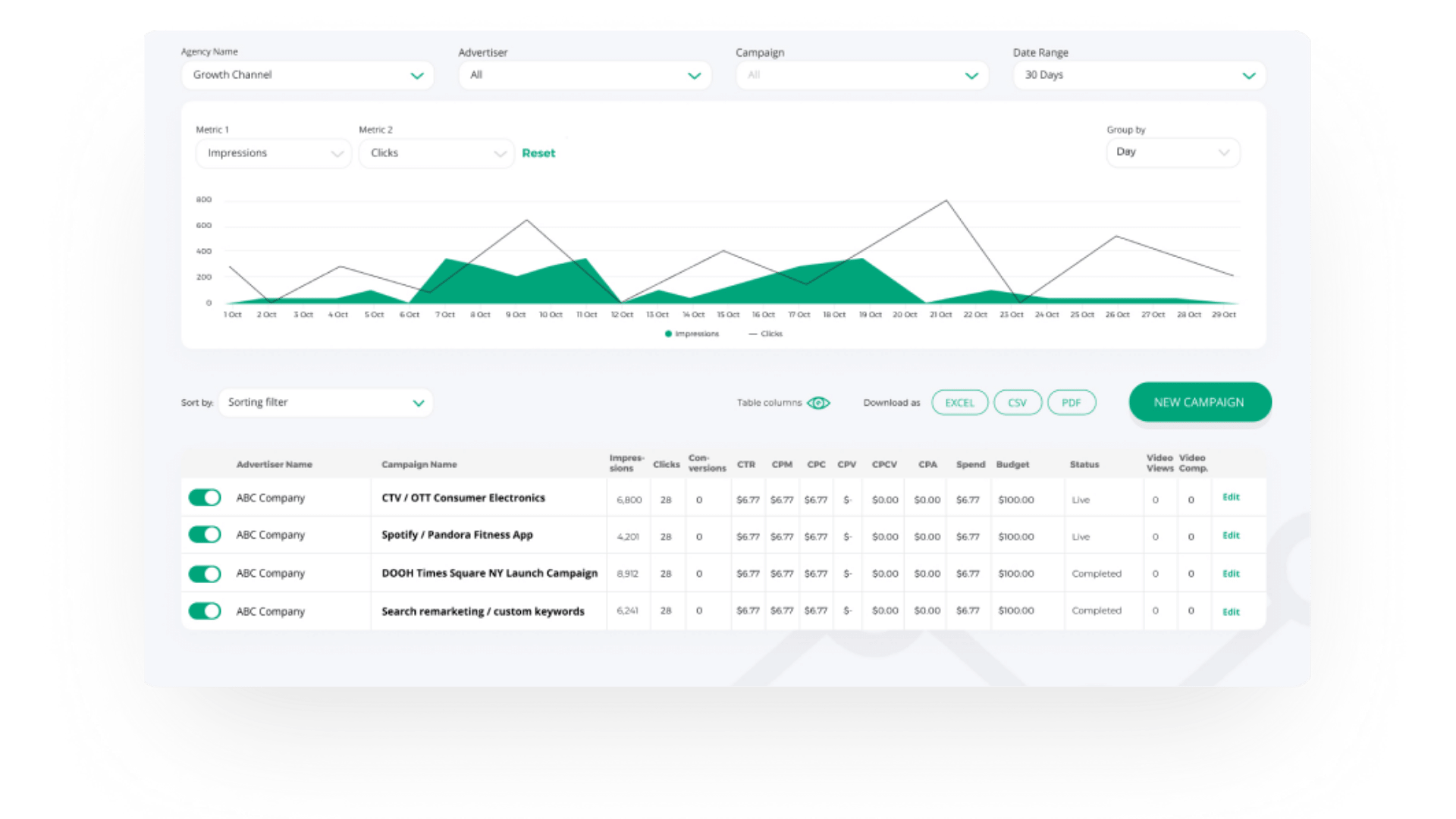 ---
A better, faster process
Growth Channel allowed New Media Advisors to set-up campaigns quickly and easily without the back and forth they were previously experiencing with other providers using managed service. Using Growth Channel allowed Bouldin's team to make his spending more flexible and to configure ad campaigns according to their requirements. Growth Channel solved their problem of having to sometimes spend more than they wanted to just keep a seat active on an exchange. With Growth Channel, advertisers have the ability to flex spend up and down.
"It's definitely improved our efficiency and speed to market. With the more managed service platforms, we were having to fill out lots of trafficking spreadsheets, clarify our block/no-block lists for each and every campaign, answer questions about campaign details, etc. All of that is gone now that I can just set those things up myself - so it really lets me move much more quickly and I can configure things exactly like I want them rather than letting someone else take my directions, do the setup and then me having to come behind them to make sure it was implemented correctly."
Measurable improvements:
New Media Advisors saved 30% in costs per campaign thanks to self-serve DSP access to performance data from across ad exchanges and ability to act with speed to optimise ad campaigns.
Growth Channel ultimately saves 3-4 hours of campaign set-up every time the agency launches a new campaign.
Because Growth Channel integrates with multiple ad exchanges, New Media Advisors' team also saves 2-3 days per month not having to tape different data sets together for performance analytics.
---
Advice to other agencies
"Look for a partner that works for your unique situation. I've worked at companies with nine-figure ad budgets and I've worked with clients that want to spend a few hundred dollars per campaign. The needs of those two extremes are totally different. Trying to force-fit a vendor's solution to your changing needs is a bad idea - because a lot of the tools and solutions on the market are not very flexible. Some work great for enterprise brands with managed service and others work best for small businesses and smaller advertisers - but can't handle the demands of a big enterprise. Try to find the one that strikes the best balance for your unique needs and gives you the functionality that you need to serve your company or your clients. For us, that was Growth Channel."